Leafs' Matthews to return tonight vs. Sharks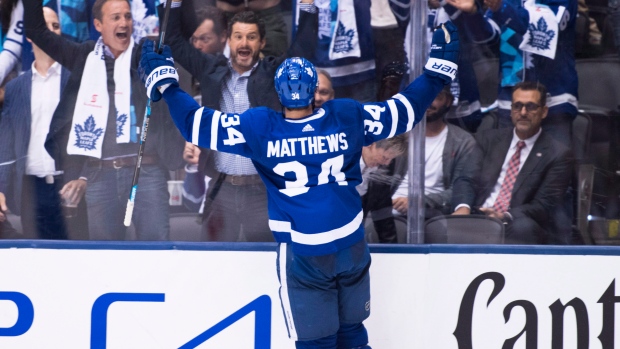 Toronto Maple Leafs Auston Matthews will return from a separated left shoulder Wednesday night against the San Jose Sharks, head coach Mike Babock confirmed.
"Matthews is cleared medically, says he's ready to go (and) feels comfortable to take a big hit, so he's ready to play," Babcock said.
Babcock said Frederik Gauthier will exit the Leafs lineup in favour of Matthews but did not reveal his line combinations. Par Lindholm has served as the team's fourth-line centre in previous games when Gauthier has been scratched this season.
Matthews, who missed the team's past 14 games, centred a line with Kasperi Kapanen and Patrick Marleau prior to his injury and Kapanen appeared to be campaigning to return to the 21-year-old's wing on Tuesday.
"With (Matthews), I always felt like I knew where he was going and if he wanted me to go too," Kapanen said. "With (Nazem Kadri), he makes great plays but sometimes I get a little bit lost with Nazy, because he's a bit all over the place."
Matthews skipped the team's optional skate on Wednesday morning, one day after taking part in his first full-contact practice since sustaining the injury on Oct. 27.
He said Tuesday he felt ready to return to the lineup, but was awaiting final medical clearence.
Matthews was given a minimum of a four-week timeline for return after his injury. Saturday will mark exactly five weeks since he was injured against the Winnipeg Jets.
Matthews returned to Leafs practice in a non-contact jersey two weeks ago during the team's California road trip. He skated a in two full contact practices before returning from a separated right shoulder last year, but said last week he could return after one full practice, at the minimum.
"Definitely want to get into at least one practice where it's kind of full go and I'm bumping into guys and making sure everything's stable," Matthews said Thursday.
Matthews has appeared in 11 games this season and scored 10 goals with six assists and a minus-1 rating.
The first overall pick of the 2016 NHL Entry Draft has posted 40 and 34-goal seasons in his first two years in the league