McDavid dazzles in return, Oilers rout Blue Jackets
Connor McDavid had a highlight-reel goal and two assists in his return to the lineup as the Edmonton Oilers snapped a three-game losing skid with a 5-1 victory over the Columbus Blue Jackets on Tuesday. McDavid danced through a pair of defenders before undressing Joonas Korpisalo.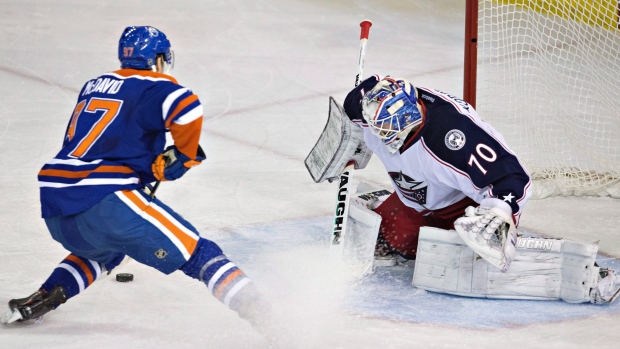 EDMONTON - The Oilers looked like a different team with rookie Connor McDavid back in the lineup.
McDavid had a goal and two assists in his return as Edmonton snapped a three-game losing skid with a 5-1 victory over the Columbus Blue Jackets on Tuesday.
Benoit Pouliot, Eric Gryba, Leon Draisaitl and Jordan Eberle also scored for the Oilers (20-26-5), who saw 2015 first-overall draft pick McDavid back in uniform after missing the last 37 games with a broken clavicle.
"(Connor) set the tone for our team and our team followed," said Oilers coach Todd McLellan. "He had a hell of a night and we certainly missed him.
"Our group also responded to him. He was the catalyst."
Matt Calvert replied for the Blue Jackets (19-28-5), who had a two-game winning streak come to an end.
"We need to be ready to start the game on time because we were a little behind for the first 20," said Columbus forward Brandon Dubinsky.
"We were a little rusty but both teams were coming off the same all-star break and they had even more time off than we did. We can't use that as an excuse. We need to be ready to play from the drop of the puck."
Despite Edmonton outshooting Columbus 13-1 in the early going, the Blue Jackets managed to get on the board first when Scott Hartnell fed it to Calvert on a two-on-one break and he bounced a shot off of Oilers goalie Came Talbot and in.
Edmonton tied it up three minutes into the second period as Gryba directed a hopeful shot on net that eluded Jackets goalie Joonas Korpisalo for his first goal of the season.
McDavid showed just what Edmonton fans had been missing midway through the second as he scored an unbelievable highlight-reel goal, dancing through a pair of defenders before undressing Korpisalo for his sixth goal of the season.
"It was a heck of an individual effort and you don't see that from many guys in the league," said Oilers veteran Matt Hendricks. "There might be a few players that skate as fast as him, but to have the hands to be able to do that and then to have the touch and finish like he did, it's pretty amazing."
McDavid himself was his usual low key about the goal, but admitted it felt good after his lengthy absence.
"It was a nice goal, I guess," he said. "Three months of waiting around, lot of grumpy days and all that. It definitely felt really good to get that one."
The Oilers went up 3-1 on the power play with 3:28 remaining in the second as Pouliot tipped in an Andrej Sekera shot, and then scored again 29 seconds later when Taylor Hall stole a puck behind the net and fed it in front to Draisaitl for the goal.
McDavid picked up his second assist of the night on the power play with five minutes left, fishing out a puck to set up Eberle at the side of the net.
Both teams return to action on Thursday, as the Jackets are in Vancouver and the Oilers begin a four-game trip in Ottawa.
Notes: The Oilers were still without the services of Oscar Klefbom (leg), Andrew Ference (hip), Ryan Nugent-Hopkins (hand), Brandon Davidson (undisclosed) and Justin Schultz (illness). Shultz's absence made room on the blue line for Adam Clendening to make his Edmonton debut after being claimed off of waivers last Wednesday from Anaheim… Out with injuries for the Blue Jackets were Sergei Bobrovsky (lower body) and Curtis McElhinney (ankle), in addition to skaters David Savard (oblique) and David Clarkson (upper body).