McElhinney ready for crease competition
Maple Leafs backup expects Garret Sparks and Calvin Pickard to push hard for his roster spot at Toronto's training camp, Kristen Shilton writes.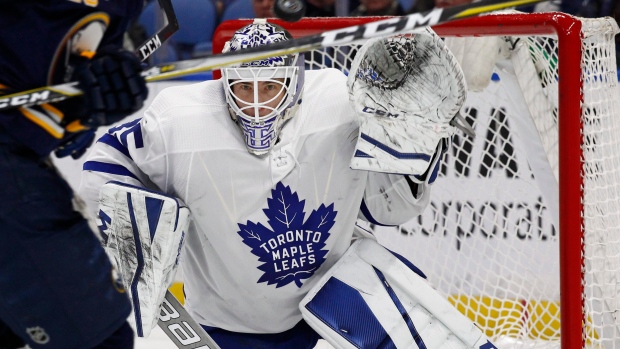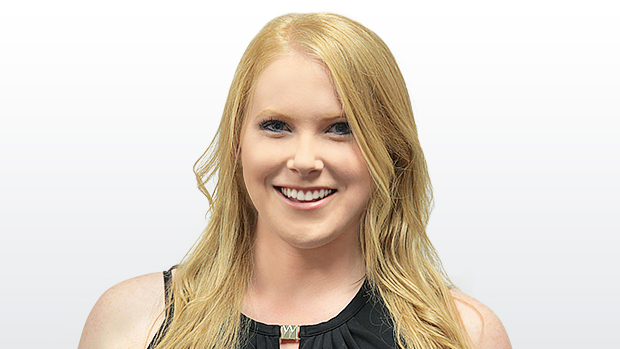 Curtis McElhinney hasn't made a habit out of getting to his team's summer skates early. But with three goalies projected to vie for one job as the Maple Leafs backup this season, it couldn't hurt to be overly punctual this August.
It's already been a few weeks since the journeyman backup returned from his off-season home in Colorado, taking full advantage of increased reps ahead of what could be a heated roster battle at training camp. While Frederik Andersen is entrenched as the Leafs' starter, McElhinney's position behind him will be tested by Garret Sparks, the reigning American Hockey League goalie of the year, and former NHL starter Calvin Pickard.
"Really it's the same situation for me every year," McElhinney said between on-ice sessions at MasterCard Centre on Wednesday. "Those two guys are knocking on the door. One of them [Pickard] has played a lot of [NHL] games and Sparks has played a few, so it's just the reality of the situation right now."
Taking nothing for granted has propelled McElhinney's professional life. Since 2005, the 35-year-old has played for six NHL teams (plus four AHL clubs) over 186 games, with his longest tenure clocking in at three-and-a-half years with the Columbus Blue Jackets.
Columbus put McElhinney on waivers in January of 2017 and the Leafs pounced. He's been an exceptionally good fit in Toronto ever since. While Andersen carried the lion's share of work with 64 starts last season, McElhinney played in 18 games and posted a career-best .934 save percentage, also the best save percentage in the NHL among goalies with at least 10 starts.
Leafs' head coach Mike Babcock has clearly preferred McElhinney as Andersen's reliever over other options before. But even the most reliable backup goalie can't rest easy on favour earned in the past.
"You just have to get used to it. [Young guys] need their shot and want to move things along," McElhinney said. "Obviously there's a comfort level with the team now. But as a backup – and a career backup at that – it's hard to stay anywhere for any length of time, just based on the situation within the organization."
Toronto's depth at the minor-league level hasn't been this good in years. Sparks (as the starter) and Pickard backstopped the Marlies to the franchise's first Calder Cup championship in June, and before that playoff run began Sparks won the Aldege "Baz" Bastien Memorial Award as the AHL's top regular-season goaltender (.936 save percentage, 1.79 goals-against average).
McElhinney wasn't oblivious to Sparks' success during the Leafs' season, and kept periodically in touch with the 25-year-old during the playoffs. But when training camp begins again, their relationship will inevitably shift.
"I don't know if we'll have a lot of conversations now," McElhinney said with a laugh. "We'll [make some] small talk, but once we hit the ice, it's all business. I like him a lot. I think he's a great kid. He's worked hard and done everything he can at the American League level."
In the past, Sparks has cleared waivers after training camp and been re-assigned to the Marlies. But it seems unlikely that Sparks' combined youth and recent success would allow for that this year, and Pickard could be a hot waivers commodity as well. That and a slew of other factors might create a complicated goalie situation with McElhinney right in the middle.
In the meantime, McElhinney can lean on something Sparks and Pickard can't – a wealth of experience winning NHL jobs.
"Mentally he's really strong. He's always been in different situations but he's a true pro who can handle it," said Leafs' goalie prospect Kasimir Kaskisuo. "I was paired with him at last year's training camp. I followed him around learning the ropes. He's just a calm guy, always under control. He gave me a lot of good little tips."
At the moment, McElhinney is looking for a few tips of his own. After Wednesday's team scrimmage, he went back on the ice for a one-on-one session with the Marlies' newly hired goaltending assistant Jon Elkin. With none of his fellow goaltenders around regularly, McElhinney was happy for the chance to hone in on a few details and keep sharpening his edge.
"It's tough, you come back and just skate with the guys and it's all 3-on-3 and shooting drills so it's not an ideal goalie situation in the summer," McElhinney said. "[Last season] I found a stability on my skates I'd been looking for, made a couple minor tweaks with my skates and things have just taken off."​