McGregor heads to court for UFC 223 melee
Mixed martial arts star Conor McGregor is due in court for a hearing on charges stemming from a backstage melee that was caught on video. He's expected to be joined in Brooklyn on Thursday by friend and co-defendant Cian Cowley.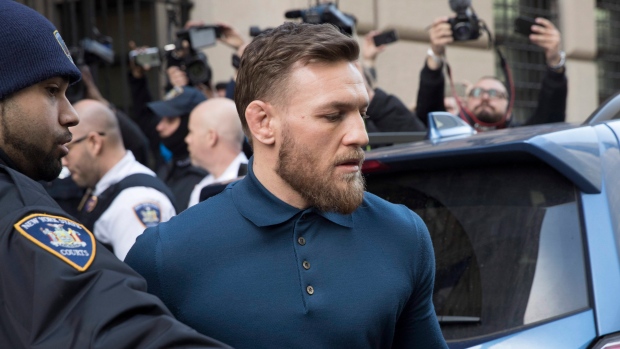 NEW YORK — Mixed martial arts star Conor McGregor expressed regret Thursday for a backstage melee at a Brooklyn arena that saw him caught on camera hurling a hand truck at a bus full of fighters, and he is negotiating a plea deal to resolve criminal charges in the case.
The Irish brawler, 29, and his friend, fellow fighter and co-defendant Cian Cowley, 25, remained free on bail after a court appearance that went quicker than a typical five-minute round in the UFC octagon. They each face up to seven years in prison on a top charge of felony criminal mischief, but a deal would almost certainly reduce or eliminate their time behind bars.
McGregor and Cowley strode into a packed courtroom in tight blue suits, past rows of reporters and other defendants who were waiting for them to finish up so their cases could be called. The duo stood and said little during the appearance.
Judge Raymond Rodriguez ordered them to return July 26.
"I regret my actions that led me here today," McGregor said outside court afterward, a departure from his tone in the incident's immediate aftermath. "I understand the seriousness of this matter and I'm hopeful to get it resolved soon."
Assistant District Attorney Janet Gleeson said the case hasn't been presented to a grand jury for possible indictment because of the plea negotiations, signalling interest from all sides to resolve the matter swiftly.
McGregor cheered Cowley as he fought in Belfast on Saturday and flew with him on a private jet to the U.S. for the hearing. Cowley said after the fight that he was hoping to get the case "out of the way."
McGregor, once the UFC's simultaneous 145- and 155-pound champion, hasn't fought since the fracas.
The UFC stripped him of its 155-pound championship belt in April because he had not fought in 17 months. During that time, McGregor turned to boxing and secured a guaranteed $30 million payday despite losing a highly-anticipated bout last year to Floyd Mayweather Jr.
While the Mayweather fight propelled McGregor to No. 4 on Forbes' list of the world's highest-paid athletes, he lamented on Instagram last week that he would have been No. 2 if his arrest hadn't cost him a shot at fighting at UFC 224 on May 12.
"Something came up however," he wrote.
A UFC spokesman did not immediately respond to questions about McGregor's future with the organization.
McGregor, widely known for his fight-related antics, was seen on camera attacking the bus in a Barclays Center loading dock after a press event ahead of UFC 223, which featured the sport's biggest card of the year.
He and an entourage that UFC president Dana White described as "20 hoodlums that flew in from Ireland" crashed the event allegedly looking for retaliation against main event fighter Khabib Nurmagomedov, who had been in an altercation with McGregor's friend, Artem Lobov.
Video showed McGregor tossing trash cans and being blocked from throwing a barricade before he launched the hand truck. Nurmagomedov was on the bus and said he had to be restrained to keep from fighting McGregor.
Fighters Michael Chiesa and Ray Borg were hurt by shattered glass, forcing them from their bouts.
White said McGregor justified the confrontation in a text exchange just before he turned himself in to police. According to White, he said it "had to be done."
___
Follow Sisak at twitter.com/mikesisak