McPhee: 'We could make one trade, we could make three'
The Golden Knights are expected to be active in the trade market over the next two days ahead of their inaugural game on Friday night. "We'll see how things go," general manager George McPhee said Wednesday. "We could make one trade. We could make three."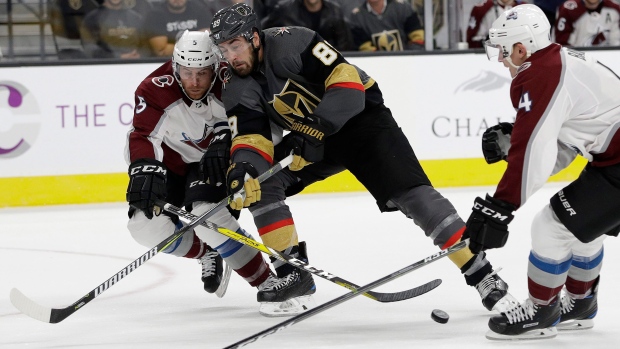 The Golden Knights are expected to be active in the trade market over the next two days ahead of their inaugural game on Friday night.
In order to be cap-compliant and not risk losing players on waivers, the Golden Knights sent waiver-exempt players Vadim Shipachyov, defenceman Shea Theodore and forward Alex Tuch to the AHL on Tuesday. Shipachyov, a KHL star signed to a two-year, $9 million contract, is expected to be recalled in time to play Friday's game and there's a chance Theodore and Tuch could also be in the lineup against the Dallas Stars.
As it stands, the Golden Knights have 11 forwards, nine defencemen and three goaltenders on their opening-night roster. General manager George McPhee expects that to change.
"We assigned Shipachyov, Tuch and Theodore to Chicago because we could," McPhee told the Las Vegas Review-Journal on Wednesday. "We're still two days away from our first game, so we have a little more time to assess things and make adjustments to our roster.
"We'll see how things go. We could make one trade. We could make three."
In addition to returning at least one of the demoted players to the roster, the Golden Knights could also have to make room for James Neal. Neal missed the preseason after off-season hand surgery, but McPhee said there's a chance he could play on Friday night.
TSN Hockey Insider Bob McKenzie reports the Golden Knights are expected to hold veterans Deryk Engelland, Jason Garrison and Luca Sbisa on the blue line, as well as Theodore, Nate Schmidt and Colin Miller. That leaves Brad Hunt, Griffin Reinhart and Jon Merrill likely on the trade block.
McKenzie writes holding three goaltenders cannot be a long-term strategy for the Golden Knights. He reports the team sees waiver pickup Malcolm Subban as a player who could be a legitimate number-one option down the road. With Marc-Andre Fleury serving as the team's starter this season, McKenzie believes Calvin Pickard, selected in the expansion draft from the Colorado Avalanche, is the odd man out and could be traded in the near future.
UPDATE: The Golden Knights placed Pickard on waivers Thursday.
Just as they were in June, all eyes are once again on the Golden Knights.