Memories of covering 'Alfie'
Tonight, the Ottawa Senators honour Daniel Alfredsson by raising his No. 11 to the rafters of Canadian Tire Centre. James Duthie shares his memories of covering the team's longest-serving captain when Alfredsson announced his retirement from the game two years ago.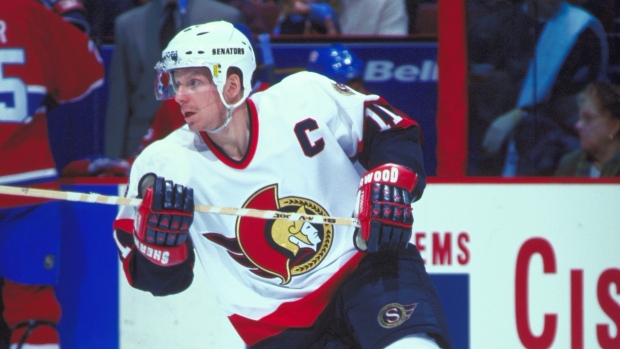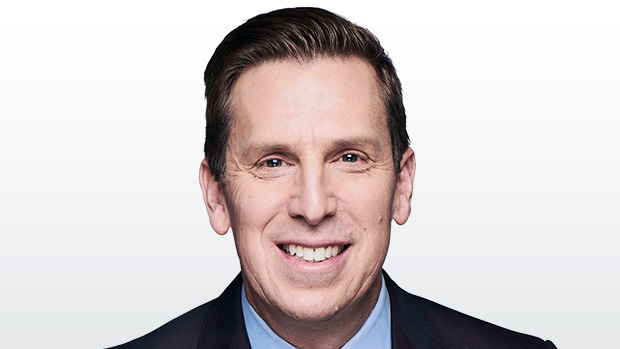 Tonight, the Ottawa Senators honour Daniel Alfredsson by raising his No. 11 to the rafters of Canadian Tire Centre. TSN Hockey host James Duthie shared his memories of covering the team's longest-serving captain when Alfredsson announced his retirement from the game two years ago. You can watch the special festivities tonight at 6:30pm et when the team hosts the Detroit Red Wings in the Senators viewing region on TSN5.
(From Dec. 4, 2014) My very first story covering the NHL was a feature on an unknown Ottawa Senator rookie who had turned heads in his first two weeks in the league. I'd moved into the sports department fulltime at CJOH-TV (now CTV Ottawa) in the fall of 1995. Bill Patterson, my friend and our main anchor, suggested one morning, "Why don't you do a piece on that Alfredsson kid?"
Daniel Alfredsson had arrived in Ottawa with little hype. He was a 6th round draft pick who had been mostly forgotten while he developed over in Sweden. The only thing most noticed when he got here was his old-school Jofa helmet.
We arranged to meet at the hotel/apartment he was living in downtown. There was nothing in it but clothes and a couple of ABBA CDs. (Truth. He was a walking Swedish cliché.)
Television being television, we needed to get video of the kid doing something - anything - a rookie on his own in a new country would have to do. So we went to the grocery store in the adjacent building to shoot Alfredsson loading his cart with the nutritional necessities of a young hockey player. Those included: Pop-Tarts and, err, well that was actually it. Just a lot of Pop-Tarts.
The brief sound bite of Alfie throwing boxes of blueberry Pop-Tarts into his cart opened our piece. And it would be used at least a dozen more times on subsequent Alfredsson features on CTV and TSN throughout his career (the last being Tuesday on a special All-Alfie edition of The Quiz). Nobody can milk a mediocre, semi-staged sound bite like I can.
He won the Calder that first season, quickly morphing into a leader, then a captain, then the face of the franch … no, make that the face of the city.
Eight years later, I brought a box of Pop-Tarts with me when I went to interview Alfredsson at his Kanata home for an NHL on TSN feature. It was a (relatively lame) prop to give him at the end of the interview - circle of life kinda thing. Alfredsson agreed to do the interview on the players' only full day off that month. We had promised the Senators P.R. staff we would be in and out in an hour. TSN broadcast a game the night before, so I would fly in that morning and go straight to his Kanata home. But winter in Canada being winter in Canada, there was some weather. Which meant delays and de-icing, and by the time I arrived in Ottawa, I was almost three hours late. The camera crew had been at Alfredsson's house since 9am. Now it was noon, and the guy who was supposed to ask the questions was still nowhere to be seen.
I sprinted through the airport, only to find a taxi line about 80-people deep. Panicked, I looked around and saw a white super-stretch limo, with the driver leaned up against the side, waiting for … I dunno … R. Kelly? Matchbox 20? Clay Aiken? I mean, it's 2003 Ottawa. Who grabs a white super-stretch at the Ottawa airport?
Me, apparently. Desperate, I ask him if he's free to take me, and he obliges, seemingly shocked he's found a sucker to spend $100 to go to Kanata.
And thus, in quite possibly the most egomaniacal-looking (yet actually humiliating) moment of my career, TV boy pulled up to the humble Ottawa captain's very modest suburban home - on the captain's one day off – three-and-a-half hours late. In a white super stretch limo.
And of course, Alfredsson just laughed and asked if I needed lunch after the long travel day. And he laughed again when I gave him the Pop-Tarts. Even though he was surely long since sick of seeing that clip.
The last time I saw him in person was a Red Wings game in Toronto last season. I brought my two daughters to the game and took them down near the dressing rooms after. One of them was hoping to see Pavel Datsyuk walk by. Alfredsson stopped and chatted with them for ten minutes (sorry Pav, you were forgotten quickly).
That Daniel Alfredsson was the same guy who chuckled at the apologetic TV host in the white stretch who stole his day off. And that Daniel Alfredsson was the same rookie with the funny helmet and the ABBA CDs. Consistency may be his greatest trait--in hockey, and in character. For 18 seasons, he was always generous with his time (and charity), quietly funny, and as hard a worker, shift-in, shift-out, as the league saw in his era.
I was asked on radio Wednesday if we will ever see another athlete as classy and respected as Jean Beliveau. No chance. Monsieur Beliveau was dignity personified. He was royalty (without the birthright…or the pretension). He was a man from another time.
With the media attention and scrutiny today's athletes are under, it's impossible to finish a long career completely wart-free. And Alfredsson certainly had a few moments he'd probably want back. You wonder if the move to Detroit is one.
Seven years ago, he scored the defining goal in Senators' history, the overtime winner against Buffalo that sent them do their first and only Stanley Cup Final. They've never come close to getting back, which is one of the reasons he ended up leaving on that bizarre, messy Free Agent Frenzy Day that ended the Alfie/Ottawa love affair.
But only for a while. Fans have almost come to expect messy endings for their favourite athletes these days. So the wounds rarely lead to deep scars. Not when the relationship was so good for so long.
We all figured this was going to be like that part of every Drew Barrymore Rom-Com where they break up for 20 minutes before getting back together just in time for the happy pop song over the credits. Heck, Alfredsson was mostly forgiven by the time he returned to Ottawa in a Detroit sweater a year ago. But tonight will complete the healing. Tonight is the moment Drew gets the guy.