Mets rely on Dice K in opener against Pirates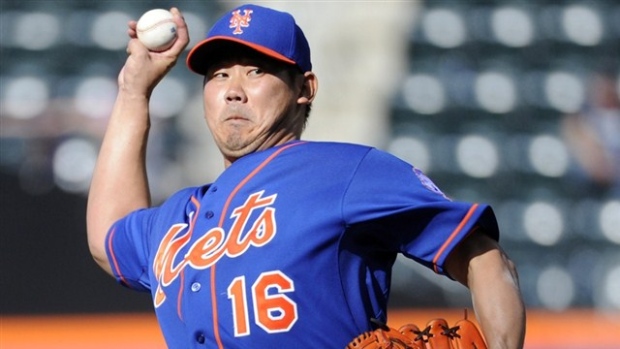 (SportsNetwork.com) - Daisuke Matsuzaka looks to bounce back from his first loss of the season when the New York Mets begin a four-game series in Pittsburgh.
Since September 8 of last season, Matsuzaka is 6-1 with a 2.21 ERA. Opponents are hitting .163 against him in that span. The lone defeat in that time came last Friday at Miami when he gave up six hits and a run over 5 1/3 innings. It was his first defeat since Sept. 2, 2013 against the Braves at Turner Field. Matsuzaka also had his streak of eight straight starts allowing four hits or fewer broken. That's a Mets franchise record.
The success of Matsuzaka is partly due to keeping the ball in the park. He's given up one homer this season, to Yangervis Solarte of the Yankees.
This will be Matsuzaka's first time facing the Pirates.
Vance Worley makes his third start of the season in a Pirates uniform. The right-hander tossed 6 2/3 innings in a win at Wrigley Field Saturday night. he is 3-4 with a 6.64 ERA in 16 career games (eight starts) against the Mets and has lost his last three decisions against them. His last win versus the Mets was Aug. 23, 2011 in Philadelphia.
The Mets had three-game winning streak stopped with an 8-5 loss last night at home against Oakland. Lucas Duda hit a late three-run shot and Chris Young added a two-run homer for the Mets. Zack Wheeler (3-8) recorded only six outs in the loss, having allowed six runs on as many hits with four strikeouts and two walks.
The Pirates had their four-game victory string stopped with a 5-1 loss at Tampa Bay Wednesday afternoon. Charlie Morton (4-9) suffered the tough-luck loss after surrendering three runs -- two earned -- on four hits in seven innings. He struck out a career-high 11 and walked only one, suffering his second straight loss after winning three in a row.
"After the first inning he just repeated his delivery, found his stroke," Pirates manager Clint Hurdle said of Morton, who gave up all his runs in the first inning.
Andrew McCutchen accounted for the only real blemish to David Price's line, blasting a one-out homer in the ninth to force Price from the contest.
The Mets took two of three from the Pirates at Citi Field May 26-28.