Mets snap Blue Jays' 11-game win streak
Wilmer Flores singled to cap a two-out, two-run rally in the 11th inning and the New York Mets ended Toronto's team record-tying 11-game winning streak, beating the Blue Jays 4-3 Monday night. The Blue Jays trailed 2-1 in the ninth before Jose Bautista tied it with his second home run of the game, connecting against Jeurys Famila.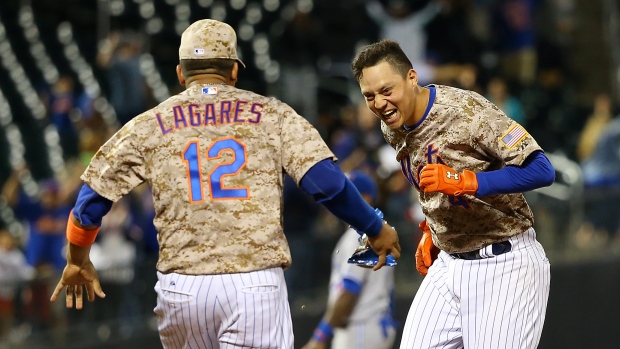 NEW YORK, N.Y. - The Blue Jays were relentless during their 11-game winning streak, scoring seemingly at will.
Noah Syndergaard and four relievers put a stop to that — along with Toronto's franchise record-tying run.
Jose Bautista homered in the first and had a tying shot in the ninth, but Toronto failed to hold a lead in the 11th inning and lost 4-3 to the New York Mets on Monday night.
"The kid tonight was great," Blue Jays manager John Gibbons said of Syndergaard. "They shut down a hot offence and that hasn't been easy to do lately."
Toronto racked up 88 runs during their winning streak. They had only four hits through nine innings, though, against the Mets, who were the only other team in the majors with an 11-game winning streak this season.
The Blue Jays took the lead in the 11th on Dioner Navarro's sacrifice fly off Hansel Robles (1-1). The Mets then scored twice in the bottom half for their fourth win in five games.
"We're not giving up," said Wilmer Flores, who had the walkoff hit. "That's what good teams do."
With Ruben Tejada on first and one out in, Michael Cuddyer hit a potential game-ending double-play grounder to second baseman Danny Valencia. Tejada smartly slowed up and Valencia tagged him, but too late to throw onto first.
Lucas Duda followed by slicing a single to shallow left field off Brett Cecil (1-3) and Cuddyer hustled all the way home.
Duda took second on the throw, Liam Hendricks relieved and Flores lined the first pitch up the middle, setting off a raucous celebration near second base.
"It was a good run and hopefully we start another one tomorrow," Blue Jays starter Mark Buehrle said.
The Mets improved to 10-0 at home against the Blue Jays with the comeback victory.
New York's perfect record against Toronto is tied with Cleveland for the third-longest winning streak in interleague play. San Francisco has two 11-game runs, against Oakland and Texas, according to information provided by the Mets from the Elias Sports Bureau.
The Blue Jays trailed 2-1 in the ninth before Bautista tied it with his second home run of the game, connecting against Jeurys Familia. Familia was trying for a four-out save for the second straight day. He wound up with his second blown save this season. spoiling a dominant start by
Syndergaard was traded by the Blue Jays to the Mets in a December 2012 deal for newly selected NL Cy Young Award winner R.A. Dickey. Pitching on an extra day's rest, the rookie right-hander nicknamed Thor struck out a career-high 11 and allowed two hits in six overpowering innings.
Buehrle didn't allow a baserunner until Duda led off the fifth with a sharp grounder that hopped over the glove of first baseman Edwin Encarnacion, who went down to one knee to try to catch the ball.
New York broke through in the sixth, taking advantage of former Mets star Jose Reyes' throwing error from deep shortstop on Kevin Plawecki's grounder to open the inning. Juan Lagares and Tejada each had RBI doubles in the sixth.
Buehrle allowed four hits and two runs in seven innings. The Mets are the only team Buehrle hasn't beaten in his 16-year career, all in the American League except for one season with Miami.
TRAINER'S ROOM
Blue Jays: RHP Aaron Sanchez was put on the 15-day disabled list with a mild lat strain. Manager John Gibbons hopes Sanchez will miss just one more start and will be able to pitch the next time his turns comes up on June 21, the day he is eligible to come off the DL.
Mets: RHP Vic Black has a minor groin injury, which has delayed his rehab from a shoulder injury, general manager Sandy Alderson said.
UP NEXT
Blue Jays: RHP Scott Copeland will make his second start in place of Sanchez. In his first career start Wednesday, Copeland gave up one run and six hits over seven innings against the Marlins.
Mets: RHP Matt Harvey is coming off a poor start, allowing seven runs and nine hits in six innings. He was tagged for three homers and has given up 12 longballs in his first 12 starts.
UMPIRE HURT
Home plate umpire Marty Foster left the game after being hit in the facemask by a foul ball in the third inning. The game at Citi Field was delayed for 11 minutes. Foster was struck squarely on the mask by a ball off the bat of Toronto's Josh Donaldson with one out. Crew chief Mike Winters, who was working at second base, took over at home in the bottom half.