Michael Saunders - the Jays' next big free agency loss?
Like Jose Bautista and Edwin Encarnacion, Toronto Blue Jays slugger Michael Saunders is also set to become a free agent. And as TSN Baseball Analyst Dirk Hayhurst writes, how the Jays capitalize on it from here will be interesting to watch.
Dirk Hayhurst, TSN Baseball Analyst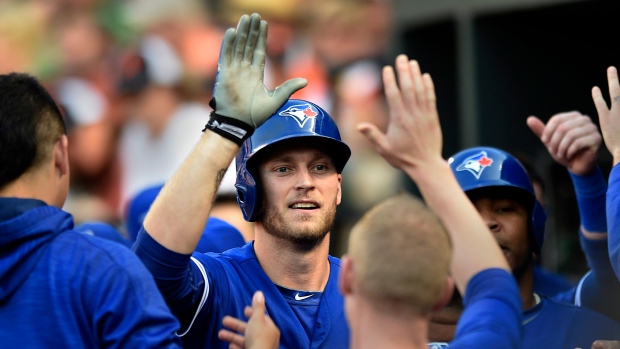 Before the 2016 season started, the Toronto Blue Jays wanted to ship Michael Saunders to the Los Angeles Angels as part of a three-way deal to acquire Jay Bruce from the Cincinnati Reds.
Bruce, by the way, is having a resurgent season, slugging .544 with an OPS of .858 and 17 dingers - The kind of numbers that make Jays executives weep about the trade not working out.
At least they would if the guy they failed to trade - Saunders - wasn't having the best season of his career.
Saunders is now one of the Blue Jays' best hitters and that's saying something because the team isn't light on great hitters. Saunders has been better than Jose Bautista, Edwin Encarnacion, Kevin Pillar and Troy Tulowitzki, sporting a career-best wRC+ at 140.
wRC+, or weighted runs creation, is a metric that measures runs per plate appearance, scaled, where 100 is average. It is both league and park adjusted and based on weighted on-base percentage (wOBA).
A wRC+ of 100 is average. Any wRC+ above 100 represents an above average big league hitter, and Saunders is at 140, or worth 40 runs more than the average major leaguer. Only Josh Donaldson is besting Saunders with a 151. Bautista is at 118 while Encarnacion is at 133.
What was Saunders' highest wRC+ before this season? It was 126 in 2014 - the year the Jays felt he was a player about to break out and worth acquiring. I think it's safe to say that Saunders has broken out.
By comparison, Jay Bruce's wRC+ is 123. He would have made an impact in Toronto, just not the profound impact that Saunders has made.
But while Saunders slugging like he's never slugged before is a boon for a Blue Jays squad still searching airport lost and found kiosks for Troy Tulowitzki's bat, lamenting the loss of Chris Collabello and wondering if their bullpen can get outs, Saunders still has the potential to cripple the Jays future.
Like Bautista and Encarnacion, Saunders is also a pending free agent and there aren't a lot of slugging free agents set to hit the market going into next season.
The American League East is anyone's race to win, which is both good and bad for the Jays. It's good because they're very much in the hunt for another division title and post-season appearance. Bad because they're now carrying three essential offensive cogs that will most likely receive offers of greener pastures elsewhere at season's end. With every day that goes by this season, the Jays chances of getting value - by way of rental trade - for these sluggers goes down.
As it stands, the best potential free agents in baseball as ranked by wRC+ are Yoenis Cespedes, Edwin Encarnacion, Jose Bautista, Michael Saunders, Mark Trumbo, Franklin Gutierrez, David Freese, Carlos Santana and Luis Valbuena. Note that there are three Blue Jays on that list, good for over half of the Jays' current home run production. Saunders is the youngest of those three Blue Jays and is also among the youngest going on the free agent slugging market. That makes him much more desirable assuming he sustains his power production.
And this newly-found power production is something everyone will be scrutinizing. How, exactly, has Saunders become this good this fast?
Many would say his results this season is what happens when a good player finally gets healthy. Others would even argue that Saunders had a lot to prove going into a walk year, coupled with a chip on his shoulder because the Jays tried to flip him out of town. Or is it that he's simply gotten better?
All of the above.
Players are competitors and work hard to prove that they're worth betting on. The Jays' failed Bruce trade was a vote of no confidence, even if the team's leadership didn't intend it to be that way. That's how players take it - especially after it falls through and the guy you were packing up has to start unpacking.
As for Saunders' health, what player isn't more successful when playing pain-free? But good health alone can't explain improved production rather it assumes a return to pre-injury performance. If you're a savvy baseball executive looking at Saunders as a potential slugger acquisition for next season and beyond, this new peak performance is particularly interesting, especially considering how young he is compared to the rest of the free agents hitting the market.
There are, however, other pieces to this equation: the mechanical tweak that Saunders has made in his batting stance, notably with his hands, and the hitters' ballparks in the AL East.
Being around Encarnacion, Bautista and Josh Donaldson has certainly helped. How could mentoring from some of baseball's best hitters not help? But the obvious mechanical muse here has been Donaldson, as Saunders hands now more closely mirror those of last season's MVP.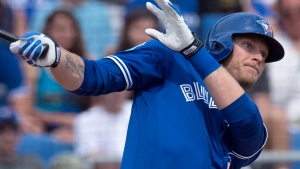 Before coming to the Jays, Saunders' hands were at a resting position above his shoulders, hovering. Now they've come down to the shoulders and as a result, Saunders' swing is shorter and faster to the ball. His swing also has more trunk and less arms involved in the process. The payout is that Saunders' power-to-plate coverage ratio has increased. He's taking the ball out all over the park, and hitting more pitches in the strike zone, especially down and away. This process is not unlike Encarnacion's adjustment made during his 2012 breakout season.
But the ballpark he's calls home versus the one he once called home in Seattle are not even remotely the same. The Mariners' cavernous Safeco Field can be a challenge to go deep in, especially opposite field. The Rogers Centre, on the other hand, is one of the more homer-centric ballparks in baseball and that says nothing of the other homer-happy parks in the AL East: Baltimore's Camden Yards, Yankee Stadium in New York and Boston's Fenway Park.
That said, learning to go with the pitch as opposed to focusing on pulling is just one more credit to Saunders' remarkable adjustment this season. How the Jays capitalize on it from here will be interesting to watch.