Mills, Spurs rally to beat Mavericks
Patty Mills scored 15 of his team-high 23 points in the fourth quarter and Kawhi Leonard added 21 points, helping the San Antonio Spurs rally for a 94-87 win over the Dallas Mavericks on Wednesday night.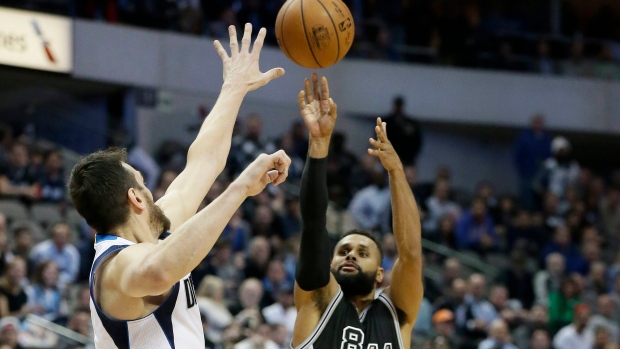 DALLAS — San Antonio coach Gregg Popovich got a win more in line with his expectations on Wednesday night.
The Dallas Mavericks are just hoping a close loss signifies better days ahead.
Patty Mills scored 15 of his team-high 23 points in the fourth quarter and Kawhi Leonard added 21 points, helping the Spurs rally from a 13-point deficit for a 94-87 win over the Mavericks on Wednesday night.
San Antonio became just the third team to start the season 11-0 on the road, following last year's Warriors (14-0) and the 1969-70 Knicks (12-0).
Popovich had criticized his team's "lack of humility" and "lack of respect for the opponent" after the Spurs' 96-91 home win over Dallas on Nov. 21.
This time, his Spurs — playing without three regulars — went 13 straight possessions and nearly seven minutes of the third quarter without scoring, but rallied behind Mills and Leonard.
"We dug down deep, didn't moan or groan or whine, stuck with it and kept pounding away and found a way to win," Popovich said.
Wesley Matthews had a season-high 26 points for the Mavericks, and Harrison Barnes added 17.
"I'm proud of this team," Matthews said. "Frustration aside. Loss aside. This is two games in a row that could have been ours. This fight that we're showing — this is who we were supposed to be all along."
Dallas, trying to win its second game in a row and only its fourth of the season, led from early in the third quarter until an 11-2 Spurs run midway through the fourth quarter. Mills started it with a 3 and Leonard finished it with another that gave the Spurs the lead for good at 80-79.
The Mavericks simply couldn't stop Mills when it mattered. With his team leading 82-81, Mills hit a 3 with 3:04 to play. After Matthews answered with a 3, Mills dialed up another and then hit a long jumper to make it 90-84 with 1:31 left.
"We struggled majority of the game," Mills said. "But we knew that it was all going to come down to defence. We needed to get stops and that would create our flow a little bit better. I thought we did that down the stretch of the game."
TIP-INS
Spurs: Pau Gasol and Manu Ginobili did not make the trip to Dallas, and Tony Parker was held out, all for rest. ... Rookie Nicolas Laprovittola got his first career start and Dewayne Dedmon made his first start as a Spur. ... San Antonio has won seven in a row against Dallas.
Mavericks: The Mavericks announced Tuesday that forward Dirk Nowitzki would miss at least two games with a sore right Achilles tendon. Nowitzki has played only five of the team's 17 games this year. ... The team got some good news when Devin Harris returned after missing the first 16 games due to a right big toe sprain suffered in the team's final preseason game. He played 11 minutes and did not score. Coach Rick Carlisle said Harris' minutes would be restricted as he returns to form.
PROBLEMS AT THE POINT
The Mavericks' three primary point guards (Harris, Deron Williams and J.J. Barea) have combined to play only 19 games this season. Their depth was further compromised when Seth Curry suffered a mild right knee sprain in the fourth quarter. Curry had scored his team's first seven points of the quarter to build a 75-67 lead.
But with his injury and both Williams and Harris out due to minutes restrictions, rookie Jonathan Gibson was forced to play the final 4:23. Gibson hit a 3 but had a key turnover with his team down by four, and Mills scored eight points during that stretch.
"Gibson was put in a very difficult situation, but there was no other choice," coach Rick Carlisle said. "It was a tough way to end the game."
Carlisle said Curry would make the trip to Charlotte with the team for Thursday night's game.
UP NEXT
Spurs: Return home for a rematch with the Washington Wizards on Friday night. The Spurs beat the Wizards 112-100 on Saturday.
Mavericks: Travel to Charlotte for the second half of a back-to-back Thursday night. Dallas will face the Hornets again on Monday.