Mitchell, Jackson vie for CFL MOP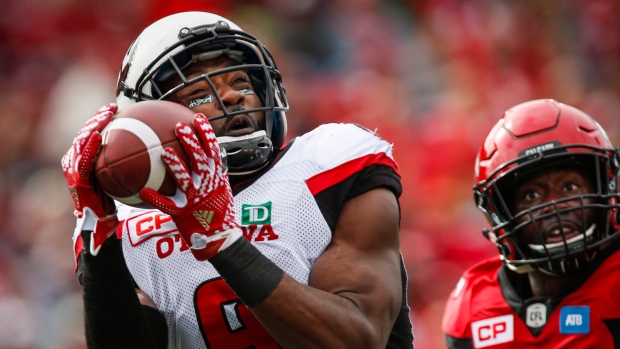 TORONTO — Once again Bo Levi Mitchell is a finalist for the CFL's outstanding player award.
On Thursday, the Calgary Stampeders quarterback got the West Division nod for the second straight year. Mitchell was the runner-up last season to Henry Burris, who led the CFL in passing and guided the upstart Ottawa Redblacks to top spot in the East Division.
Mitchell faces another Ottawa player for this year's honour as receiver Ernest Jackson will represent the East Division. But Mitchell, 26, will be the overwhelming award favourite after leading Calgary to a CFL-best 15-2-1 record.
"So far, it doesn't mean anything . . . I haven't won anything yet," Mitchell said following Calgary's practice Thursday. "It will be pretty special if it does happen.
"Hopefully at that time I'm focusing on something else (preparing for Grey Cup)."
Despite sitting out Calgary's regular-season finale, Mitchell threw a league-high 32 TDs and finished second overall in passing with 5,385 yards while boosting his all-time record as a starter to 43-7-1, the best in league history.
Jackson had 88 catches for 1,225 yards and 10 TDs to help Ottawa (8-9-1) finish atop the East Division and make CFL history. Jackson, Greg Ellingson (1,260 yards), Chris Williams (1,246) and Brad Sinopoli (1,036) all cracked the 1,000-yard receiving plateau for the second straight year, the first time four players from the same team have done so.
Voting was conducted by the Football Reporters of Canada and nine CFL head coaches. The league will honour its top individual performers Nov. 24 in Toronto.
And Calgary will be well presented as also nominated were running back Jerome Messam (Canadian), guard Derek Dennis (lineman), receiver DeVaris Daniels (rookie) and Dave Dickenson (coach of the year).
"I'm proud of my players, we've got a lot of guys who are going to represent the club," Dickenson said. "But we're going to make our best effort to make sure the whole team is there for Grey Cup week."
The other finalists included: linebackers Solomon Elimimian of the B.C. Lions and Bear Woods of the Montreal Alouettes (top defensive player); Hamilton Tiger-Cats slotback Andy Fantuz (Canadian); Ottawa centre Jon Gott (lineman); Hamilton returner Brandon Banks and kicker Justin Medlock of the Winnipeg Blue Bombers (special-teams); and Ottawa offensive lineman Jason Lauzon-Seguin (rookie).
Ottawa's Rick Campbell is also the East nominee as top coach. He won last year's honour.
The six-foot-three, 254-pound Messam ran for a CFL-best 1,198 yards (5.82-yard average) and 11 TDs. The 31-year-old Toronto native was the league's top Canadian in 2011 with Edmonton when he rushed for 1,057 yards (5.4-yard average).
Fantuz, 32, of Chatham, Ont., had a team-record 101 catches for 1,059 yards and five TDs, becoming the first Canadian receiver to reach the 100-reception plateau since 2008. Fantuz, who'll miss Hamilton's playoff game Sunday versus Edmonton with a knee injury, won the award in 2010 with Saskatchewan.
Dennis anchored a Calgary offensive line that allowed a CFL-low 20 sacks while blocking for the league's top rusher and highest-scoring offence (32.6 points per game). The six-foot-three, 341-pound New York native is in his second season with the Stampeders.
The six-foot-three, 294-pound Gott becomes the second straight Ottawa finalist for the top lineman award as SirVincent Rogers won it last year. Gott, 31, of Edmonton, has started every game for the Redblacks since their CFL return in 2014 and helped the offence lead the East in net offence (414.8 yards per game), rushing (93.9 yards) and passing (CFL-high 343.9 yards).
Elimimian registered a CFL-best 129 tackles after suffering a career-threatening Achilles injury late last season. Elimimian made league history in 2014 by becoming the first defensive player to capture the outstanding player awards while also being named top defensive performer.
Woods finished second overall in tackles with 126. He was a finalist to Elimimian for the defensive player award two years ago.
Medlock booted a CFL-record 60 field goals and scored a club-record and league-leading 227 points. The 33-year-old Californian, the most accurate kicker in league history (87.7 per cent), also made all 40 convert attempts.
Banks, last year's top special-teams player, had 2,082 total return yards and three TDs. He was especially deadly returning missed field-goal attempts, taking two of three back for touchdowns.
Daniels, a former Notre Dame standout, had 51 catches for 885 yards and nine TDs in 11 games with Calgary. Ottawa took Lauzon-Seguin in the first round (seventh overall) in this year's CFL draft and the six-foot-four, 300-pound former Laval star earned starts at both tackle positions and guard.