MLB, players reach deal for new CBA
Baseball players and owners reached a tentative agreement on a five-year labour contract Wednesday night, a deal that will extend the sport's industrial peace to 26 years since the ruinous fights in the first two decades of free agency.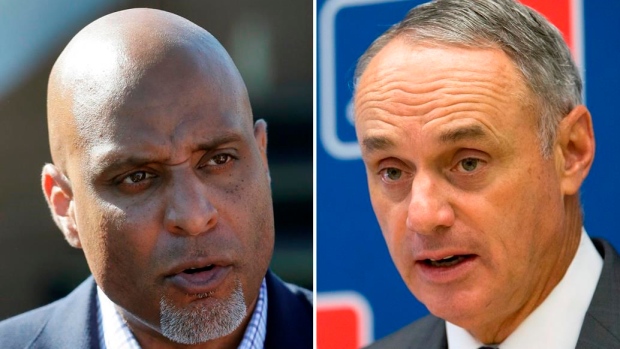 IRVING, Texas — Baseball players and owners reached a tentative agreement on a five-year labour contract Wednesday night, a deal that will extend the sport's industrial peace to 26 years since the ruinous fights in the first two decades of free agency.
After days of near round-the-clock talks, negotiators reached a verbal agreement about 3 1/2 hours before the expiration of the current pact. A few hours later they signed a memorandum of understanding, which must be ratified by both sides.
"It's great! Another five years of uninterrupted baseball," Oakland catcher Stephen Vogt said in a text message.
In announcing the agreement, Major League Baseball and the players' association said they will make specific terms available when drafting is complete.
"Happy it's done, and baseball is back on," Los Angeles Dodgers pitcher Brandon McCarthy said.
As part of the deal, the experiment of having the All-Star Game determine which league gets home-field advantage in the World Series will end after 14 years, a person familiar with the agreement told The Associated Press. The person spoke on condition of anonymity because the deal had not yet been signed.
Instead, the pennant winner with the better regular-season record will open the Series at home.
Another important change: The minimum time for a stint on the disabled list will be reduced from 15 days to 10.
The luxury tax threshold rises from $189 million to $195 million next year, $197 million in 2018, $206 million in 2019, $209 million in 2020 and $210 million in 2021.
Taxe rates increase from 17.5 per cent to 20 per cent for first offenders, remain at 30 per cent for second offenders and rise from 40 per cent to 50 per cent for third offenders. There is a new surtax of 12 per cent for teams $20 million to $40 million above the threshold, 42.5 per cent for first offenders more than $40 million above the threshold and 45 per cent for subsequent offenders more than $40 million above. And special transition rates will be used for 2017.
Union head Tony Clark, presiding over a negotiation for the first time, said in a statement the deal "will benefit all involved in the game and leaves the game better for those who follow."
Key changes involve the qualifying offers clubs can make to their former players after they become free agents — the figure was $17.2 million this year. If a player turns down the offer and signs elsewhere, his new team forfeits an amateur draft pick, which usually had been in the first round under the old deal.
Under the new rules, a player can receive a qualifying offer only once in his career and will have 10 days to consider it instead of seven. A club signing a player who declined a qualifying offer would lose its third-highest amateur draft pick if it is a revenue-sharing receiver, its second- and fifth-highest picks (plus a loss of $1 million in its international draft pool) if it pays luxury tax for the just-ended season, and its second-highest pick (plus $500,000 in the international draft pool) if it is any other team.
A club losing a free agent who passed up a qualifying offer would receive an extra selection after the first round of the next draft if the player signed a contract for $50 million or more and after competitive balance round B if under $50 million. However, if that team pays luxury tax, the extra draft pick would drop to after the fourth round.
Among other details:
—For a team $40 million or more in excess of the luxury tax threshold, its highest selection in the next amateur draft will drop 10 places starting in 2018.
—While management failed to obtain an international draft of amateurs residing outside the U.S., Puerto Rico and Canada, it did get a hard cap on each team's annual bonus pool for those players starting at $4.75 million for the signing period that begins next July 2. The pool rises to $5.25 million for teams with competitive balance round A draft picks and $5.75 million for clubs with round B selections.
—There is no change to limits on active rosters, which remain at 25 for most of the season and 40 from Sept. 1 on.
—Smokeless tobacco will be banned for all new players, those who currently do not have at least one day of major league service.
—The regular season will expand from 183 days to 187 starting in 2018, creating four more scheduled off days. There are additional limitations on the start times of night games on getaway days.
—The minimum salary rises from $507,500 to $535,000 next year, $545,000 in 2018 and $555,000 in 2019, with cost-of-living increases the following two years; the minor league minimum for a player appearing on the 40-man roster for at least the second time goes up from $82,700 to $86,500 next year, $88,000 in 2018 and $89,500 in 2019, followed by cost-of-living raises.
—The drop-off in slot values in the first round of the amateur draft will be lessened.
—Oakland's revenue-sharing funds will be cut to 75 per cent next year, 50 per cent in 2018, 25 per cent in 2019 and then phased out.
—Cubans under 25 will be considered amateurs, up from 23.
—Each team must hire a chef for its players.
—Every player must be provided two bus seats during spring training bus trips.
—As part of the drug agreement, there will be increased testing, players will not be credited with major league service time during suspensions, and biomarker testing for HGH will begin next year.
Negotiators met through most of Tuesday night in an effort to increase momentum in the talks, which began during spring training. This is the third straight time the sides reached a new agreement before the old contract expired, but a deal was struck eight weeks in advance in 2006 and three weeks ahead of expiration in 2011.
Talks took place at a hotel outside Dallas where the players' association held its annual executive board meeting.
Clark, the first former player to serve as executive director of the union, and others set up in a meeting room within earshot of a children's choir practicing Christmas carols. A man dressed as Santa Claus waited nearby.
Baseball had eight work stoppages from 1972-95, the last a 7 1/2-month strike in 1994-95 that led to the first cancellation of the World Series in 90 years. The 2002 agreement was reached after players authorized a strike and about 3 1/2 hours before the first game that would have been impacted by a walkout.
The peace in baseball is in contrast to the recent labour histories of other major sports. The NFL had a preseason lockout in 2011, the NBA lost 240 games to a lockout that same year and the NHL lost 510 games to a lockout in 2012-13.
___
AP Baseball Writer Janie McCauley in Oakland, California, contributed to this report.