MLB Rumour Mill: Harper to eventually sign with Phillies?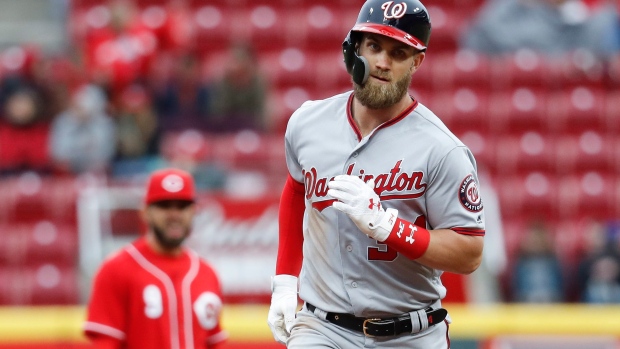 The Major League Baseball offseason is in full swing with chatter heating up as teams start to put their winter plans in place. Follow all the latest rumours on TSN.ca.
---
After it was reported star outfielder Bryce Harper rejected a 10-year, $300 million offer from the Washington Nationals in September, USA Today's Bob Nightengale reported the belief is Harper will eventually end up with the Philadelphia Phillies.
According to a Nightengale story Thursday, Harper looks to be headed to Philadelphia, although it might not happen right away.
It's hard to find an executive, scout, or rival agent who doesn't believe that Harper will eventually sign with the Phillies, maybe a month from now when he can drive from his Las Vegas home to Mandalay Bay and make the official announcement himself.
Nightengale gave reasons for all of Harper's other potential suitors to fall out of the race, speculating the Los Angeles Dodgers aren't interested, the San Francisco Giants are changing course, the Chicago Cubs don't want to spend the money unless they can offload Jason Heyward or Yu Darvish, and the New York Yankees more likely to target Manny Machado.
---
Cardinals looking to add bat
The St. Louis Cardinals are seeking a big bat this off-season, according to a report from Derrick Goold from the St. Louis Post-Dispatch, with Cardinals President of Baseball Operations John Mozeliak saying the team is leaning towards the infield.
Mozeliak said the team's "thinking" at the moment is "more infield than outfield." They are looking for a brawny hitter at third or first base. Matt Carpenter would swap positions to accommodate the addition.
One name Goold mentions as the type of player the Cardinals would covet is Arizona Diamondbacks first baseman Paul Goldschmidt, who could be made available via trade this off-season according to previous reports.
---
Yankees' off-season plan
Adding to the Goldschmidt speculations, Fancred's Jon Heyman, who originally reported the Diamondbacks were willing to listen to offers for the first baseman, also said the Yankees have not been one of the teams pursuing him.
Heyman added the team may really give Luke Voit a shot. Voit played 39 games for the Yankees last season, hitting .333 with 14 home runs and 33 RBIs.
The team's priority this off-season, according to Heyman is pitching.
---
Happ market grows
One more team to add to the J.A. Happ sweepstakes with MLB Network's Jon Morosi reporting the Minnesota Twins are also interested in the veteran free agent.
With the addition of the Twins, at least four teams are reportedly in on Happ. The Toronto Blue Jays, New York Yankees, and Chicago White Sox have also reportedly shown interest in the 36-year-old.
Happ split last season between the Blue Jays and Yankees, finishing with a 17-6 record and 3.65 earned run average in 31 starts.