MLB Rumour Mill: Nats pull $300M contract offer to Harper off the table
The Major League Baseball offseason is in full swing with chatter hot and heavy as teams start to put their winter plans in place. Follow all the latest rumours on TSN.ca.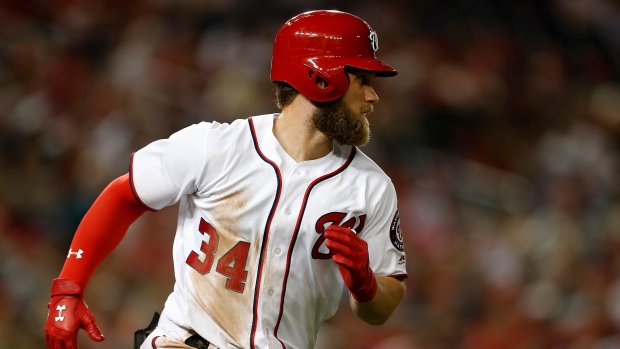 The Major League Baseball offseason is in full swing with chatter hot and heavy as teams start to put their winter plans in place. Follow all the latest rumours on TSN.ca.
---
Time to Talk
Superstar free agent slugger Bryce Harper reportedly rejected a 10-year, $300 million contract offer from the Washington Nationals five weeks ago, and as a result, the Nats have pulled the deal from the table, according to Bob Nightengale of USA Today.
The contract offer expired last week when Washington no longer had exclusive negotiating rights, adds Nightengale.
The two sides can still talk contract, but the Nationals want to make sure they have enough cash to sign a catcher and a starting pitcher in free agency, reports Nightengale.
According to Chelsea Janes of the Washington Post, despite this being seen as a "respectful" offer by both sides, Harper's agent Scott Boras will likely ask for an initial price of approximately $400 million on the open market.
Haper hit .249 with 34 home runs and 100 RBIs over 159 games last season with the Nationals, his seventh year with the franchise.
Over 927 career games with Washington, the Las Vegas native is hitting .279 with 184 homers and 521 RBIs.
Harper won the Rookie of the Year in 2012, the National League MVP in 2015 and is a six-time All Star.
---
Close It Out
Atlanta Braves general manager Alex Anthopoulos is in the market for a closer, according to Jon Morosi of MLB Network.
The list of available free agent closers is long this off-season with World Series champion Craig Kimbrel being at the top. The 30-year-old recorded 42 saves with a 2.74 ERA over 62.1 innings pitched this season with the Boston Red Sox, his third season with the team.
Kimbrel spent the first five seasons of his career with the Braves after the club selected him in the third round of the 2008 MLB Draft. He would go on to appear in four straight All-Star Games as a member of the Braves from 2011 to 2014.
Zach Britton, Andrew Miller and David Robertson are other top of the line relievers who will be available on the open market this winter.
---
Searching for a Veteran Presence
The San Diego Padres have a number of young starting pitchers who will be competing for a spot in their rotation for the 2019 season, but are lacking a veteran presence.
According to Kevin Acee of the San Diego Union-Tribune, out of the 10 starting pitchers expected to be in contention for an Opening Day spot on the Padres' roster, only two have made more than 26 starts at the major league level.
As a result, Acee reports the Padres will do their best to acquire a starter either on the free agency market or with a trade.
One of the players San Diego is looking into is Red Sox hurler Nathan Eovaldi, who is fresh off a World Series championship.
At 28, the right-handed pitcher is coming off a season spent with the Tampa Bay Rays and Red Sox. His regular season was fairly solid, posting a 6-7 record with a 3.81 ERA and 101 strikeouts over 111 innings pitched. However, his game elevated come playoff time. Over six games, including two starts, Eovaldi went 2-1 with an impressive 1.61 ERA.
Eovaldi has had two Tommy John surgeries over his seven-year career.
Acee adds the Padres are also showing interest in Japanese pitcher Yusei Kikuchi,. The 27-year-old lefty went 14-4 with a 3.08 ERA over 23 starts with the Seibu Lions last season.
---
Innings Needed
We already know the Toronto Blue Jays are showing interest in bringing J.A. Happ back to their team next season, but you can now throw the Chicago White Sox into the fold as well.
Morosi says the White Sox are showing interest in Happ as well as Arizona Diamondback left-handed pitcher Patrick Corbin.
Morosi notes that Reynaldo Lopez was the lone Chicago pitcher who threw 50 or more innings with a ERA below 4.00 this past season.
Happ was dealt by Toronto to the New York Yankees just prior to the trade deadline in exchange for third baseman Brandon Drury and outfielder Billy McKinney.
In 177.2 innings last year, Happ went a combined 17-6 with an earned-run average of 3.65 and a WHIP of 1.13. Over two separate stints with the Jays, he has gone 59-41 with a 3.88 ERA.
Corbin, 29, went 11-7 with a 3.15 ERA and 246 strikeouts over 200 innings pitched last season with Arizona.
---