MLB Rumour Mill: Cubs open to trading Bryant?
The Major League Baseball off-season is in full swing with chatter heating up as teams start to put their winter plans in place. Follow all the latest rumours on TSN.ca.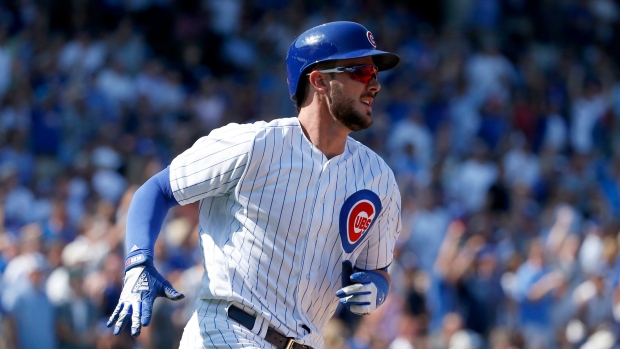 The Major League Baseball off-season is in full swing with chatter heating up as teams start to put their winter plans in place. Follow all the latest rumours on TSN.ca.
---
Cubs shopping Bryant?
ESPN's Buster Olney reports that the Chicago Cubs are willing to discuss trade proposals for almost all players on their roster, including third baseman Kris Bryant.
It's possible the Cubs will deal Bryant as early as this winter after past efforts to reach a long-term agreement with him have not advanced, Olney writes. The Cubs reportedly made a significant offer to the soon-to-be 27-year-old last winter, but things did not materialize.
"We've never operated with untouchables," Cubs head of baseball operations Theo Epstein said Friday at the GM meetings. "It sends the wrong message. Given what we're trying to accomplish, it would be virtually impossible to envision the deal that would make sense to move them. I just don't believe in untouchables. Why limit yourself?"
Bryant struggled for his standards in an injury-riddled season, landing on the disabled list twice with left shoulder trouble while hitting a career-low .272.
Mets seek bullpen help
It looks like the New York Mets are looking for some help in their bullpen. Lots of it, as a matter of fact.
New Mets general manager Brodie Van Wagenen said Friday at the general managers meetings in Calfornia that the Mets are looking for "multiple" bullpen pieces.
"I think a lot of teams are going away from a traditional closer," said Van Wagenen. "I think we had — in [Robert] Gsellman and [Seth] Lugo last year — a lot was asked of those two guys. They were about as good as they could be. As long as we can control their workload and not put them in situations that are over-taxing, I think both those guys can get outs at the back end of the game — the last three outs in particular. We'll see whether other guys can be added to that mix," he said via Anthony DiComo of MLB.com.
Cards not keen on Machado?
According to Jon Heyman of Fancred Sports, the St. Louis Cardinals "do not seem interested" in infielder Manny Machado despite their desire to add a corner infield bat. Heyman adds that it's unclear if the post-season influenced their thinking.
Despite their apparent lack of interest in Machado, the Cardinals seem ready to spend and could use a corner infield bat. Ken Rosenthal of The Athletic reports that third basemen Josh Donaldson and Mike Moustakas could be targets for the Redbirds.
No new deal for Martinez?
Last year, the Boston Red Sox waited until February to sign free agent slugger J.D. Martinez and with the type of season he had, many feel his five-year $110 million deal is one of the biggest bargains in baseball.
That's led to speculation as to whether the Red Sox might want to re-negotiate a longer-term deal with Martinez, but team president Dave Dombrowski nixed those rumours Wednesday at the GM meetings in California.
"I don't think it will change," Dombrowski said via NBC Sports Boston. "Again, you're open-minded to anything, but I would say unlikely."
"There was a reason why we put those opt-outs in, and they're all medical. The medical hasn't changed. So I don't think (we'll look at changing the deal) at this point."
Martinez has opt-outs after both the 2020 and 2021 seasons.
Versatility in demand
Utilityman Josh Harrison is receiving interest from at least three teams, including the Cincinnati Reds, New York Yankees and Washington Nationals according to Jon Heyman of Fancred Sports.
The Pirates declined Harrison's $10.5 team option last month after a down year offensively, but the two-time All-Star's versatility seems to be enticing multiple teams on the open market.
Heyman also notes that the market for utilityman Marwin Gonzalez -- who, like Harrison, was better offensively in 2017 -- is "everyone but one team."
Gonzalez hit 16 home runs and drove in 68 across 145 games for the Houston Astros.
Orioles continue front office search
The Athletic's Ken Rosenthal reports that the Baltimore Orioles have spoken to Peter Woodfork, MLB's senior vice-president of baseball operations, about a front office role.
The Orioles are without a manager and a general manager after parting ways with Buck Showalter and Dan Duquette at the end of the season.