MLB Rumours: Jays' Bautista could be in demand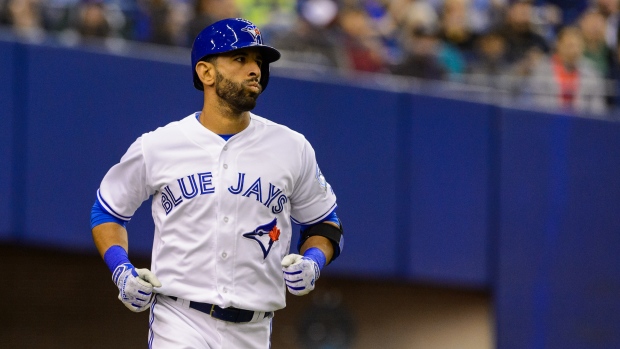 The hot stove is heating up around major league baseball. With just one week until the trade deadline, TSN.ca takes a look at some of the latest news, rumours and rumblings from around the league.
Valuable commodity
If the Toronto Blue Jays decide to sell ahead of MLB's non-waiver trade deadline, right fielder Jose Bautista could be a piece that brings back a worthwhile return.
Nick Cafardo of the Boston Globe reported Bautista could be in demand at the trade deadline because he's still seen as a valuable player.
"Bautista could be in demand at the deadline because of his power and the fact that he's still a pretty good outfielder with a good arm," Cafardo wrote. "Bautista has struggled at different times this season but feels there's a lot left in the tank."
Cafardo cautioned however, that the Blue Jays front office is split on whether the current team should be broken up and it's just as likely the Jays decide to keep their core intact for another season.
Bautista is batting just .222 this season, but does have a .332 on-base percentage, 16 home runs, and 43 RBIs in 98 games this season.
The 36-year-old is signed through the end of this season with a mutual option for 2018.
Verlander headed to the Windy City?
After making the first big splash before the deadline acquiring Jose Quintana from the Chicago White Sox, the Chicago Cubs might not be finished upgrading their pitching staff. According to FOX Sports' Jon Morosi, the Detroit Tigers and Cubs continue to discuss trades for starting pitcher Justin Verlander and catcher Mike Avila, but how far along the two sides are is unclear.
But Verlander, 34, will be a difficult piece for the Tigers to move as the right-hander is having a down year with a record of 5-7, 4.54 ERA and career-high 1.47 WHIP to go along with two years and $56 million remaining on his current contract.
Meanwhile, Avila, 30, is having his best season since 2011, batting .282/.406/.495 with 11 home runs and 30 RBI. He will be a free agent at the end of the season.
Creative thinking
Despite calling up top prospect Rafael Devers over the weekend, there are reports the Boston Red Sox could still be looking for an upgrade at third base for the stretch run.
CSN New England's Red Sox Insider Evan Drellich reported the team has been watching Cincinnati Reds short stop Zack Cozart lately.
Drellich added the caveat that a lot of different teams are watching a lot of different players, but as Jeff Todd of MLB Trade Rumors wrote, Cozart could be an outside-the-box option for the Red Sox at third base.
The 31-year-old Cozart is having a career year, despite missing some time with a quad injury. Through 74 games with the Reds, the first-time All-Star is batting .319 with a .406 on-base percentage, 11 home runs, and 38 RBIs.
Cozart will be a free agent after this season.
Brewers looking to bolster pitching staff
According to ESPN.com's Jerry Crasnick, the Milwaukee Brewers are desperately seeking starting and relief pitching help. Crasnick notes that as ESPN's Buster Olney reported, Tigers' relief pitcher Justin Wilson may be near the top of the Brewers' list, but they are also looking into trading for the Tigers' second baseman Ian Kinsler and the team may be trying to package the two players together. Crasnick says that if the Brewers were to take on much of Kinsler's $10 million salary they might not have to give up as much for Wilson, who is having a very strong year in the Motor City and will command a lot of attention at the deadline. In 38.1 innings pitched, the left-hander is 3-4 with 12 saves, a 2.82 ERA, 54 strikeouts and a 0.965 WHIP.
Outfield insurance
With the Pittsburgh Pirates battling for a playoff spot in the NL Central, the team could be looking for some insurance in the outfield ahead of the trade deadline.
Pirates GM Neal Huntington told Pittsburgh radio station 93.7 The Fan that the team would be willing to add an outfielder if it makes sense, but added when he last looked around, the prices were too high.
"If there's something out there that makes sense, we will do that. Our lack of move in May or June wasn't because we completely felt we were strong. We just felt like the asks for the available players were well above what the value and impact were going to be and/or the available players weren't better than the players we felt we were putting on the field at that point in time."
Stephen Nesbitt of the Pittsburgh Post-Gazette added the team's need for an outfielder is stronger because Starling Marte, who was suspended 80 games earlier this year after failing a PED test, is ineligible for the playoffs, and Gregory Polanco recently landed on the disabled list.
Polanco is currently listed as week-to-week after aggravating a hamstring injury.
Relief market
A number of relief pitchers are expected to be on the move between now and the July 31 trade deadline, and Pat Neshek is one of them.
ESPN's Jerry Crasnick reported the Washington Nationals, Boston Red Sox, Los Angeles Dodgers, Tampa Bay Rays, and Chicago Cubs were all among teams in Philadelphia over the weekend to scout the Phillies' veteran reliever.
The 36-year-old Neshek is enjoying perhaps the best season of his 11-year career. Through 43 appearances with the Phillies this season, Neshek has a 3-2 record, 1.12 ERA, and 45 strikeouts.