MLB winners, losers at off-season's midway point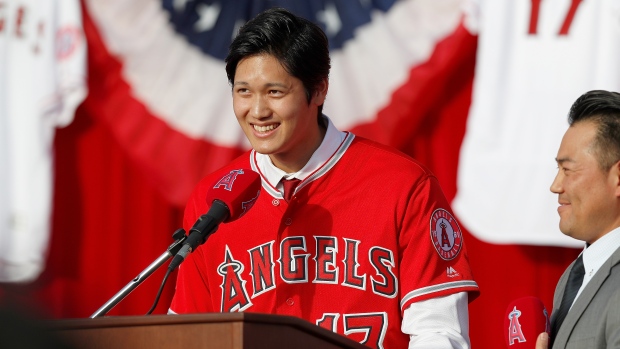 The Toronto Blue Jays revealed 2018 spring training dates on Monday, giving fans a small gift to help them through the approaching winter.
Just 47 days after the Houston Astros outlasted the Los Angeles Dodgers in the second-straight World Series to go the seven-game distance, it was announced Jays pitchers and catchers will start work Feb. 14, leaving us with 59 days of MLB off-season left.
It could be a busy couple months, too, as the majority of the top free-agent talent still sits unsigned heading into the new year.
Since the holiday season is unofficially the midway point of the baseball off-season, let's look at some winners and losers so far:
WINNERS
New York Yankees
The Bronx Bombers were supposed to be quiet this off-season for one final time as they chased Shohei Ohtani and then hibernated for the winter with next year's free-agent class in mind.
Instead, the Yanks jumped out ahead of that pack by trading for Giancarlo Stanton's mammoth bat and mammoth contract, ostensibly taking them out of the race for Bryce Harper a year from now (we all know the Yankees are never really out of any race that can be won with money).
The thought of Stanton alongside Aaron Judge and Gary Sanchez inside Yankee Stadium is scary and it's made Aaron Boone's club the early World Series favourites in the sportsbooks of Las Vegas.
In addition, Yanks GM Brian Cashman was able to re-sign CC Sabathia and dump Chase Headley's contract in order to position themselves to attempt to stay under the $197-million luxury tax threshold, which would be an amazing feat after adding Stanton's $22-million per year hit.
In 18 seasons of the payroll tax in baseball, the Yankees are the only team that has been hit every single year.
Los Angeles Angels
They get lost in the shuffle within their own market, but the Angels have had the best on-paper off-season of any team in baseball.
In November, they re-signed outfielder Justin Upton, who could've opted for free agency, to make sure superstar Mike Trout had some help.
It got even better from there, as they surprisingly won the Ohtani derby, getting the potential two-way Japanese star under contract for the dirt cheap price of a $2.315-million signing bonus.
The subsequent news Ohtani has damage to the Ulnar Collateral Ligament in his pitching elbow wasn't good, but Angels GM Billy Eppler claims the team knew about the injury and is confident it won't be a problem.
Add in the trade for Ian Kinsler to play second base and the Zack Cozart signing to fill the third base hole and the Angels, an 80-win team last year, have significantly improved.
St. Louis Cardinals
The Cardinal Way couldn't lure Stanton to The Gateway City, but the consolation prize wasn't too shabby.
After missing out on the NL MVP, Cards GM Mike Girsch quickly switched gears and pried outfielder Marcell Ozuna away in the Miami Marlins' firesale, getting a 27-year-old power bat coming off a 37-homer season.
They paid a similar price in terms of prospects, but it came without Stanton's near $300-million commitment.
Ozuna's acquisition allowed the Cards to trade Stephen Piscotty to the Oakland A's, a deal they made in part because his mother, Gretchen, was diagnosed with ALS in May.
The Cards said it was a baseball trade, but Piscotty's situation was a tiebreaker when deciding which deal to accept.
Showing this type of compassion alone makes them an off-season winner.
"It's a huge credit to them," A's GM David Forst told Bay Area reporters. "That's why (Billy Beane) said everyone considers the Cardinals a classy organization from top to bottom."
Relievers
As the top tiers of starting pitchers and position players wait out a slow-moving free-agent market, relievers are flying off the board.
Steve Cishek, Luke Gregerson, Tommy Hunter, Brandon Kintzler, Jake McGee, Brandon Morrow, Pat Neshek, Juan Nicasio, Yusmeiro Petit, Bryan Shaw, Joe Smith and Anthony Swarzak have all found multiple years and upwards of $10-million on the market so far, and that's sure to continue when Wade Davis, Greg Holland and Addison Reed sign on the dotted line.
Shaw and McGee were even handed three-year pacts, something that's usually hard to come by for relievers.
This continues a trend of general managers paying more for pitchers they know can get outs at end of a ballgame rather than investing unwisely in mediocre starting pitching.
LOSERS
Miami Marlins
If you've been following along at all, this one doesn't need much explaining.
Led by Derek Jeter, the new Marlins ownership doesn't care one iota about winning right now, only dumping salary and the contracts given out by Jeffrey Loria.
Stanton and Ozuna are gone already, and players like outfielder Christian Yelich, catcher J.T. Realmuto, third baseman Martin Prado and second baseman Starlin Castro, acquired in the Stanton deal, could be next.
While the Marlins were happy to get right-hander Sandy Alcantara and outfielder Magneuris Sierra in the Ozuna deal, the overall prospect haul was unspectacular for two players who combined to hit 96 home runs last season.
Baseball in South Florida is in a sad state once again and the latest Marlins firesale may have killed any chance at the franchise gaining traction with a fan base that takes a gut punch every few years.
AL wild-card contenders
The Yankees and Boston Red Sox ran away in the AL East last season, and that might've been the case again in 2018 no matter what they did this winter.
But with the Yanks significantly improving and the Sox not expected to stand pat once more dominos start falling, it's fair to think that race will produce a pair of 90-plus-win teams and subsequently lock up two of five post-season berths.
With the Cleveland Indians and Houston Astros primed to cruise to division pennants, that leaves one wild-card spot for the rest of the American League.
The Angels have positioned themselves atop that mix, but the Seattle Mariners (Ryon Healy and Dee Gordon) and Texas Rangers (Mike Minor, Doug Fister and Matt Moore) have also been busy trying to keep pace.
There's still a lot of off-season left and strange things will happen once the games start, but it seems like a bad year to be a fringy team on the outer edges of the wild-card race.
Seattle Mariners
The equation here is simple: They would've switched places with the Angels had they won the Ohtani sweepstakes.
Once the Yankees were out, the M's seemed to be positioned as the favourites, but that wasn't the case in the end.
Missing out on a franchise-altering star like Ohtani hurts, especially when it seemed so realistic.
Atlanta Braves
In the end, this may all work out for the organization if new GM Alex Anthopoulos can build the Braves back into a contender behind one of the best farm systems in baseball.
But there's no doubt the soap opera surrounding John Coppolella's transgressions on the international free-agent market are a black mark on both the organization and the sport, one that resulted in a lifetime ban for the former Braves GM and unprecedented penalties.
The scandal cost the Braves 12 prospects from their 2015 and 2016 IFA classes, including Kevin Maitan, who received a $4.25-million signing bonus and was considered the top international player available in 2016.
After being declared a free agent, the 17-year-old shortstop signed with the Angels.​