Falling ice rips hole in Rogers Centre roof, gives Jays another day off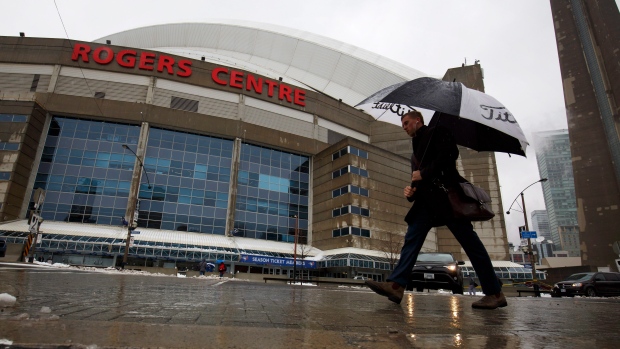 TORONTO — About three hours before Monday's scheduled first pitch, Ryan Tepera sat at his locker inside the Blue Jays clubhouse expecting to play baseball.
As snow was still falling onto the field through a hole in the Rogers Centre roof, Tepera and his teammates were told there was still a "90 per cent" chance they'd be opening up their three-game series against the Kansas City Royals.
After dealing with two straight days of cancellations due to inclement weather in Cleveland, the entire Blue Jays roster had nothing to do but sit and wait to see if their usually climate-controlled home field would be playable.
About an hour and a half later, they found out it wasn't.
While the hole in the roof where ice had crashed through from the CN Tower onto the turf in right field had been patched, the obvious safety concerns could not be sufficiently alleviated and the game was cancelled.
Andrew Miller the club's vice president of business operations, was on the field with the team's head of engineering as well as the head of field operations assessing damage when ice ripped through the membrane at around 9:30-10 a.m.
"We heard a number of different loud collisions with the roof and then we saw one crash through the roof," Miller said as he addressed the media to update the situation Monday evening. "We saw it happen. It was pretty frightening at the time."
A number of veteran SkyDome staffers relayed to Miller that they've never seen anything like it in the building's 29-year history.
"It's hard to describe," Miller said. "It was really loud. It sounded like fireworks or some sort of explosion going off. Some ice and some insulation from the roof (fell onto the field)."
Now, the Jays and Royals are scheduled for a traditional double-header Tuesday starting at 3:07 p.m, just the third twin-bill in the history of the building.
While Miller and the Jays fully expect to be playing baseball Tuesday afternoon, they will reevaluate the entire situation in the morning.
"We're going to assess the situation tomorrow," said Miller, noting they've been in constant communication with CN Tower officials and Toronto Police Service. "We're going to get in early, we're going to look at what the tower poses, what the weather poses, and what condition our roof is in, and we'll make that decision at the time."
It's the second time a game inside the venue has been cancelled, and first since April 12, 2001, when an early-season test drive of the roof went wrong and debris fell into left field.
Coincidentally, the opponent that day 17 years ago was also the Royals.
"If you come to a dome and get banged, something ain't right," Royals manager Ned Yost said when he learned Monday's game was in jeopardy.
Banged is baseball vernacular for rained out or cancelled.
And around baseball, a lot of games have been "banged" so far in 2018.
The Jays-Royals game was the 24th postponement of the season.
Miller says they waited until the last possible minute to call it off, but even though the biggest hole in the roof — he estimates it was about three feet wide by five feet long — was patched, safety concerns lingered.
"We were doing everything we possibly could to get the game in," Miller said. "Obviously, with the last two games getting rained out in Cleveland, our goal was to try to get a game in tonight. We took as much time as we could to assess the information, look at the information on the roof, the weather, and ultimately decided to postpone it.
"We just felt we'd get more information by tomorrow, in terms of weather, in terms of roof conditions that we didn't want to put players at risk or fans or employees at risk."
Fans with tickets to Tuesday's original 7:07 p.m. start will be able to attend both games of the twin bill, while those with tickets for Monday's cancelled game can exchange those ducats via the box office for a game later this season.
Manager John Gibbons has seen it all over the years, but even he has no idea how his team will respond when they finally get back on the field for the first time since Friday night.
"You really don't know," Gibbons said. "You don't know how it's going to affect anybody. Kansas City, they got banged yesterday. Who knows. We'll find out. It's not ideal."
Gibbons will stick with his planned rotation and start Jaime Garcia in the first game Tuesday, and then take advantage of the 26th man for the double-header by sending Joe Biagini to the mound for the nightcap.