Alvarez: Murphy retired after The Ultimate Fighter loss
Aaron Bronsteter, TSN.ca Staff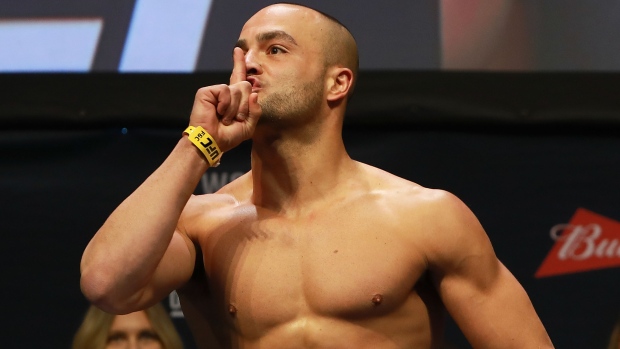 Former UFC lightweight champion and The Ultimate Fighter: A New World Champion coach Eddie Alvarez joined the TSN MMA Show and provided a tidbit of behind-the-scenes information that was not shown during the show's airings.
Alvarez revealed that following her Round of 16 loss to Nicco Montano, Team Alvarez contestant Lauren Murphy retired in the locker room.
"She (Murphy) retired immediately in the locker room. She lost, she went back to the locker room and kind of made a retirement speech. That's not what fighters do; you're not a fighter when you do that, you're a quitter. You lost and then you quit fighting for good? I don't know if the cameras showed that, but she retired in front of everyone," Alvarez told The TSN MMA Show. "I'm trying to keep the morale and the spirit of the team up, I know you're a little bit upset, but let's not get too far ahead of ourselves. Like, you're quitting fighting because you lost one fight?
Alvarez's issues with Murphy were well documented on the show as the two quarreled over Murphy taking the morning off following her loss, which inevitably resulted in Murphy switching teams to the rival Team Gaethje, coached by Alvarez's future opponent Justin Gaethje.
"If you listen well, you'll end up being good at whatever you're doing, but if you come in with a know-it-all attitude, then you're probably not going to do as well," said Alvarez. "If you're a little bit closed-minded and have an attitude that you're a little bit better than what you are. That's what we were dealing with."
Alvarez also took exception to Murphy looking ahead to potential opponents who were her teammates.
"The biggest issue with her is that she kept conspiring against the girls on our team. There's a conflict of interest, Lauren Murphy only cares about Lauren Murphy, but it's Team Alvarez and I've got to take care of eight girls who want to win this tournament," said Alvarez. "She was conspiring against people that she felt threatened by like "Sarge" (Sijara Eubanks) and Barb Honchak."
Alvarez also took the opportunity to promote his upcoming fight with Gaethje that will take place in Detroit on Saturday, Dec. 2.
"This fight is much more exciting than any lightweight title fight that's going on these days," said Alvarez. "The winner of this fight will be crowned the UFC's most violent."
The Ultimate Fighter: A New World Champion airs every Wednesday at 10 p.m. ET on TSN.