Pens to start Murray over Fleury in Game 4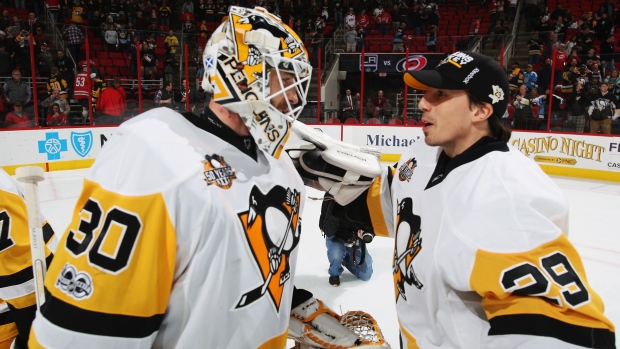 Matt Murray will start in net for the Pittsburgh Penguins in Game 4 against the Ottawa Senators, Penguins head coach Mike Sullivan confirmed.
Murray will be making his first start of the postseason in Friday's Game 4. He stopped 19 of 20 shots in a relief effort on Wednesday night.
Murray was the first goatender off the ice at the Penguins' optional skate on Friday morning, hinting at Sullivan's decision. The Pittsburgh Tribune-Review reports Murray left the ice after roughly 40 minutes, while Marc-Andre Fleury worked for close to an hour.
"I'm not going to elaborate on the coach's decision," Sullivan said. "That's a decision we made. We made it for Game 4. We'll see how it goes.
"We never take these decisions lightly. They're extremely difficult decisions and this is the choice that we made for Game 4."
"It's a good difficult decision to have because we have two guys that are as capable as they are," Sullivan added. "And both of these guys have helped this team win all year long."
Fleury was pulled just under 13 minutes into Game 3 after allowing a wraparound goal to Zack Smith – his fourth goal allowed on nine shots. He had been outstanding through the first two games of this series, stopping 56 of 58 shots faced and posting a 23-save shutout in Game 2.
"Marc was a professional like he always is," Sullivan said when asked how Fleury took the news.
He owns a 9-6 record in the playoffs this year with a .924 save percentage and a 2.56 goals against average. He got the surprise start in the Penguins' first playoff game when Murray was injured in warmups. Murray out-started Fleury 49-38 in the regular season and a posted a 2.41 goals against average and .923 save percentage to Fleury's .909 save percentage with a 3.02 goals against average.
History would appear to be repeating as the Penguins faced an almost identical situation last year in the Eastern Conference Final. Murray became their starter due to injury to Fleury late in the season and Murray, who had started every game in the postseason to date, was pulled in Game 4 of the East Final against the Tampa Bay Lightning after allowing four goals on 30 shots. Fleury stopped all seven shots he faced in relief and got the nod for Game 5. Fleury allowed four goals on 25 shots in that game - a 4-3 overtime loss - and the Penguins went back to Murray for Game 6 and the remainder of the playoffs en route to winning the Stanley Cup.
Fleury said after Game 3, which put the Penguins down 2-1 in the series, he was looking forward to putting the rough outing behind him.
"I think it's important to learn from the mistakes and just put it behind you," Fleury said, per the Pittsburgh-Post Gazette. "Forget about it, get ready for practice tomorrow, have some fun and get back at it."
Murray was supposed to be the team's postseason starter, but Fleury was thrown into the crease when Murray was injured in warmups before Game 1 of the Penguins' first round series.
The 22-year-old was healthy enough to back up in Fleury in Game 7 against the Washington Capitals but saw his first action of the 2017 playoffs on Wednesday.
"It felt good," Murray said of returning to the crease. "Not the ideal circumstances by any means, but it felt good to try and shake some rust off a little bit. I definitely felt like I hadn't played in about four weeks. It was good to get that out of the way, and it felt good to get back out there."
Before the series, Sullivan said Fleury "deserves the opportunity to play" after backstopping the team through the first two rounds.