Nash's unlikely rise to NBA Hall of Fame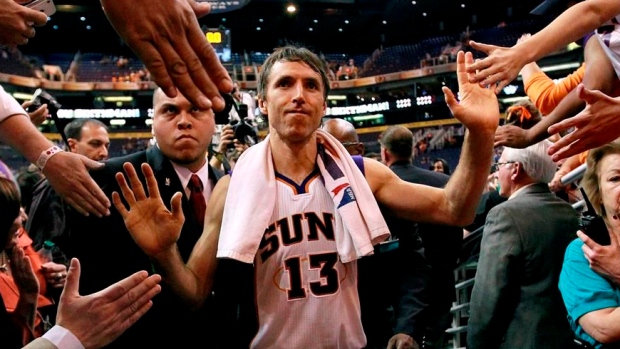 Before R.J. Barrett, Andrew Wiggins, or the high-flying Toronto Raptors of the early 2000s, there was Steve Nash as the face of Canadian basketball. Before the Golden State Warriors and Houston Rockets pushed the tempo and centred their offence on the three-pointer, there was Nash's "seven seconds or less" Phoenix Suns.
Nash didn't just change basketball in Canada during his 18-year career; he changed the game everywhere. With the British Columbia native set to enter the Naismith Memorial Basketball Hall of Fame alongside Grant Hill, Jason Kidd and Ray Allen, TSN.ca takes a look back at Nash's basketball career from his time as an overlooked high-schooler to one of the best players in the world.
---
The beginning (1992-1996)
Nash's journey was an unlikely one from the start. He almost didn't make it to college in the United States, let alone to the NBA. Or Springfield, for that matter.
He tore up the B.C. high school scene but received little interest from American schools. Nash had his eyes on Indiana, Virginia, Florida State, Maryland and Washington, among other schools. So Ian Hyde-Lay, Nash's high school coach, wrote to sell them on Nash's talent. A few made arrangements to send scouts, but nothing came of it. A few said no and a few others didn't even respond. One place they failed to reach out to? Santa Clara.
Nash played with Canada's under-19 team the previous summer in 1991 and caught the eye of a Long Beach State assistant coach, who knew a volunteer assistant at Santa Clara. One thing led to another and Broncos' assistant coach Dick Davey asked for a demo tape. With no other schools showing interest, Nash and Hyde-Lay jumped at the chance. When he liked what he saw, Davey scouted Nash in person and soon after offered him the only American scholarship he would receive.
In his freshman season, Nash helped the Broncos reach their first NCAA tournament in five years. As a 15-seed in the opening round, they came in as 20-point underdogs against two-seed Arizona. Despite a run of 25 straight points by the Wildcats in the second half, Santa Clara held on for one of the biggest upsets in recent memory with Nash making six huge free throws in the final minute. They would lose their next game, but the upset stands out as one of the biggest moments in school history.
Nash went on to enjoy quite the career at Santa Clara, winning West Coast Conference player of the year in both his junior and senior seasons. His No. 11 jersey was retired by the school in 2006.
Rise to stardom (1996-2004)
Nash's name was called 15th in the 1996 NBA Draft, but like his time in high school, he wasn't given the recognition he deserved.
The announcement was met with jeers and boos from fans gathered in the Suns' home arena watching the draft.
"I don't look like I'm going to be a tremendous basketball player on appearance," Nash said. "I probably would've booed myself too, but I'm going to be a really good player and I'm going to help the team a lot."
Help them he did, but not immediately.
Following two seasons in Phoenix where Nash was held to under 10 points a night, he was traded to the Dallas Mavericks in exchange for three players and a first-round pick, which later became longtime teammate Shawn Marion.
Following the trade, Nash's playing time dramatically increased and he began to show flashes of the elite playmaking ability he would later become known for.
But it didn't happen right away. During his first season with the Mavs, Nash dealt with back injuries – as he did for much of his career – and hadn't come into his own yet despite signing a six-year, $33 million deal that came with high expectations. He recalled in a 2012 interview a game against the Houston Rockets where he was booed by the home fans.
"I started to get booed every time I touched the ball. At home. And I'm the point guard, so I have the ball… on a number of occasions, if you haven't watched basketball. It was one of those moments where you're like, 'I can't believe this is happening to me,'" Nash said.
Following an up-and-down two seasons as Dallas' starting point guard, Nash represented Canada at the 2000 Olympics in Sydney, which is still the country's most recent berth for men's basketball. Canada won their first three games and, after losing to Russia, was matched up against defending world champion Yugoslavia. Nash led both teams in scoring, assists and rebounds, leading Canada to an 83-75 victory that guaranteed them a berth in the quarterfinal. It was a marquee victory for a team that finished 12th at the Worlds two years prior. They would lose in the next round to France, but like the 1992 NCAA Tournament with Santa Clara, Nash led an underdog to a monumental upset.
Nash's NBA career took off later that year, posting career-highs in points per game, assists, rebounds, field goal percentage and free throw percentage. Along with teammates Dirk Nowitzki and Michael Finley, Nash helped the Mavs reached the playoffs for the first time in a decade. The next year in 2002-03, he was even better, earning his first of eight All-Star Game nods. But it wasn't until he returned to where his career started that he really hit his prime.
The glory years (2004-2012)
Mavericks owner Mark Cuban had some tough decisions to make following the 2003-04 season.
Nash was one of them.
The Canadian signed a lucrative six-year, $63 million deal with the Suns – the team that drafted him eight years prior – after the Mavericks declined to match Phoenix's offer.
He wasn't exactly joining a model franchise, as the Suns finished 29-53 the season before. Joining Nash in the desert was newly-hired head coach Mike D'Antoni, who was brought in to run an up-tempo offence. It turned out Nash was just the guard to lead it.
Nowadays, three-point shooting is at a premium. Teams rely on offences built upon space, ball movement and long-range shooting. But it was Phoenix and their "seven seconds or less" offence that started it all once they showed what it could do.
The Suns won a franchise-record 62 games that year with Nash leading D'Antoni's refreshing new attack. Phoenix led the league in threes attempted (2,026) threes made (796) and three-point percentage (39.3 per cent). It was the greatest single-season turnaround in NBA history.
"Steve kind of changed the game to what the game is now with the up-tempo…" Toronto Raptors point guard Kyle Lowry said in March. "[Nash and fellow inductee Jason Kidd] are two of the point guards who kind of changed the game as facilitators and shooters."
The Suns' resurgence coupled with Nash's best year yet was enough to make him the first Canadian to win the league's most valuable player award. He joined Charles Barkley as the only other member of the Suns to win an MVP.
He must have enjoyed it because he did it all again the following year. Despite missing his biggest weapon, Amar'e Stoudemire, for all but three games in 2005-06 because of knee issues, Nash took his play to another level, winning his second straight MVP. Improvement in virtually every statistical category raised a ceiling everyone thought he'd already reached. Despite the Suns falling in the conference final once again – this time to his old gang in Dallas – his career season made him hard to overlook as the best player in the world. He wasn't just the face of Canadian basketball, or even the face of the Suns, he was one of the faces of the entire NBA.
It wasn't just the numbers he put up or the awards he won, but how he did it – always looking to set up his teammates first and score second.
"I had coaches tell me I was hurting our team at times by trying to set up my teammates, but I always thought I got it back by how I make them feel and incorporated them into the offensive scheme and the chemistry of the team," Nash told Bleacher Report's Ric Bucher.
Nash went on to play six more seasons with the Suns, making four more All-Star teams and leading the league in assists three times.
"What can you say about Steve? He had a handle on the ball. The only other man I've seen play was Pete Maravich that had the command of the ball like Steve, and knew where everyone was on the floor. They will go down as two of the all-time great point guards," said former Raptors head coach Dwane Casey.
The finishing touches (2012-present)
At the end of the 2012 season, Nash and the Suns parted ways again – this time for good. He drew interest from multiple teams, including the New York Knicks and Raptors, but Nash was convinced to join the Los Angeles Lakers in a sign-and-trade. Expectations were high in L.A.
With Nash and Kobe Bryant in the backcourt, the addition of centre Dwight Howard gave the Lakers plenty of star-power and reignited title hopes.
Nash was one of the most durable players in the league from 2000 to 2011, playing in at least 70 games each season. But eventually his health caught up to him.
In his second game as a Laker, Nash collided with Damian Lillard, suffering a non-displaced fracture in his left leg. Nash, 38 at the time, would later admit the injury was the beginning of the end.
He went on to play a combined 65 games over two seasons in Los Angeles before chronic back issues ended his 2014-15 campaign before it even started. He officially announced his retirement the following March.
His on-court retirement, that is. Nash sticks close to the game, serving as a consultant to the Golden State Warriors, the GM for the Canadian senior men's team and the godfather to Canadian prodigy R.J. Barrett after playing with his father, Rowan, at the 2000 Olympics.
In a nutshell: Seven All-NBA teams, eight All-Star nods, two MVP awards, five assist titles, third all-time in assists and, soon enough, a place in the Basketball Hall of Fame.
"The greatest gift has been to be completely immersed in my passion and striving for something I loved so much — visualizing a ladder, climbing up to my heroes. The obsession became my best friend. I talked to her, cherished her, fought with her and got knocked on my ass by her," Nash wrote in his 2015 Players Tribune retirement announcement.
"And that is what I'm most thankful for in my career."
The basketball world – and all of Canada – is thankful, too.