Nats' Zimmermann takes on Rockies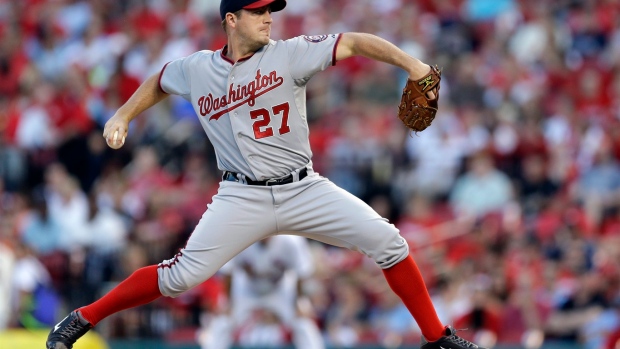 (SportsNetwork.com) - Right-hander Jordan Zimmermann aims to stay unbeaten against the Colorado Rockies on Monday night when the Washington Nationals open up a three-game series with the visitors at Nationals Park.
Zimmermann is making his sixth and final start of a June that's seen him pitch quite well, but only get rewarded with a pair of victories in spite of a stingy 1.18 earned run average in the first five outings. He's winless in the last three starts, while his offensive teammates have staked him with a single run.
He got a no-decision in his most recent start on Tuesday at Milwaukee, where he was touched for two runs and struck out nine batters in six innings of a game the Nationals ultimately won, 4-2, in 16 innings. He's 4-0 with a 1.42 ERA in six career meetings with the Rockies.
Zimmermann could get some additional firepower with the possible return of outfielder Bryce Harper, who hit three home runs in one game of a rehabilitation assignment at Double-A Harrisburg on Saturday. He did not play on Sunday, fueling speculation he'll return to Washington on Monday.
Harper hasn't played with the Nationals since April 25 because of a torn ulnar collateral ligament in the left thumb.
Washington had a rare Sunday off after playing -- and sweeping -- a scheduled doubleheader at Wrigley Field in Chicago on Saturday. The twinbill was scheduled to offset possible traffic problems around a parade in Chicago on Sunday.
"It's nice to win the last two," Nationals manager Matt Williams said. "It's difficult to sweep a doubleheader anyway, so it's nice to end it on that note."
Colorado replies with lefty Yohan Flande in his second big-league start.
He was dinged for six hits and four runs in his debut on Wednesday, which resulted in a 9-6 loss to St. Louis.
On Sunday in Milwaukee, Corey Dickerson drove in a pair of runs and scored twice to help the Rockies salvage a 10-4 win in the finale of a four-game set against the Brewers.
Charlie Culberson stroked a two-run home run while Wilin Rosario, Justin Morneau and DJ LeMahieu each drove in a run for the Rockies.
Jorge De La Rosa (8-6), who began his career with the Brewers, allowed four runs on as many hits with two walks across six innings of work.
Washington took four of seven meetings from Colorado last season.