NBA approves trade that lands Green with Grizzlies, Prince with Celtics and Pondexter with Pelicans
The NBA has approved a five-player trade between Memphis Grizzlies, Boston Celtics and New Orleans Pelicans that includes forward Jeff Green going from Boston to Memphis. The Grizzlies announced the deal Monday.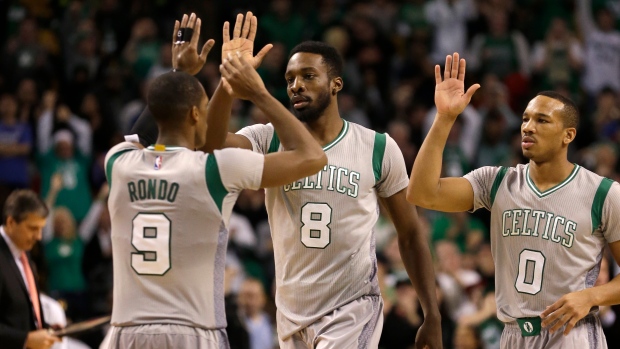 MEMPHIS, Tenn. - The Memphis Grizzlies hope Jeff Green can boost their offence and give them an edge in the tight Western Conference race after acquiring the forward from Boston in a three-team trade approved Monday.
In the trade, the Grizzlies sent forward Tayshaun Prince to Boston and forward Quincy Pondexter to New Orleans. The Grizzlies also received point guard Russ Smith, a 2014 second-round pick, from New Orleans, and a traded player exception. The Pelicans sent Austin Rivers, the 10th overall pick in 2012, to Boston in the deal.
Memphis also gave a 2015 second-round pick to New Orleans and a protected future first round pick to Boston.
The trade ends a long weekend for a deal that started coming together Friday with Prince not sure if he should warm up for a game in New Orleans. The Grizzlies held out both Prince and Pondexter from Sunday's 122-110 double overtime win over Phoenix. Pondexter watched the game from a box with general manager Chris Wallace and had his locker boxed up ready to go.
"It's a business," Grizzlies forward Zach Randolph said Sunday night. "Tayshaun is like a brother. We're real close here in the locker room. It's a business, and he understands that."
But Green is expected to provide more offence for Memphis, which has gone 5-5 over its past 10 games. That left the Grizzlies tied Monday with Houston atop the tight Southwest Division at 26-11 just ahead of Dallas. The Celtics (12-23) are busy rebuilding.
The 6-foot-9 Green averaged a career-high 17.6 points with 4.2 rebounds and 1.6 assists in 33 starts with Boston this season. He is shooting 43.4 per cent from the floor and 30.5 per cent from beyond the arc. The fifth overall draft pick in 2007 by Boston, Green was traded to Seattle on draft night.
"Anytime you lose you're leading scorer, there's going to be challenges that come with that," Boston coach Brad Stevens said before Monday's game against New Orleans.
It's another in a line of trades the past few years for Boston's president of basketball operations Danny Ainge, who also dumped point guard Rajon Rondo last month during his free agent season.
"I just felt like a timeline thing, the players that we had, the uncertainty of the future and free agency and felt like we were getting good value in return based on this contract situation," said Ainge.
He also said "I don't know" when asked if either Price or Rivers would play for the Celtics.
Green missed the 2011-12 season because of heart surgery. He also has played with Oklahoma City and is averaging 12.3 points and 4.0 rebounds in 21 playoff games.
He will replace both Prince and Pondexter at small forward. Prince, 34, averaged 7.3 points and 3.2 rebounds in 26 games with Memphis this season while Pondexter scored 4.5 points and grabbed 1.9 rebounds in 30 games with two starts.
The Pelicans are trying to stay in striking distance of a playoff berth in the West, and are happy to bring back Pondexter to the team where he spent his rookie season after being picked up in a trade with Oklahoma City during the 2010 draft. With a glut at guard, the 6-7 Pondexter is expected to either start or rotate with Dante Cunningham.
"Quincy is a two-way player, a multi-position defender that will add toughness along with an offensive skill set that we anticipate will help the Pelicans win games," Pelicans general manager Dell Demps said in a statement.