Lowry quashes report he's unhappy with Raps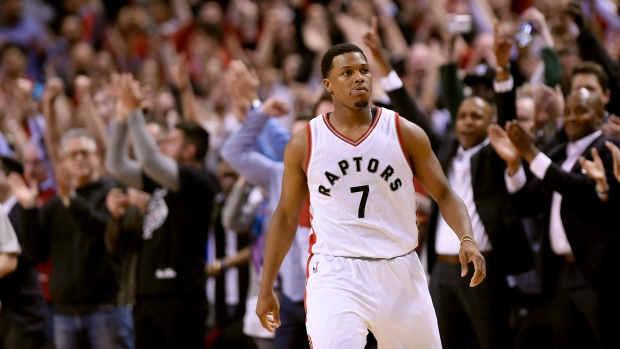 Kyle Lowry took to Twitter to set the record straight on a report stating the Raptors point guard had been "grumbling about dissatisfaction with the Raptors for months."
In the tweet, Lowry made it clear that the article published on Monday wasn't true, stating, "Don't believe what you hear!! Especially if it didn't come from me, and that bs FOR SURE didn't come from me..."
Bruce Arthur, contributor to TSN's The Reporters and author of the article in the Toronto Star, reported that Lowry, who is set to become an unrestricted free agent after opting out of the final year of a four-year, $48 million contract, had "zero interest" in re-signing with the Raptors, even if they offered him a max contract of five years and roughly $205 million.
However, Arthur didn't shy away from Lowry's tweet, claiming the All-Star was denying the article's sentiments about the three-time All-Star not wanting to return to Toronto.
Both TSN's Josh Lewenberg and Arthur said on Twitter that Lowry can be tempermental at times and as Lewenberg notes, Lowry, 31, flirted with leaving the Raptors the last time he was a free agent back in 2014. And even if he was frustrated in mid-May and said he doesn't want to return to the Raptors, that doesn't necessarily mean he won't be suiting up for the Raptors come November. Arthur further chimed in saying that, "If I had to bet: I think Kyle (Lowry) comes back (to the Raptors)."
Lowry averaged a career-best 22.4 points per game on 46.4 per cent from the field last season but missed significant time because of an injury to his right wrist. His production declined in the playoffs, scoring 15.8 points per game, 6.6 fewer than his regular season total.
The Raptors ended their season in disappointing fashion as they were swept in the second round by the Cleveland Cavaliers.
Raptors head coach Dwane Casey and teammates DeMar DeRozan and Norman Powell met with Lowry on June 2 in the Bay Area as free agency nears. Lowry will become a free agent on July 1 and can sign with a team officially on July 6.