Report: Wiggins' new deal could hit $148M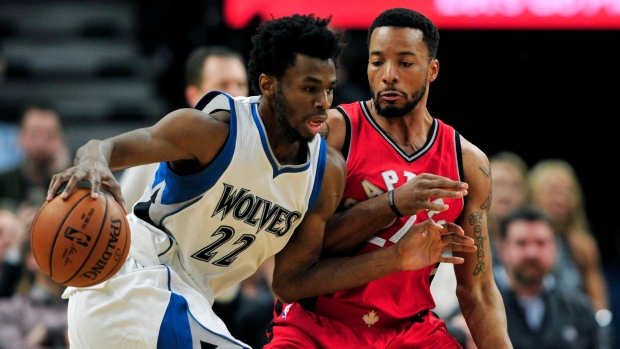 According to ESPN.com, the Minnesota Timberwolves and guard Andrew Wiggins are actively involved in contract negotiations on a five-year extension worth nearly $148 million.
General manager Scott Layden and head coach Tom Thibodeau have already been incredibly active this offseason with the acquisition of star forward Jimmy Butler from the Chicago Bulls and signings of Taj Gibson, Jeff Teague and Jamal Crawford. Now the organization turns their attention to locking up one of the cornerstones of the franchise long-term.
The extension would take effect in 2018-19 with a starting salary of $25.5 million and potential bonuses that could boost the figure as high as $30.6 million if the 22-year-old was to make an all-NBA team or be named Defensive Player of the Year.
The Thornhill, Ont. native set career highs in points (23.6), assists (2.3) and three point percentage (35.6 per cent) last season to go along with averages of four rebounds and one steal per game.
After being drafted first overall by the Cleveland Cavaliers in 2014, Wiggins was the main piece the Cavs used to acquire forward Kevin Love from the Timberwolves. Wiggins would go on to win Rookie of the Year in 2014-15.
The Timberwolves exercised Wiggins' option for 2017-18 before the beginning of last season and he is set to make $7.5 million in the upcoming NBA campaign.