NCAA hockey returns to TSN with most expansive schedule ever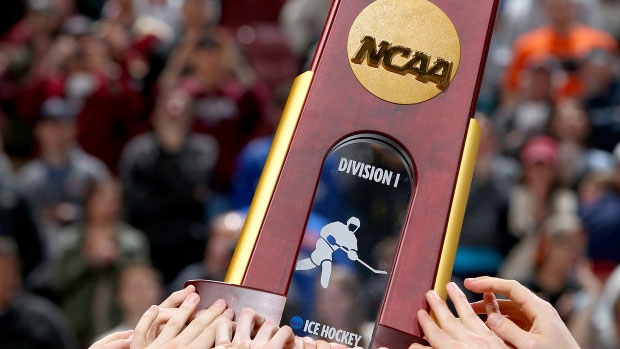 TORONTO - TSN is home to more NCAA HOCKEY games than ever before throughout the 2015-16 season. The network's 44-game U.S. college hockey schedule features comprehensive coverage of the NCAA TOURNAMENT culminating with coverage of the FROZEN FOUR in Tampa Bay, Fla., running April 7-9, 2016. TSN's 2015-16 NCAA HOCKEY schedule begins this week with Northeastern vs. Notre Dame on Thursday, Nov. 12 at 7:30 p.m. ET on TSN2, followed by a rematch of last year's championship game with Boston University vs. Providence on Friday, Nov. 13 at 6 p.m. ET on TSN2.
TSN's expanded coverage of NCAA HOCKEY is available for live streaming and on demand viewing to TSN subscribers through TSN GO.
"With a huge crop of emerging stars and high-performance play, NCAA HOCKEY is a fantastic property for Canadian hockey fans," said Shawn Redmond, Vice-President, Programming, TSN. "We look forward to showcasing the highly anticipated FROZEN FOUR tournament in April, a great complement to our package of NCAA championships that includes NCAA March Madness and the College Football Playoff."
"TSN's coverage of NCAA HOCKEY generated tremendous excitement last season and we look forward to building upon that success," said College Hockey Inc. Executive Director Mike Snee. "Nearly 30% of NCAA players are Canadian so it makes sense to provide hockey fans in Canada an opportunity to follow NCAA HOCKEY throughout the winter. Also, having access to so many games allows young aspiring hockey players in Canada the opportunity to see what makes the U.S. college game so special."
TSN's broadcast schedule showcases teams from all six NCAA Division I conferences and many of the nearly 200 NHL Draft picks currently playing at the NCAA level. Additional highlights from TSN's NCAA HOCKEY schedule include:
- All 15 2016 NCAA TOURNAMENT games, culminating with the FROZEN FOUR
- Boston's historic Beanpot tournament between Boston College, Boston University, Harvard, and Northeastern at TD Garden
- Draft picks from all 30 NHL teams, including first round selections from four Canadian teams: Calgary (Providence's Mark Jankowski), Ottawa (Boston College's Colin White), Vancouver (North Dakota's Brock Boeser), and Winnipeg (Michigan's Kyle Connor)
- Scheduled appearances from more than half (31) of all schools in Division I, plus others in the NCAA TOURNAMENT
- Live coverage of the first day of the inaugural Friendship Four tournament being held in Belfast, Northern Ireland – the first competitive NCAA HOCKEY games to be played in Europe
- Rivalry games including Boston College vs. Boston University, Michigan vs. Michigan State, Denver vs. Colorado College, and Lake Superior State vs. Michigan Tech
CLICK HERE for TSN's complete NCAA HOCKEY broadcast schedule