NCAA Primer: USC, UCLA battle for Pac-12 Championship game spot
Each week, TSN.ca takes a look at the top storylines in NCAA football and gives you all you need to know heading into Saturday's action to Win The Day. This week, bitter rivals USC and UCLA face off with position in the Pac-12 Championship game on the line.
Mike Hetherington & Ben Fisher, TSN Digital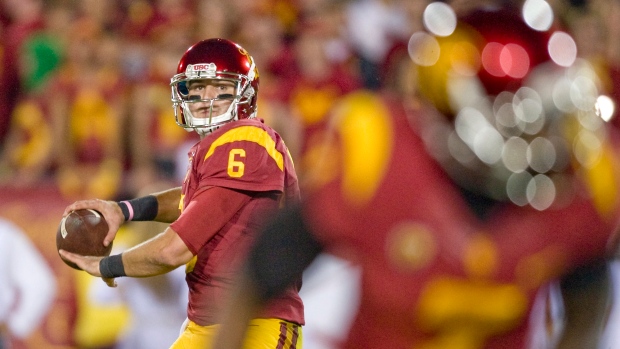 Each week, TSN.ca takes a look at the top storylines in NCAA football and gives you all you need to know heading into Saturday's action to Win The Day.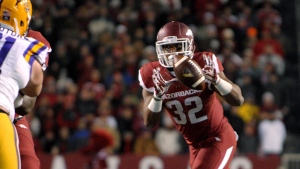 Sneaky Arkansas looks to ruin another team's season
Arkansas may not look like much on paper – or in the standings – but they play the SEC tough. The Razorbacks' 1-5 conference record includes an overtime loss to Texas A&M, a one-point defeat to Alabama, and a one-score defeat to Mississippi State. They're also coming off a 17-0 shutout of LSU.
Will the Razorbacks play spoiler once again, this time to an Ole Miss team with still plenty to play for? While the Rebels likely have too much ground to cover in the College Football Playoff Rankings they still have an outside shot at the SEC Championship, having earlier defeated Alabama and with Mississippi State still on the schedule.
Ole Miss hasn't played since their shellacking of Presbyterian two weeks ago, and that game was preceded by two straight conference losses, so rust could be a factor for senior QB Bo Wallace and the Rebels.
Rivals USC, UCLA battle for spot in PAC-12 Championship game
Always slated to be an exciting game against bitter rivals, both ranked in the Top 25, UCLA-USC took on extra meaning after Arizona State fell to Oregon State last Saturday. With that loss, the Bruins and Trojans are all of a sudden battling for the division and privilege to play Oregon in the PAC-12 Championship.
Having beaten Arizona State earlier in the year the Bruins control their destiny while things would get muddied if the Trojans win as they'd be in a three-way tie with both schools from Arizona.
The game features an interesting individual battle as well with UCLA QB and one-time Heisman candidate Brett Hundley trying to avoid the rush of USC defensive lineman and potential first-overall draft pick Leonard Williams all game long.
No. 25 Minnesota looks to keep Big 10 Championship hopes alive vs. No. 23 Nebraska
The Golden Gophers are hoping to bounce on Saturday after falling by just seven points to Ohio State last week. Meanwhile, the Cornhuskers are coming off an embarrassing 59-24 loss to Wisconsin, in which they allowed a record 408 rushing yards to Melvin Gordon. While Minnesota doesn't have one of the best running backs in the nation such as Gordon, senior David Cobb has put 180 or more rushing yards four times this season and will look to do so again the Nebraska defence.
While Nebraska remains a long shot for the Big 10 championship, Minnesota controls their own destiny with a matchup looming against Wisconsin next week; making this a must-win for the Golden Gophers.
You can watch this game live on TSN3 at 12pm et/9pm pt.
Player to watch: Ameer Abdullah, Nebraska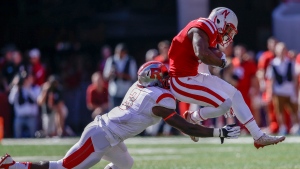 Widely viewed as one of the top running backs available in the 2015 NFL Draft, Abdullah struggled mightily against Wisconsin. Abdullah's disappointing performance against the Badgers came just one week after he gained one yard on six carries while playing on a sore left knee against Purdue. If Abdullah struggles again, likely so will Nebraska.
No. 15 Arizona, No. 17 Utah battle for bowl positions
Both Arizona and Utah are all but ruled out of the Pac-12 championship, but will battle Saturday to keep their top-20 ranking heading into bowl season. For Utah, Arizona will be the final big test before the post-season as they travel to face Colorado (2-8) next week. Arizona, however, is hitting their toughest two-game stretch of the season with rival No. 13 Arizona State looming to close the season.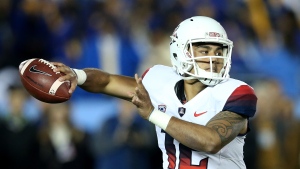 If Arizona, led by true freshman quarterback Anu Solomon, can earn a victory Saturday, the Wildcats battle against the Sun Devils will be must-see TV next week.
You can watch this game live on TSN3 at 3:30pm et/12:30pm pt.
Notre Dame looks to right the ship against No. 24 Louisville's backup QB
In mid-October, Notre Dame was 6-0 and contender for the College Football Playoff. Now, after losing three of their last four contests, Notre Dame is sitting outside the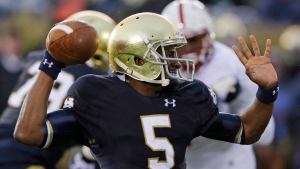 top-25 and facing two ranked opponents to close their season. This week, Notre Dame faces a Cardinals team that has been forced to turn back to Reggie Bonnafon at quarterback after starter Will Gardner's season came to an end in Louisville's last game against Boston College. Led by senior Everett Golson, Notre Dame enters this game as 3.5 point favourites.