New initiatives to be showcased at World Cup
When the World Cup of Hockey gets underway next month, don't be alarmed by the unfamiliar nature of the event. The two-week showcase of hockey's best players is a chance for the NHL and NHLPA to test-drive all their latest fan-engaging initiatives. Kristen Shilton explains.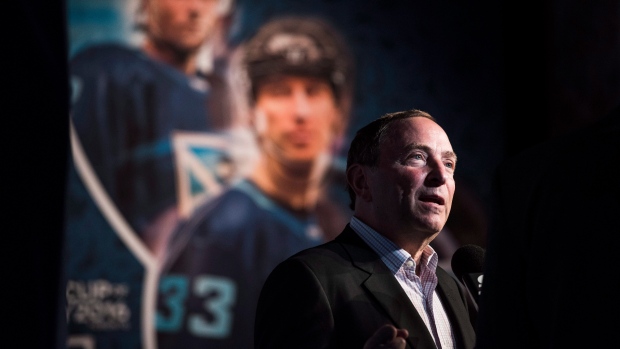 When the World Cup of Hockey gets underway next month, don't be alarmed by the unfamiliar nature of the event. The two-week showcase of hockey's best players is a chance for the NHL and NHLPA to test-drive all their latest fan-engaging initiatives.
"I think this tournament gives us an opportunity to experiment with things to see if they work, to see if it can be done in a fashion which is tasteful, that doesn't interfere with the game, that doesn't make it [lesser] but makes it more and try to generate more interest," said NHLPA executive director Donald Fehr. "All we can do is create the events, create the opportunities for the impression, and hope, as we all expect, the hockey will be spectacular and take care of itself."
The NHL laid out what to expect during a news conference Wednesday in Toronto, exactly one month before the games begin on Sept. 17.
Sports technology has come a long way since the last World Cup back in 2004 and this year's iteration will feature plenty of innovation. Puck and player trackers, first unveiled at the 2015 NHL All-Star Game in Columbus, have been revamped and will be reintroduced for the event. Sensors will be slotted in pucks and in the back of sweaters to measure data point points such as speed, puck trajectory, acceleration, positioning, zone time and shot speed. There will even be pointers on the screen to identify who is on the ice during each shift.
"It gives people another way to connect with the game," explained NHL commissioner Gary Bettman. "And what's really great about using the technology in this tournament [is that] it's for two weeks, it's in one place, it really gives us an opportunity to test it before we decide if we're going to unleash it on 1,230 regular season games and more than 30 different venues."
Behind the bench, coaches will be given tablets with access to real-time video and highlights to assist with challenges and line adjustments. But perhaps the most dramatic alteration will be the digital-enhanced dasher boards. With four different feeds for English and French Canada, the United States and around the world, digital boards will be changed frequently throughout the game for various advertisers. And when a team scores, its country's logo can be immediately projected behind them, adding an intriguing broadcast element. The boards can also be animated right up until puck drop. The example of dancing Tim Hortons coffee cups shown Wednesday was a bit startling.
"[This is] all about the activation - the reach and activation our partners can take is unlike anything we've seen before in hockey," said NHL Executive Vice President of Global Partnership Keith Wachtel.
This also marks the first appearance of marketing logos on sweaters. Each World Cup jersey worn on the ice during games will have a small SAP logo on each shoulder. Like everything else being rolled out for the tournament, the concept is just getting a trial run.
"Nobody should say that [this] means the next step is to put [ads] on NHL jerseys," Bettman said. "I am a believer in the history, tradition and exactly how special NHL sweaters are. These World Cup jerseys have been designed from scratch and are spectacular, but it's not necessarily the same as NHL sweaters. I don't think anyone should make that leap right now."
Those leaps may come later, based on how the event fares. On that note, Bettman says tickets are over 90 percent sold, and all signs point to a successful revival.
"There can't be any doubt that as we had hoped and promised over a year ago, this is going to be a really big deal," he said. "We're going to come through this event...we'll take a deep breath and then evaluate from there."
More World Cup Details:
- A 250,000 square-foot, family-friendly Fan Village will be built in Toronto's Distillery District from September 16-25, the "biggest fan experience" the NHL has ever showcased. It will feature a kids' zone, international cuisine and The Hockey Tower, which will have images projected from the games. The East Fan Village will have a main stage with concerts before the afternoon and evening games of the tournament and a big screen for watching the games live. Two ticketed events will take place there - an opening ceremony concert on Sept. 16 and another concert on Sept. 23. Musical acts will be announced within the week and tickets go on sale Aug. 25. There will also be 3-on-3 bubble hockey set up, while the Fan House will offer virtual reality and augmented reality experiences.
- Organizers are looking to leave a positive impact in the Toronto community that lasts long after the tournament ends. Hockey Canada and MLSE will be part of Learn to Play initiatives, teaching new Canadians to play hockey and ball hockey. There will also be a ceremony at the Fan Village, where 100 new Canadians will be sworn in and sing "O Canada" for the first time.
- Not unlike the red gloves that became a symbol of Canada at the Winter Olympics, Molson will be putting 400,000 pairs of Team Canada-themed Babsocks (modeled after Toronto Maple Leafs and Team Canada head coach Mike Babcock) in cases of beer to be worn during the tournament.
Special food offerings from five of the seven tournament teams have been created and will be served in the Fan Village. Highlights include various types of grilled cheese for Canada, Pierogi and Shashlik for Russia and, of course, Swedish meatballs for Sweden.