New net-front PP role for Tavares, Matthews joins top unit
New Leafs centre John Tavares will play the front-net role on the team's No. 1 power play unit this season while Auston Matthews joins the Leafs' top unit, TSN Toronto Reporter Mark Masters writes.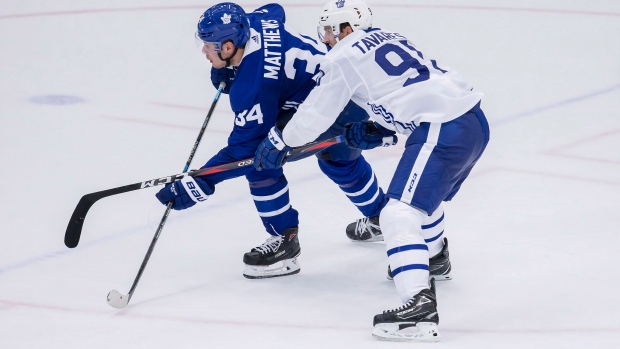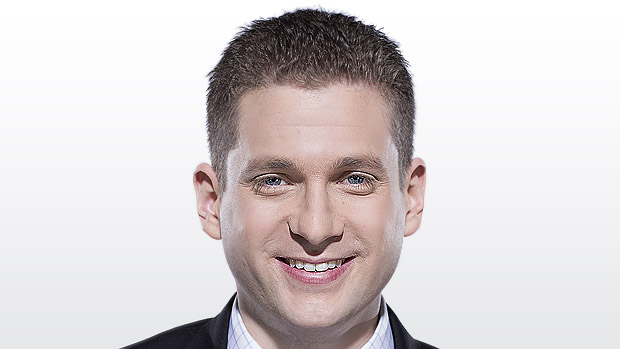 TSN Toronto reporter Mark Masters checks in daily with news and notes on the Maple Leafs, who practiced in two groups at the MasterCard Centre on Thursday.
John Tavares has never consistently played the net-front role on the power play in the NHL. So, how'd he end up in that spot – replacing the soft hands of James van Riemsdyk – in his first season with the Toronto Maple Leafs?
"When we were recruiting Johnny I asked him what spot he wanted to play on the power play and he said, 'net front,' and that surprised me, to be honest with you," admitted coach Mike Babcock. "I didn't know that's what he was going to say, because we were going to move (Auston Matthews) there."
So, Babcock altered his plan. Instead of playing the net-front role, Matthews will replace Tyler Bozak on the left flank of the top power play unit slotting in beside point-man Morgan Rielly and right-flank operator Mitch Marner while Nazem Kadri continues to serve as the man in the middle. And then there's Tavares, who produced 30 points on the power play last season with the Islanders, taking the spot in front. He scored from that position in his first preseason game on Tuesday.
This is certainly a change for Tavares, but he has been trending in this direction when it comes to power-play work.
"I played a lot throughout the middle of the ice last year whether it was the front of the net or the high-slot area," Tavares said. "I was around the net a lot more than maybe in years past. But even some of the units I played on in New York, we had a lot of guys being able to kind of rotate in and out of positions so maybe not always right in front of the net, but I've been around the net, kind of off to the side, some down-low areas. But in front, I wouldn't say I've been assigned that role full-time in the past so it's definitely an adjustment, but I like to think I can make it."
The Leafs owned the second-best power play in the NHL in each of the last two seasons, which should help ease the transition. The team clicked on 25 per cent of its opportunities last season behind only the Pittsburgh Penguins (26.1 per cent).
"We got so much talent throughout our lineup and that will be on our units that it will make the game easy for all of us including myself," said Tavares.
While the ice time between units was fairly balanced last year, most of the production came from the top unit with Marner quarterbacking things from the sideboards. What stands out to Tavares?
"His ability to see the ice and judge time and space and find the open man or understand when you're outnumbering people, when to get the puck to the net at certain times, just realizing those things, he understands those instincts very well."
Marner, who led the Leafs with 27 power play points last season, offered a similarly glowing review of Tavares.
"He can get the puck up quick," Marner noted. "He's very good at seeing the scenario he gets put in, seeing the open ice and if he can take it or not. Also, he can make great plays from that spot. I'm sure he'll connect once or twice with Mats through that lane as well."
"His hands are so quick," said Matthews, "so those plays where he gets in tight, I think you kind of saw it with JvR a lot, he's really good in tight as is John so ... he can shoot it, he can stuff, make a play to any which option that's available so I think he'll be just fine."
With so many bodies still in camp, Matthews has practised and played in a different group than his power play partners. That will change next week as Babcock shifts his NHL roster into one main group. The first time we will likely see the top power play unit together in a game is on Monday against the Canadiens.
"In the early stages of training camp we've meshed pretty well as a unit," said Kadri, who led the Leafs with 12 power-play goals last season. "Obviously, Mats has got to squeak in there and he's just going to bring a whole different dimension. We have shooters on the flanks, we have a shooter down low, we have a shooter in the middle so, realistically, anything can happen and I think it's going to be pretty dynamic."
It certainly looked good in Thursday's practice even with Dmytro Timashov filling in for Matthews on the left. Tavares set up a couple of Kadri goals during the session.
"He's just got great vision, great hockey sense so he knows when to shoot and knows when to pass. He gave me a couple nice looks out there today," Kadri said with a grin. "'m looking forward to what he can bring."
Enough puck to go around on stacked top unit?
Is there any concern about putting too much talent on one power play unit? Will there be enough puck to go around?
"You look at Pittsburgh's power play and​ they do pretty well for themselves," Matthews said. "A lot of teams typically kind of do that, Washington, Pittsburgh, they kind of got that one top unit with their top guys and we're kind of fortunate that we have a lot of top guys that (even) that second unit looks stacked on paper as well."
Matthews averaged 2:09 per game on the power play last season, which was fourth among Leafs forwards only slightly behind the top group, but tied for 140th among ​NHL forwards (minimum 41 games played). Matthews scored just five goals on the man advantage last season and now has a great opportunity to boost that.
"Mitch is really good at facilitating the puck and then Nazzy, obviously, scored plenty of goals there in that middle spot and I think JT wanted to control down low and I know if I get the puck I can shoot it, I can crash the net for a rebound," Matthews said. "A lot of dangerous options on that unit."
The players made it clear that the personnel may change, but the system installed by Babcock and assistant coach Jim Hiller remains intact.
"There'll be a little improvising, I'm sure," noted Kadri, "but the structure is always the same. We have a pretty solid structure and great, great foundation that's brought us a lot of success the last two years so we have to make sure we don't stray too far around that."
"Our whole goal is just getting it to the net and getting guys there," said Marner. "It's just about outnumbering people at the net, getting that puck to the net, trying to create plays from below the circle and just try and outnumber people."
Toronto's second power play unit could feature Jake Gardiner at the point, Andreas Johnsson in the middle, Patrick Marleau in front and William Nylander, once he signs, on the right flank. It's unclear who would be the fifth man on that unit although Connor Brown saw some power play time last year.
Matthews gains a step – thanks to Underhill
Early in training camp it's become abundantly clear that Matthews is back to being Matthews. The centre didn't produce as he had hoped in a playoff series loss to the Boston Bruins last spring and looks eager to put that setback way, way in the rearview mirror.
"The biggest difference to me is skating," said Babcock early in camp. "He's skating at another level."
"Auston looks like he's found another step," added Brown.
"He looks powerful in his stride," observed goalie Frederik Andersen.
With a big chunk of the media core in Lucan, Ont., for Toronto's pre-season opener against the Ottawa Senators, Matthews met with a smaller-than-usual scrum after practice on Tuesday at the MasterCard Centre where the non-playing group worked out.
The 21-year-old used the intimate setting to outline how he went about improving his skating in the summer with the help of the team's skating development consultant Barb Underhill, who competed for Canada in figure skating at the 1980 and 1984 Olympics.
You can read an edited transcript of the exchange with reporters here.
Babcock enjoying Sandin's nickname and his play
Babcock has a penchant for offering colourful nicknames for players, especially the team's up-and-coming prospects. Frederik Gauthier is, of course, known as "The Goat." Last year, Babcock referred to Timothy Liljegren as "Lily Pad." In the playoffs, Brown even became "Brown Cow" at one point.
So, perhaps it was no surprise to hear the usually no-nonsense bench boss unveil a new nickname for the team's latest first-round pick, Rasmus Sandin.
"The Sandman," a beaming Babcock said when asked about the Swede. "You see all those Sandman Hotels, he should get some sort of deal there (smile). I thought he was really good last night. He's got real good instincts, makes real good plays and leverages his body, which isn't big at this time, but leverages his body well."
—
Gauthier and Travis Dermott both missed practice due to minor shoulder injuries.
—
Lines at Thursday's practices:
GROUP 1
Hyman-Tavares-Marner
Leivo-Kadri-Brown
Grundstrom-Cracknell-T.Moore
Clark-Mueller-Timashov
DerArguchintsev
Hainsey-Ozhiganov
Rielly-Durzi
Borgman-Holl
Nielsen-Subban
McElhinney
Sparks
GROUP 2
Marleau-Matthews-Ennis
Johnsson-Lindholm-Kapanen
Engvall-Jooris-Greening
Clune-Brooks-Bracco
Gardiner-Zaitsev
Rosen-Carrick
Marincin-Liljegren
Sandin-LoVerde
Andersen
Pickard
—
Special teams units at Thursday's practices:
GROUP 1
Power play
Rielly
Timashov-Kadri-Marner
Tavares
Durzi
Leivo-T.Moore-SDA
Grundstrom
Penalty kill
Hyman-Brown
Clark-Cracknell
Hainsey-Ozhiganov
Borgman-Holl
GROUP 2
Power play
Gardiner
Matthews-Johnsson-Bracco
Marleau
Sandin
Ennis-Greening-Brooks
Clune
Penalty kill
Kapanen-Lindholm
Jooris-Engvall
Marincin-Zaitsev
LoVerde-Liljegren