New timing rules getting mixed reviews at Canada Cup
Curling Canada is experimenting with new timing rules this week at the Canada Cup in Estevan, Sask. with hopes of creating a quicker, more aggressive version of the Roaring Game. It's fair to say the new rules are receiving mixed reviews so far in its early stages.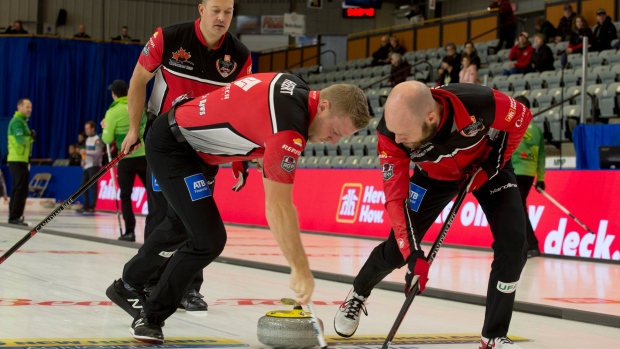 ESTEVAN, Sask. - Curling Canada is experimenting with new timing rules this week at the Canada Cup in Estevan, Sask. with hopes of creating a quicker, more aggressive version of the Roaring Game.
It's fair to say the new rules are receiving mixed reviews so far in its early stages.
"I absolutely hate it. I really do," two-time Brier champion Brad Gushue said Friday following his win in the round robin finale.
Instead of having 38 minutes of thinking time for an entire 10-end game, teams now have four minutes per end for the first half of the game and four minutes and 15 seconds per end for the second half. Teams are also given two 90-second timeouts per game and a 30-second timeout for a skip's last throw in each half.
Technically speaking, teams have more time in total, but the time allotment per end forces an even pace throughout rather than banking time for later in the game. This is exactly the thinking behind giving the new timing rules a try at the Canada Cup.
Danny Lamoureux, Curling Canada's director of championship services and curling club development, says removing the ability to save time by blanking numerous ends consecutively will hopefully lead to a more aggressive and intriguing style of play.
"One of the concepts of thinking time per end was to eliminate or reduce the impact of teams banking time during a game by blanking three or four ends in a row to save a whole bunch of time for the end," explained Lamoureux. "This way they have the same amount of time per end for the first half of the game and a little bit more for the second half and we were hoping it would deliver aggressive play and it has. I think once we do the analysis the number of blank ends has gone down significantly."
Lamoureux reiterates it's not their mission to remove the blank end entirely as it has always been a part of curling strategy, but knows it's something they hear from fans on a regular basis.
"It's one of things fans constantly call us about. Get rid of the blank ends. Change the blank end rule," said Lamoureux. "We don't want to change the blank end rule because it's a strategic weapon for the teams to use, but we don't want them to use it every end for the whole game because people will stop watching."
However, Gushue says the quicker timing method takes away what's unique about curling from a fan's perspective watching on TV.
"If I'm looking at it from a viewer's perspective, we watched a little bit of the curling this week, it takes away from some of that the conversation and strategy. We're one of the few games in the world where you get to hear the strategy before it actually happens and with the four minutes you lose that," said Gushue. "You lose that conversation part that I think is such a key piece in our game from a television perspective. Certainly, from a playing perspective, there's going to be some mistakes in strategy because you just got to move so fast."
The timer starts once an opponent's rock has come to a rest and stops once their rock reaches the tee line on the delivery end of the sheet. If your time runs out in an end, you lose your remaining rocks for that end.
Team Brendan Bottcher, who were eliminated Saturday morning after a tiebreaker loss to Team Kevin Koe, was burned by the rule on two separate occasions this week. Bottcher says in the standard 38-minute format you could rush with the front-end stones and have more time to discuss strategy on the back end.
"I think it rushes the wrong part of the game," said the 26-year-old skipper.
"This timing strategy has really changed that. Now you see skips and thirds rushing more than ever. It also takes out the strategy of managing the clock which is something I thought was pretty important in the prior format."
Team Rachel Homan third Emma Miskew played under a similar timing format at the inaugural Curling World Cup in China earlier this year and has a little different perspective on the idea.
"We didn't have any timeouts [at the Curling World Cup] or anything. So at least here we have the opportunity to stop the clock and get timeouts which makes it a little bit more relaxing, but you can't take too long," explained Miskew. "You have to make a decision and I think probably there's still some testing that needs to be done, but it's different and we'll always try something different."
Other curlers have spoken up on social media after Team John Epping second Brent Laing posed the question on Twitter.
"Really dislike! Takes away what's fun with curling. No communication, no fineness. Could maybe work for skins games when no need to evaluate risk/reward, but not for regular curling where communication is key," said Sweden's Team Anna Hasselborg on Twitter.
Håvard Vad Petersson, lead for Thomas Ulsrud, was on the other side of the aisle.
"Athletes always conservative. Curling needs to speed up. I wanna see shot clock on 10 first shots. Then a total time slot for last 6," Vad Petersson said.
So, what do the fans think?
Legendary curling fan Hans Madsen, who is known for attending just about every event on the curling calendar all while sporting an excellent dyed beard, seems open to the idea.
"If this is the way they're going to go, it's just something you're going to have to get used to," said Madsen. "It makes it a little more interesting in a different type of way because it's just for that end. You don't get to carry forward you time."
The format is also being tested at the second leg of the Curling World Cup this week in Omaha and will be used again in January at the Continental Cup in Las Vegas.
It will be reviewed next month to see how they might implement it going forward. However, the standard 38-minute format will be used at this year's national and world championships.
"Once we get all of the data, we'll have a discussion at the commissions meeting in January and decide from there," said Lamoureux.