News and Rumours: Canucks shopping Bieksa
Keep up to date on the latest trade, draft and free agent speculation and rumours from around the league. Thursday's roundup includes the Vancouver Canucks approaching veteran defenceman Kevin Bieksa about waiving his no trade clause.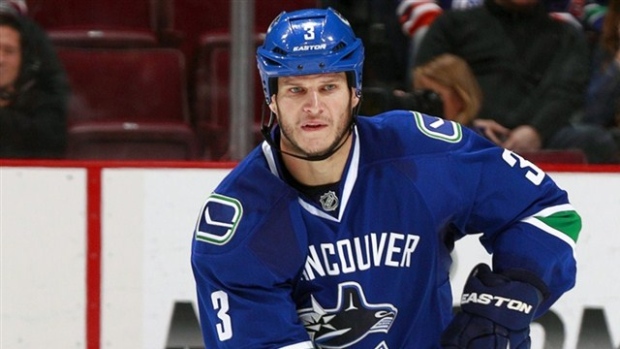 The NHL's off-season is upon us and teams are already looking to re-shape their rosters for a more successful 2015-16 season. Keep up to date on the latest trade/free agent speculation and rumours from around the league.
On the Go?
The Vancouver Canucks appear to be gauging the market for one of their top defencemen.
According to TSN's Farhan Lalji, the Canucks have talked to Kevin Bieksa about waiving his no trade clause, though no trade is imminent.
The 34-year-old scored four goals and added 10 assists in 60 games with the Canucks last season.
Bieksa has one season remaining on his contract, which carries a $4.6 million cap hit.
Eight Expectations
The Columbus Blue Jackets may not be content to sit back and wait for their player at eighth overall at Friday's draft.
A Bluejackets.com report quotes Jackets' GM Jarmo Kekalainen stating the team is looking to improve the position of their first pick.
"I think the optimal situation would be, in our case, we see what's available at (No. 8) and then get to five or six and see if it's there anymore or if we have to move to six to get him," Kekalainen said on the team's site. "But at the end of the day, six might not be available at that time anymore."
The Jackets have six picks in the first 69 of the 2015 Draft, including two extra second-rounders and an additional third beyond the team's own picks.
Not For The Stars
The Dallas Stars appear to be out of the Patrick Sharp sweepstakes - if they were ever in them.
Mike Heika of the Dallas Morning News reports the Stars will not be acquiring the veteran winger and instead are focused on other areas of their team.
"He's a great player, but he's not what we need right now," an anonymous Stars official told Heika. "It's that simple."
Heika reports the Stars are interested in adding a goaltender and have interest in multiple netminders including New York Rangers netminder Cam Talbot. The Stars are also surveying the defence market.
Chris Kuc of the Chicago Tribune reported Wednesday the Blackhawks were interested in acquiring winger Antoine Roussel if Sharp is traded to the Dallas Stars.
According Kuc's source, the Blackhawks had their eye on the 25-year-old who carries just a $2 million cap hit compared to Sharp's $5.9 million.
Kuc added the Pittsburgh Penguins and Florida Panthers currently have the most interest in the 33-year-old.
Frolik-ing Away
Michael Frolik has begun talking to clubs other than the Winnipeg Jets.
TSN Hockey Insider Bob McKenzie reports Frolik has flown to the site of the NHL Draft to gauge interest from clubs ahead of unrestricted free agency on July 1.
McKenzie adds, however, the winger - who scored 19 goals last season - could still return to the Jets.
Staying 18
Speaking to reporters in Las Vegas on Tuesday, Ottawa Senators general manager Bryan Murray said it's unlikely he acquires the No. 3 overall pick from the Arizona Coyotes, but he has reached out to the team.
"I always ask the question, but I don't think that pick in particular is in play at this point for us," Murray said. "I think where we're picking back at 18, that would be hard for him to move that far no matter what price I paid, but we have to ask the question anyway."
Murray also provided his sales pitch for teams to acquire goaltender Robin Lehner who, along with Craig Anderson, is currently available.
"People look at the price and maybe look at other things, but Robin Lehner is a hell of a goaltender," Murray said. "He's going to perform given a chance, whether it be him getting the chance right away either with us or another team, he's going to be a good goaltender."
Lehner, 23, had a 9-12-3 record in 25 games with the Senators last season.
Stay or Go
With free agency rapidly approaching, it appears the Washington Capitals are ready to let two key players hit the open market.
Chuck Gormley of CSN Washington reports forward Joel Ward and defenceman Mike Green are likely to become unrestricted free agents of July 1, while the Capitals are pushing to keep Jay Beagle and Eric Fehr.
Gormley reports Ward and the Capitals are in the same range of monetary value, but the 34-year-old winger is looking for a four-year deal, well above Washington's preferred length of two years.
Green, 29, completed the final season of a three-year, $18.25 million contract this season and is expected to receive equal or greater value on his next contract.
Gormley also notes Green would return as the fifth defenceman for the Capitals, which is unlikely with a high cap hit. He speculates the Edmonton Oilers could be a landing spot for Green.
Players set to become unrestricted free agents can begin talking to other clubs starting today (June 25).
Market Call
The Anaheim Ducks appear to have competition for the services of forward Matt Beleskey.
TSN Hockey Insider Darren Dreger reports Beleskey has a market forming, especially from teams who regularly play the Ducks.
The 27-year-old scored 22 goals and 32 points in 65 games last season, but appears to be in no rush to meet with clubs.