NFL Free Agency Blog: Seahawks looking to keep Clowney
Saturday marks the fourth official day of NFL free agency. Check out TSN's free agency blog to recap the latest signings, news and rumblings.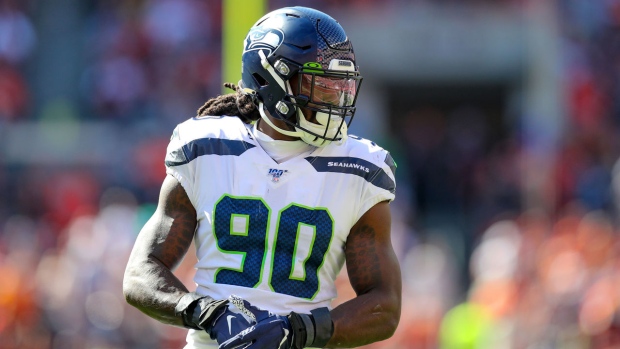 ---
Seahawks offering big money to Clowney:
The Seattle Seahawks made a big splash in 2019 by trade for Jadeveon Clowney and it seems they want to keep him.
According to Gregg Bell of the Tacoma News Tribune, Seattle is believed to be offering $18.5 million per year, but Clowney is hoping to get at least $20.0 million.
The 26-year-old was acquired by Seattle in September for a 2020 third-round pick and two players.
His impact was immediate, recording a sack in his first game with the team, in 13 regular season games he had 21 solo tackles, 13 QB hits, two touchdowns and one interception.
In the playoffs his game went to another level, recording nine solo tackles, 1.5 sacks and three QBHits.
Following Seattle's playoff exit, he said "It's been great. Great experience. I met a great group of guys. I just told them, 'I appreciate everyone in this locker room because I didn't know how it was going to go when I got to Seattle' ... so I walked in laughing and giggling. They've been accepting me ever since. I think it was a good experience."
Although Clowney enjoyed his time in Seattle his intentions in the off-season are very clear, "I just want to win." He said, "I'm trying to get to the Super Bowl by any means. That's what I'm looking for: Who's going to get me there? I ain't looking to get on no sorry team for no money. That ain't going to fly. I ain't gonna put my body through all of that just to lose no 16 games, go home with my check. I'd hate that, so that ain't what I'm doing. So if I can't win no Super Bowl, I ain't going to no team that can't win."
---
Colts release Desir
The Indianapolis Colts are cutting ties with Pierre Desir after just signing him to a three-year extension last offseason, according to the NFL Network's Ian Rapoport.
The 29-year-old was the 18th highest-graded CB in the NFL in 2018 but missed four games in 2019.
He had three interceptions and 50 tackles with Indy last season.
---
Eagles add to defence
The Philadelphia Eagles have made two signings today, according to multiple reports.
LB Jatavis Brown and DB Will Parks have both signed one-year deals to join the Eagles defence.
Brown played four seasons with the Los Angeles Chargers organization and made at least 79 tackles in three straight seasons from 2016-18.
Parks, spent four years with the Denver Broncos, making 104 solo tackles in 62 games with four INT's.
---
Burns signs with Bears
The Chicago Bears have signed CB Artie Burns to a one-year deal.
Burns, 24, played four seasons with the Pittsburgh Steelers, playing 58 games, while starting in 32.
Burns started all 16 games in 2017 but has only started seven in the two seasons since.
In four playoff games he has 11 solo tackles and one fumble recovery.
---
Texans sure-up O-line
The Houston Texans have agreed to terms with OT Brent Qvale.
---
Vikings bring back Hill
The Minnesota Vikings have re-signed OT Rashod Hill.
Hill appeared in 15 games for the Vikings in 2019 after being a starter for eight games in 2018.
---
Raiders add tight end
The Oakland Raiders have signed tight end Nick O'Leary, according to ESPN's Field Yates.
The 27-year-old caught 13 passes for 109 yards and one touchdown over 12 games last season with Jacksonville Jaguars and Miami Dolphins.