NHL approves opening expansion process
The NHL's Board of Governors has given the green light to opening a formal expansion process. Commissioner Gary Bettman announced the decision at an afternoon news conference in Las Vegas while insisting it's no guarantee that the NHL will add a 31st or 32nd team.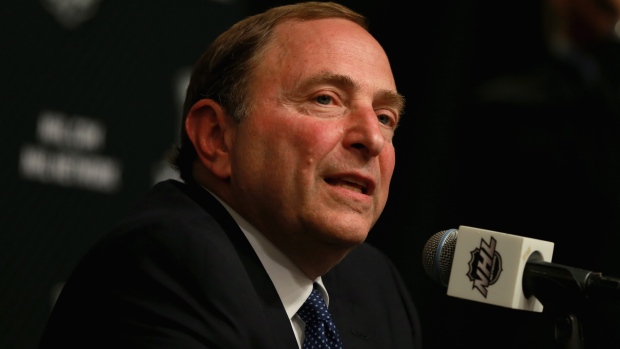 LAS VEGAS, Nev. - Four months after a private investor began a season-ticket drive that would help gauge the feasibility of the NHL in Las Vegas, the league's board of governors has given the green light to opening a formal expansion process.
Commissioner Gary Bettman announced the decision at an afternoon news conference in Las Vegas, insisting it's no guarantee that the NHL will add a 31st or 32nd team.
Nevertheless, it's an important step toward expanding the league. Interested parties will have from July 6 until August 10 to apply.
"We will then go through a formal vetting process, and the board ultimately will determine whether or not there's any interest in expanding," Bettman said. "If the conclusion is there is interest from the league's perspective, then there will be focus on what the terms would be and who the likely successful candidates might be."
Deputy commissioner Bill Daly added that the 2017-18 season would be the earliest an expansion team would debut in the NHL. Bettman said there's no official timeline for how long the process of deciding would take.
Bill Foley, who began the Hockey Vision Las Vegas campaign in February, is at the forefront of expansion talk. The city is considered the favourite to get a franchise, though Bettman insisted there's no "list" that Las Vegas would theoretically be at the top of.
"The board's aware of the fact that Las Vegas stepped up in an obviously significant and positive way to show support for having a major league team in Las Vegas," Bettman said.
The Las Vegas season-ticket drive received 13,200 deposits for seats at a new arena that's set to open next spring, according to Daly. Those deposits are technically refundable if a team is not in place for 2016-17, but Daly said he didn't think Foley's group was concerned by that.
"It was an impressive response the Las Vegas community showed for a potential franchise," Daly said of the ticket drive.
Seattle and Quebec City are other leading candidates for expansion, and Toronto is another possibility. Quebecor announced it will apply for an expansion franchise, with president and CEO Pierre Dion saying it had "all the ingredients" to bring back the Nordiques.
"Quebec is an extraordinary market," Dion said in French. "We know in the province of Quebec, hockey is a religion. We are all, as individuals, hockey maniacs."
Daly said other cities, such as Milwaukee, Portland, Ore., and Kansas City, have also expressed interest.
Quebecor and the NHL have a relationship through a French-language television-rights deal with TVA, and the 18,259-seat Videotron Centre that is set to open in September. Videotron Centre will host a pre-season game between the Montreal Canadiens and Pittsburgh Penguins.
Seattle's lack of an arena is the biggest stumbling block to that city getting a team, and there's less certainty on a potential ownership group. The city lost the SuperSonics, its NBA team, to Oklahoma City following the 2007-08 season because of issues surrounding an outdated KeyArena.
"Perhaps the process will bring some certainty to the arena situation," Bettman said. "Nobody has the arena act together yet in Seattle."
Bettman said the expansion fee will be at least US$500 million. Any applicants must also pay a fee, some of which is refundable, Daly said.
The NHL has had 30 teams since its most recent expansion in 2000, when the Columbus Blue Jackets and Minnesota Wild joined. The expansion fee was $80 million for those teams, as well as for the Atlanta Thrashers and Nashville Predators, who joined in previous years. The Ottawa Senators, San Jose Sharks, Anaheim Ducks and Florida Panthers had to pay a $50 million fee when they joined the league in the early 1990s.
"Franchises are more valuable than they've ever been," Bettman said.
The Eastern Conference currently has 16 teams, while there are 14 in the West, and that could play a role in what cities the league might choose to expand to. Bettman said geography and imbalance must be dealt with but cannot be the determining factors.
"One of the factors that you would obviously consider in any expansion process is what your footprint looks like and what the alignment would be," Bettman said. "I don't think you expand just for notions of symmetry. It's too important, the business decision."
If the NHL decides to expand, any expansion fees would not count as hockey-related revenue and would not be shared with players. Two more teams would open up more jobs, and Daly said there was no concern of diluting the talent pool with expansion.
"We don't know much more than you guys know, and that's a conversation that happens within the board of governors," Mathieu Schneider of the NHL Players' Association said. "It's dangerous to speculate. We're kind of in the wait-and-see mode."
---
Follow @SWhyno on Twitter