NHL comes to Ottawa to honour Bryan Murray
The NHL's elite came out in celebration of Bryan Murray's life and legacy this afternoon at Canadian Tire Centre. The longtime NHL head coach and general manager died Aug. 12 at age 74 after a three-year battle with colon cancer.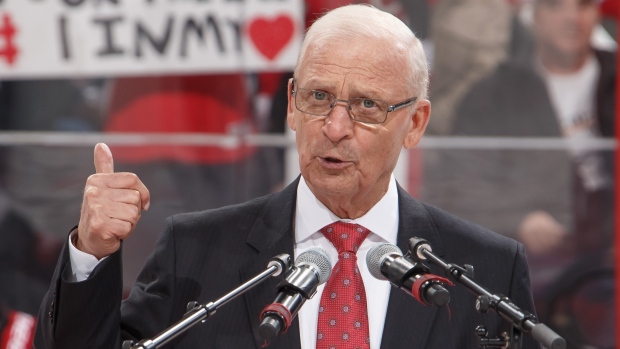 OTTAWA — Friends, family and hockey dignitaries joined together at Canadian Tire Centre on Thursday to celebrate life and legacy of Bryan Murray, whose signature sense of humour and ability to reach people defined his decorated career as an NHL coach and general manager.
Murray died at age 74 on Aug. 12 after a three-year battle with colon cancer.
Many of the NHL's elite were on hand to pay their respects, including NHL commissioner Gary Bettman, Toronto Maple Leafs general manager Lou Lamoriello and head coach Mike Babcock as well as numerous players including Daniel Alfredsson, Luc Robitaille, Dion Phaneuf, Marc Methot and Mike Hoffman.
Senators general manager Pierre Dorion said it's simply an extension of the impact Murray, a native of the nearby town of Shawville, Que., had on those who knew him.
"He's someone that's touched so many lives for the better," said Dorion. "The organization was a better one with Bryan in it. This loss is monumental for our hockey team for his guidance, his direction. I think he's touched every one of us who's ever encountered him.
"Bryan was able to resonate with people."
The ceremony featured a video montage, a collection of favourite songs by local singer Gail Gavin as well as speeches by Murray's niece Lynn Hearty-Coutts, former Senators defenceman Chris Phillips, Senators assistant general manager Randy Lee as well as Dorion and Bettman.
Bettman spoke of Murray's numerous accomplishments throughout his 36-year NHL career that included time in Washington, Detroit, Florida, Anaheim and finally Ottawa.
Career highlights included winning the NHL's coach of the year award with Washington in 1984 and executive of the year award with Florida in 1996, and coaching the Senators to an appearance in the 2007 Stanley Cup final.
"Every one of those owners saw that Bryan could take something and provide the structure and the discipline and the pride of workmanship that is required to succeed," Bettman said of Murray, whose 620 career wins as a coach are 10th highest in NHL history. "If you look back at the rosters, his teams weren't all-star teams, but in many instances they achieved great things because of the closeness Bryan helped build in the dressing room. Bryan ran teams in the ultimate sense of the word – and he always tried to make those teams better."
A common thread throughout the afternoon was Murray's sense of humour, sarcasm and ability to get the best from his players.
"One of the biggest things was he made it fun, it was fun to come to the rink," said Phillips. "His meetings were legendary."
Phillips told a story of one meeting where Murray asked Mike Fisher, who was in a scoring slump at the time, "are you ever going to score again?" Fisher laughed at the comment and Murray went on to say, "No, seriously are you?"
Coincidentally, Fisher scored that same night.
Humour was just one of the many great ways Murray connected with his players.
"There was no question that when you played for Bryan he had your back," said Phillips. "I believe that many times he even knew he was in the wrong about arguing a call, but every player knew that we were in it together."
As great a hockey man as he was Murray always made family a priority. He remained deeply entrenched in Shawville and returned home to spend summers by the Ottawa River.
In a conversation with Hearty-Coutts about a month before he passed Murray said his greatest joy was being by the river and hearing his granddaughter's laughter as they played on the beach.
"Uncle Bryan brought people together, he had that intangible quality," said Hearty-Coutts. "People loved being in his circle. He had a gift. He made you feel like you were the most important person in the room when he spoke to you. You always left a conversation wanting to be a better person."
Murray had numerous accomplishments in hockey, but his willingness to make his battle public and raise awareness was also notable.
"His body might have lost the battle, but his spirit never did," Hearty-Coutts said. "His courage will continue to save others."