NHL increasingly reliant on young defencemen
Last season saw another wave of young talent enter the blueline fray even when compared to other recent seasons. And teams aren't just cutting back on the utility of older players, they're putting huge ice time burdens on the shoulders of their younger talent.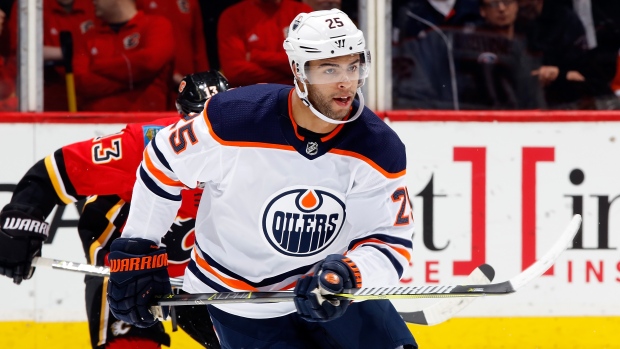 Stop me if you have heard this one before: the National Hockey League is getting younger, and that's increasingly obvious on the blueline.
There are plenty of drivers behind this evolution. Front offices are much more situationally aware about aging curves (and, correspondingly, how cruel they are to older players with more mileage racked up). There's also a major salary cap benefit, courtesy of the collective bargaining agreement, to find young talent on their first and second contracts. And the league has done a fantastic job of emphasizing two-way hockey talents through standard player development, which has led to an increased supply of these types of dynamic skaters and puck-movers.
The youth movement across the entire league has been well documented at this point. But what's interesting to me is that 2017-18 saw another wave of young talent enter the fray. Perhaps it's by random chance, but teams saw a considerable decline in player ages on the blueline last year – even when compared to other recent seasons.
Look at the below box plot, which shows the distribution of player age data by season (starting in 1998-99, and ending in 2017-18). It is, in one word, startling.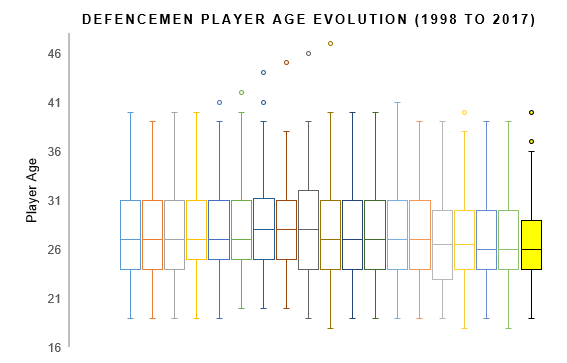 For the third consecutive year, the average NHL defenceman was under the age of 27. That's more than a full year drop from just 10 years ago!
But what's perhaps most interesting is how the ceiling has really compressed on the player group. If you look at, say, the 75th percentile, NHL defenders in 2017-18 were age 29 or younger. That's the first time in NHL history it went under the 30-year mark. And because of it, it now finds outliers in players like Zdeno Chara, who's 41. More interestingly, it also sees Niklas Kronwall and Brooks Orpik as outliers. These 37-year-old players would not have been outliers in any season pre-dating 2017-18. Same with Francois Beauchemin, who turned 38 last month. Quick note: the other outliers you see in the early 2000s were essentially all via Chris Chelios.
So we know a decent portion of the player age shift is happening by way of trimming the ceiling. True veteran defenders – guys comfortably into their 30s – are an endangered species nowadays. But teams aren't just cutting back on the utility of older players. They're searching for high-end talent across their younger player pool and putting huge ice time burdens on their shoulders. Just look at the below table, which itemizes each team's most frequently deployed defender and their associated ice-time during the 2017-18 season: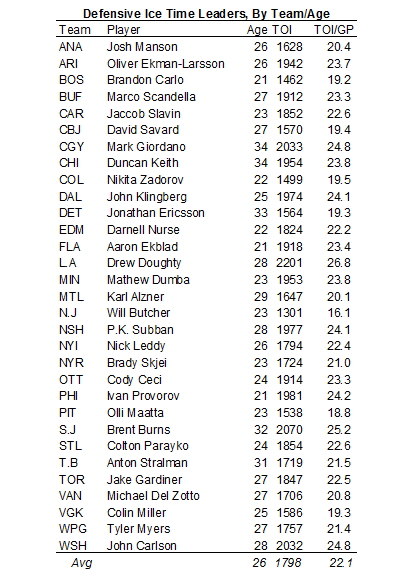 Note that the average age of a team's number one defender last year was 26, which is actually lower than the average age of all defenders across the league last season. Teams have made concerted efforts to get these guys into the system and into big-minute situations, and except for a few teams – notably the Calgary Flames with Mark Giordano, Chicago Blackhawks with Duncan Keith, and San Jose Sharks with Brent Burns – most of the ice time leaders for teams are barely in their mid-20s.
What will be interesting to watch is what this age distribution looks like in five or so years. We are in a golden era of defence right now and, at some point, the dozen or so superstars playing in their prime today will be well into the next age bracket. Prevailing theory nowadays is that these players should age better than their predecessors, since their game tends to be more finesse and more reliant on hockey skills and athleticism than anything else. If they do age well, we could see the ceiling for player ages across defencemen moving north.
Or, they are replaced by younger and cheaper talent – younger and cheaper talent that might be better hockey players at that point in time, too. That's effectively what we are seeing today, and that trend could continue for some time.