Off-Season Watch: Could Canucks swap Eriksson for Lucic?
Each day through the NHL Draft on June 21 and free agency on July 1, TSN.ca breaks down the latest news and rumours around the NHL. In Wednesday's roundup, a potential swap of struggling wingers out west, ranking the Maple Leafs trade assets and a look into Mitch Marner's negotiations.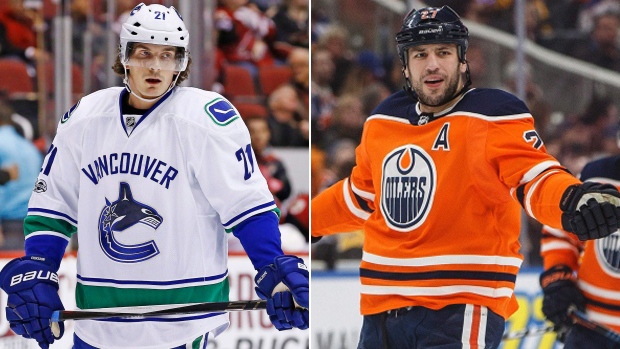 Each day through the NHL Draft on June 21 and free agency on July 1, TSN.ca breaks down the latest news and rumours around the NHL.
Trading Places?
Jason Gregor of TSN Radio 1260 Edmonton reports that Vancouver Canucks general manager Jim Benning has discussed the idea of trading Loui Eriksson for Edmonton Oilers winger Milan Lucic with his staff this off-season.
TSN Hockey Insider Bob McKenzie added on TSN Radio 1040 Vancouver that while no talks have taken place between the two teams, a swap of the two struggling players could make sense for both sides.
Eriksson posted 11 goals and 29 points in 81 games this season with a minus-11 rating. A six-time 20-goal scorer with two 30-goal seasons under his belt, he has scored a total of just 32 goals since joining the Canucks as a free agent in 2016.
The 33-year-old carries a team-high $6 million cap hit through 2021-22 and has a full no-trade clause for this upcoming season. McKenzie notes that with Eriksson discussing his discord with head Travis Green in an interview with Sweden's HockeySverige earlier this month, the Canucks could soon have an untenable situation on their hands.
"The coach and I don't really get on 100 per cent," Eriksson told the Swedish outlet. "It is difficult when I do not get the same trust that I received from all the other coaches I had during my career. Of course it is tough on that front."
Lucic is also signed at a $6 million cap hit, though his contract runs one season longer than Eriksson's - through 2022-23. The Vancouver native scored six goals and posted 20 points in 79 games this season. He had 10 goals in 2017-18 after reaching the 20-goal mark in three of his previous four seasons.
The 30-year-old, who has a full no-move clause in his contract, is listed at No. 15 on the TSN Trade Bait board.
---

Trade Bait?
With the Toronto Maple Leafs in need of a top-pair, right-hand shot on their blueline, Jonas Siegel of The Athletic listed his top 10 trade assets the team could use to fill the void.
Siegel rules out the idea of the Maple Leafs parting with any members of their young core, including William Nylander.
Connor Brown, listed at No. 7 on the TSN Trade Bait board, just made Siegel's list at No. 10, while Nikita Zaitsev, No. 12 on the Trade Bait board, did not make the list at all.
Siegel lists centre Nazem Kadri as the team's most valuable trade asset his off-season, citing his position, effectiveness and contract as reasons why he could be in demand this off-season. Kadri, who turns 29 this summer, scored 16 goals and posted 44 points this season in a third-line role behind Auston Matthews and John Tavares on the depth chart.
He posted back-to-back 30-goal campaigns prior to this season and Siegel believes he remains a No. 2 centre option for many teams around the league.
Kadri, who carries a $4.5 million cap hit for three more seasons, picked up a multi-game suspension for the second straight year in this season's playoffs, forcing the Maple Leafs to adapt without him. Siegel argues that Kadri's suspension provided the Maple Leafs with a road-map to playing without and he could move Nylander to centre for the long-term if they trade Kadri this summer.

---
Hearing Them Out?
TSN Hockey Insider Darren Dreger told Leafs Lunch of TSN Radio 1050 Toronto Tuesday that he expects restricted free agent Mitch Marner to meet with teams who could offer sheet him ahead of July 1 and believes the Maple Leafs would have to make an offer with an average annual value above $10 million over the next month to keep him from doing so.
Watch Dreger's full synopsis and opinion of the situation below: