NHL on Watson appeal: 'We are disappointed'
Nashville Predators forward Austin Watson's suspension for domestic abuse was reduced from 27 to 18 games by a neutral arbitrator on Thursday. The National Hockey League released a statement on Friday, expressing their displeasure at the decision by the arbitrator.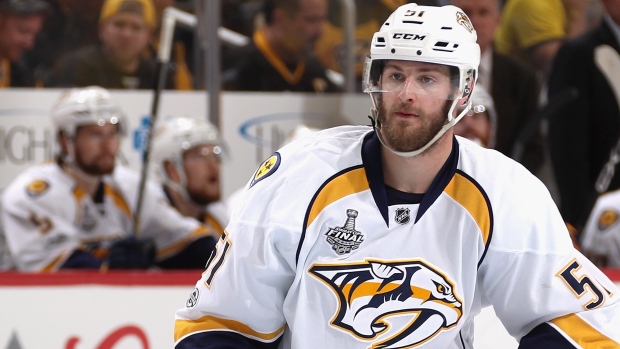 The National Hockey League said Friday it is "disappointed" with a neutral arbitrator's decision to reduce the suspension of Nashville Predators forward Austin Watson from 27 games down to 18 games following a domestic violence charge.
The league said in an unattributed statement that an appeal "was never intended to substitute the arbitrator's judgment for that of the Commissioner, particularly on matters of important league policy and the articulation of acceptable standard of conduct for individuals involved in the NHL."
In Watson's case, the ruling of neutral arbitrator Shyam Das is binding. Watson will be eligible to rejoin the Predators' lineup on Nov. 15, as opposed to Dec. 3. He will forfeit $254,201.08 in salary to the NHL's Player Emergency Assistance Fund.
The NHL does not have a clear and defined off-ice conduct policy, instead opting to address each violation on a case-by-case basis. Despite the ruling, the NHL vowed to continue to mete out what commissioner Gary Bettman feels is appropriate discipline.
"The NHL remains committed to continuing to do what we believe is right," the statement read. "And, in this regard, we intend to continue our steadfast efforts to ensure everyone in our League is adequately educated and sensitized to the importance of this serious social issue. We will not hesitate to adhere to and enforce – through firm discipline as necessary – the standards of personal conduct we feel are appropriate for our League."
According to the Collective Bargaining Agreement, Das' review of Watson's case was to decide if the 27-game ban by Bettman was "not unreasonable" based on 1) the facts and circumstances, 2) whether the penalty was proportionate to the gravity of the offence, and 3) the legitimate interests of both the player and the league.
Unlike previous arbitration cases involving on-ice matters, both Bettman's decision and Das' ruling will not be publicly disclosed because personal information is contained in the decision. Therefore it is impossible to learn where exactly Das found fault with Bettman's decision.
There is little precedent for Das to rule from. Los Angeles Kings defenceman Slava Voynov remains suspended indefinitely following his 2014 arrest on a domestic violence charge for which he served time in prison. Voynov has not formally applied for reinstatement, so Bettman has not been forced to make a decision on discipline.
The NHL and National Hockey League Players' Association agreed to use Das as a neutral discipline arbitrator on an "ad hoc" basis because regular arbitrator George Nicolau was not available.
The NHL and NHLPA both have the right to remove a neutral arbitrator from his or her post, as per the CBA, but Das cannot be removed from his position prior to June 30, 2019. That means Das will be the arbitrator presiding over a potential Tom Wilson appeal, dependent upon whether the Washington winger elects to take his case that far. Bettman will hear Wilson's appeal at an undetermined date, and then decide whether to uphold the 20-game ban for his illegal check to the head of St. Louis Blues forward Oskar Sundqvist on Sept. 30.
Das was fired by Major League Baseball in 2012 following a 13-year run after he overturned Milwaukee Brewers slugger Ryan Braun's drug suspension.
Watson, 26, pleaded no contest in July to a misdemeanour charge of domestic assault after a witness flagged down a police officer at a gas station in Franklin, Tenn., in June to alert them of an incident between Watson and his girlfriend. Watson told police he and his girlfriend were arguing and that he pushed her. Officers said they found red marks on her chest and she said Watson caused them.
Watson's girlfriend told police that he sometimes "gets handsy" with her.
As part of the plea, Watson can have the misdemeanour charge dismissed by fulfilling terms of a diversion program, which included three months of probation, an in-patient treatment program and a batterer's intervention program.
The Predators said they had "no involvement" in Watson's appeal, but the team allowed him to participate in the team's home-opening banner ceremony at Bridgestone Arena earlier this week in full uniform.
The NHLPA released the following statement on Friday:
"The NHLPA takes domestic violence seriously and continues to work together with the NHL to ensure that players are educated on this important societal issue. As part of those efforts, the NHL/NHLPA conduct domestic violence awareness training at our Rookie Orientation Program and during the season for all NHL players.

The CBA provides players with the right to appeal discipline imposed by the NHL for off-ice conduct to an impartial arbitrator. This essential right is intended to encourage the fair and consistent application of discipline. The arbitrator's independence helps ensure that the process and decision are fair. That is a principle to which we should always strive to adhere, even in cases where the subject matter is as difficult as domestic violence."
Contact Frank Seravalli on Twitter: @frank_seravalli