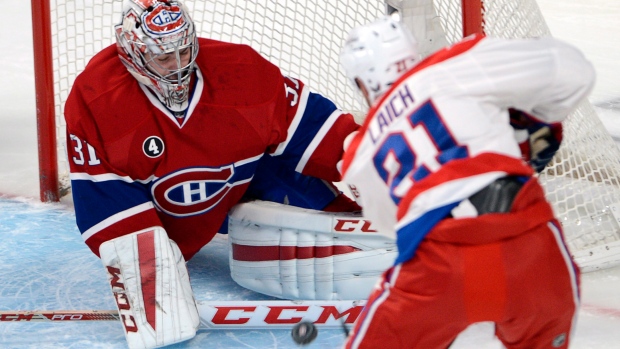 The NHL Play of the Year continues today with a star netminder taking on a diminutive forward.
The sixth matchup of the Round of 16 pits Carey Price's last resort effort against Buffalo Sabres speedster Tyler Ennis.
Price looked more like a fish out of water than a goaltender for the dramatic save he made against the Chicago Blackhawks.
After making a reasonably easy save against Brandon Saad, Price made a stellar paddle stop against Andrew Desjardins. That would have probably been enough to make the Play of the Year tournament, but after the puck made an unusual bounce off his stick, Price had to turn his body and make a sprawling punching save to keep the puck out for the Habs.
Ennis kept the puck for himself for his goal against who other than Price.
The 5'9" forward entered the Montreal zone wide before cutting by a flatfooted Alexei Emelin. Ennis was forced to jump to avoid running over Price and managed to hammer a backhand shot into the yawning cage as he fell to the ice, leaving a trio of Canadiens in sheer disbelief.
Ennis bettered Derek MacKenzie and Price smoked Cam Ward in the previous round.
You can watch the highlights and make your decision here. Every vote counts, so watch all the plays and take part in the TSN.ca Play of the Year Showdown. Voting runs from 7pm to 4pm every day. Let us know who you voted for via Twitter, Facebook and Hubub.