Patrick says he is overcoming two hernia injuries
Centre Nolan Patrick says a misdiagnosis of a sports hernia injury contributed to the NHL's top-ranked draft prospect missing more than half of last season.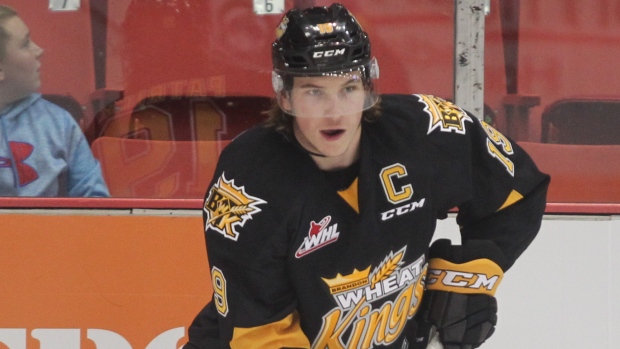 BUFFALO, N.Y. — Nolan Patrick bears no grudges now that he's prepared to reveal how a sports hernia injury he sustained last summer was more serious than first anticipated.
The NHL's top draft prospect said Friday the injury that contributed to him missing more than half of last season was misdiagnosed. In having surgery to repair the right side of his groin, the 18-year-old centre said initial tests missed that the left side also was damaged.
Without going into detail, Patrick said he elected to not have a second operation and instead had it heal "in a different way."
Rather than be frustrated over what happened, Patrick has taken a philosophical approach to the setback that partially derailed his third season with Brandon of the Western Hockey League.
"Obviously, it wasn't the ideal season for me," Patrick said. "But I don't think it's the worst thing for me. I think a little adversity for a young kid makes you stronger as a player."
Patrick can look at the bright side because the time he missed didn't alter the NHL Central Scouting Department's final rankings in April. He maintained the top spot just ahead of Swiss centre Nico Hischier.
Better still, Patrick arrived at the league's annual pre-draft scouting combine to find out he's been cleared to take part in the testing portion of the weeklong event that closes on Saturday.
"I've got a little ways to go before I'm 100 per cent healthy. And after a good summer of training I think I'll get there," Patrick said. "I'm not trying to prove anything. I'm just going to try to test to the best of my abilities."
The New Jersey Devils have the first pick, though they haven't yet revealed who they intend to select. General manager Ray Shero has travelled to have one-on-one sessions with Patrick in his hometown of Winnipeg, Manitoba, and Hischier in Switzerland. The Philadelphia Flyers will pick second after moving up 11 spots in the draft lottery in April.
At 6-foot-2 and 198 pounds, Patrick has the prototypical size and the numbers to back him up.
Despite the injury, he scored 20 goals and 46 points in 33 games last season. Overall, Patrick has 91 goals and 204 points in 160 career games, and was the WHL playoff MVP in leading Brandon to win the championship in 2016.
"He has more than proven over the last three years that he is the real deal and will be an impact NHL player," central scouting director Dan Marr said. "The poise, the presence, the attention to detail, the way he executes plays — everything has been far more precise, far more accurate and a lot quicker this season."
Patrick also has NHL family ties.
His father, Steve Patrick, played six NHL seasons after being selected by Buffalo with the 20th pick in the 1980 draft. His uncle, James Patrick, went on to play 1,280 NHL games after being selected ninth overall by the New York Rangers in the 1981 draft.
Hischier made his mark by leaving Switzerland to play with Halifax of the Quebec Major Junior Hockey League this past season. At 18, he led the league's rookies with 38 goals and 86 points in 57 games.
"The main reason I came over here is I wanted to get better," said Hischier, listed at 6-feet and 176 pounds. "I'm really happy with where I'm at right now. But I know it's still going to be long way."
He spent the previous two seasons playing in the Swiss pro league, where he was coached by current Ottawa Senators coach Guy Boucher.
Hischier has the opportunity to be the highest Swiss-born player drafted after Nino Niederreiter was selected fifth overall by the New York Islanders in 2010.
"Hischier is definitely worth the price of admission," Marr said. "He is a player who is first on the forecheck forcing a turnover and when the play transitions, he's the first player back. He's in that category as a special player."
This year's draft class is considered to lack the high-end buzz of the past two years. Last year, the Toronto Maple Leafs selected Auston Matthews with the first pick, followed by Winnipeg taking Patrik Laine. The first two picks in 2015 were Edmonton selecting Connor McDavid followed by Buffalo drafting Jack Eichel — both of whom were considered generational talents.
Patrick joked at how the media has played down this year's draft prospects.
"I guess that's good for us and not as much pressure," Patrick said, with a smile. "But at the end of the day, I'm just trying to make the NHL and contribute as much as I can. I'm not putting any added pressure on myself."
___
For more AP NHL coverage: https://apnews.com/tag/NHLhockey