Andersen alters routine ahead of Wild game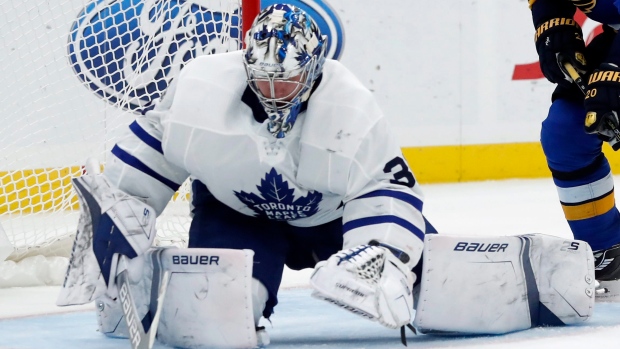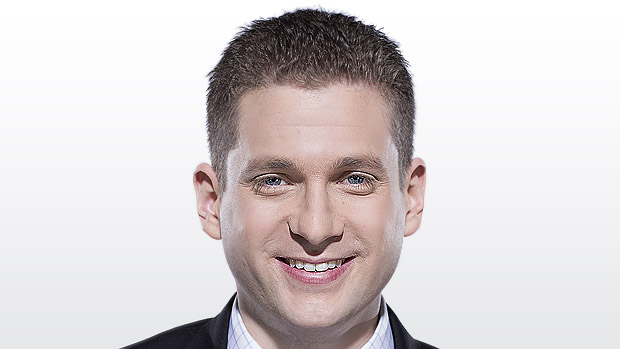 TSN Toronto reporter Mark Masters checks in daily with news and notes from Maple Leafs practices and game-day skates. The Maple Leafs and Minnesota Wild had optional skates at the Air Canada Centre on Wednesday.
Auston Matthews will miss the first game of his NHL career on Wednesday due to an upper-body injury.
With Matthews out, Patrick Marleau will shift over to centre while winger Josh Leivo draws into the lineup. The Leafs had an optional skate in the morning and Babcock didn't confirm if he'd stick with the same line combinations from Tuesday's practice (see below).
"One thing we've been talking about all year is the depth of the forward group," said Nazem Kadri, "and just guys being able to fill any spots and being versatile to play up and down the lineup. Obviously, Auston's a very important piece of our puzzle and we'd like him to play as many games as possible but, no matter who's in or out, I think we got guys who can fill the void and certain guys are going to have to step up."
- Frederik Andersen plans on stepping up after allowing an ugly goal to Deryk Engelland in Monday's win over Vegas. The veteran defenceman beat the 6-foot-4 goalie cleanly on a snap shot from the top of the circle.
"I wasn't aggressive enough on the puck," Andersen explained. "Moving into the shot was really the only difference in making that save. We looked at the tape and I did a lot of good things [in the game] where I did move into the puck and on that shot I didn't so it's just one of those things you want to improve on."
Andersen is also making some adjustments to his routine. At Tuesday's practice, he didn't come out early to work with goalie coach Steve Briere, which was unusual. On Wednesday, Andersen was only on the ice briefly to test out some skates. Normally, he will do at least a 15-minute workout with Briere on the morning of a game even if it's an optional skate for the team.
"Just save it for tonight," Andersen said when asked about the change. "I just wanted to test out a few things with my skates so, yeah, nothing to write about, I don't think. Nothing too crazy."
- Nikita Zaitsev has a minus-8 rating in the last nine games and doesn't appear to be as steady as he was in his rookie season. The Russian has seen his CorsiFor percentage fall to 46.98, which is worst among Toronto blueliners. Last season, he was at 49.26. Is anything missing from his game?
"Not for me," head coach Mike Babcock said. "I thought on our trip he was like the rest of us, I thought he lost some juice as it went on. I think Zaitsev is great, but I say that every night. To me, he's one of our best players. Every single night he brings everything he's got. He's not 230 pounds, he's a 195-pound guy. Sometimes when we play him too many minutes the wear and tear on him isn't as easy, but to me, every night, if you want to mark on the sheet who you can count on every night, he's like money in the bank."
Zaitsev leads the Leafs in average ice time per game this season at 22:59, including almost four minutes short-handed each game.
With no role on the power play, Zaitsev has seen his offence dry up. He has just one point in the last 12 games.
- Alex Stalock was expected to start for the Wild on Wednesday, but his wife is due to give birth to the couple's second child so the goalie travelled home in the morning. Stalock sent a message to Devan Dubnyk to let him know.
"I thought it was a little strange that he was texting me first thing," Dubnyk said. "I know we're buddies, but I saw him last night so I didn't know why he wanted to talk so early. It's obviously an extremely important day. I'm excited for him. It wasn't really much of a knuckleball."
​Like Andersen, Dubnyk will be looking for a bounce-back performance. He was pulled following the second period on Monday in Boston after allowing four goals on 24 shots. The Wild have stumbled out of the gate, posting a 5-6-2 record and Dubnyk has been inconsistent.
How's he feeling about his game?
"Good," he insisted. "You know, it has been a bit of a funny start to the year. Stats-wise it's not really where I want it to be [but] when I sit back and analyze how I feel in the net and how I'm moving around, I'm pretty comfortable with that. There are just a few things here and there and sharpening up on a couple plays, but overall I feel good."
Dubnyk's save percentage has dipped from .923 last season to .907 through 10 games this season. Is it tough to stay the course when the numbers look crooked?
"It is difficult," he admitted. "That's an old-guy thing. As I get older, it gets a little easier to do, to just be comfortable in how I know how I need to play and what situations I need to be doing certain things in. If you can be comfortable in that, it allows you to put the other stuff aside. At the end of the day, you just got to continue to build your game and work on what's going to give you the best chance to make saves out there."
The Wild have lost three of four games and coach Bruce Boudreau blasted his team for a subpar effort on Monday, going as far as referring to his players as the mistake-prone "Keystone Cops." But Babcock is expecting Minnesota's best punch tonight.
"They're a good team and obviously we all go through things in a year where it's not going as good," Babcock said. "We're no different, there should be no hungrier team than us, believe me. And, pursuing a way to play to be proud of when you leave the rink every day, once you find a way to be proud of and a work ethic to be proud of, the wins just rack up. You don't even have to worry about that, it's process-oriented. We're in a battle to get the process right so we can feel good each night leaving the rink too. It should be two hungry hockey teams."
Boudreau, a Toronto native, caught up with his 84-year-old mother on Tuesday. She's usually among his harshest critics, but decided to go easy on her son during this visit.
"She knew I wasn't feeling good so she laid low," Boudreau said to laughs. "She didn't pour it on too much."
Projected Leafs lineup for Wednesday's game (based on Tuesday's practice):
Forwards
Komarov-Kadri-Nylander
van Riemsdyk-Marleau-Hyman
Brown-Bozak-Marner
Martin-Moore-Leivo
Extra: Gauthier
Injured: Matthews
Defencemen
Rielly-Hainsey
Gardiner-Zaitsev
Borgman-Carrick
Extra: Polak
Goaltenders
Andersen starts
McElhinney