Kapanen gets big chance against Kings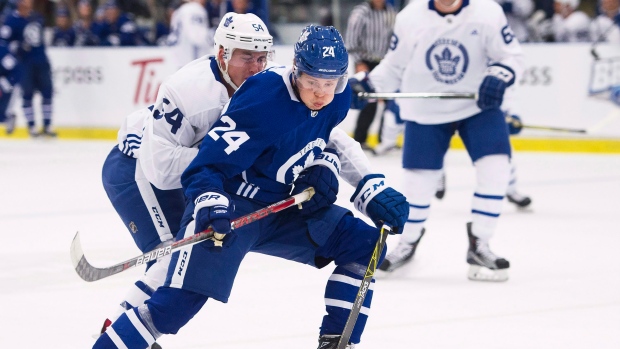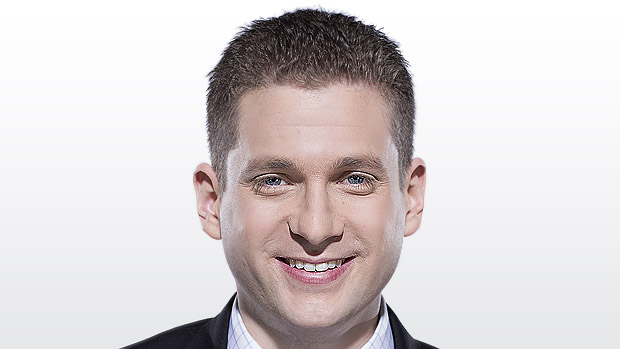 TSN Toronto reporter Mark Masters checks in daily with news and notes from Maple Leafs practices and game-day skates. The Maple Leafs held a team meeting at the Staples Center in Los Angeles on Thursday morning.
Kasperi Kapanen will play his second NHL game of the season on Thursday, but unlike in his debut on Saturday against the Flyers when he played just 7:31 in a fourth-line spot, the Finn will play a prominent role against the Kings slotting in beside Nazem Kadri and Leo Komarov.
"I'm excited and we'll see if I get a good nap or not," the 21-year-old said. "They're great, outstanding players not just with the puck, but without it as well. They make plays and score goals, but they hit and agitate the [other] team so it will be good."
What's Mike Babcock looking for?
"Just speed on that line and give him an opportunity, see what he's got," the Leafs head coach said.
The chance to play with his countryman Komarov, who served as a mentor in his early days in Toronto, is special for Kapanen.
"He's always been kind of like a father figure to me ever since I got to Toronto. He took me in and I stayed with him and his wife and they took care of me, so I owe them a lot so," Kapanen said with a smile. "Let's see if I can get him a good pass tonight or something."
Komarov is among the top agitators in the Leafs lineup and always plays with some sandpaper. Is there something in the water in Finland that makes them more likely to fill that role?
"I don't know," Kapanen said with a grin. "Maybe we just don't get too much sunlight during the year and we're all a little upset. Leo's good at his job and it'll be fun to see firsthand how he does it."
Josh Leivo will come out of the lineup to make room for Kapanen while Dominic Moore will sit as a healthy scratch for a second straight game.
On defence, Connor Carrick is the odd man out as Roman Polak returns to the lineup following a one-game stint in the press box.
---
When the Leafs arrived at their downtown hotel last night there was quite a party going on. The Houston Astros and their fans were celebrating the franchise's first championship. Did any Toronto players get swept up in the good times?
"No, not last night," said alternate captain Morgan Rielly, "but you could tell lots of Houston fans were in the building and the players were staying there, I think, but, no, we didn't get caught up in that."
---
​The Kings are off to their best start in franchise history at 9-2-1, but one of their regulation losses was at the Air Canada Centre last week. Toronto's players watched some video of their win over Los Angeles this morning.
"It's important that we get back to how we were playing against them," said Rielly, "and like we played last night with lots of speed and getting pucks in and getting on the forecheck, because that's the best part of our game."
What does Babcock recall about the 3-2 win over the Kings?
"We played hard, took care of the puck, played well without it and were hard on the goaltender in the offensive zone," he said. "We have to do exactly the same here today and we feel we are capable, we just have to be prepared to do it right. It's not easy to do it right every night so you have to give in and do it."
The win over the Kings was followed by three straight losses and Babcock believes his team has realized the root cause of that slide.
"Some of you guys have been asking me, 'What are the other teams doing to adjust to you?'" Babcock said. "Part of it is that, but part of it is what you do with the puck. If you don't take care of the puck, you can't win. It's just flat-out losing hockey. Can you win the odd night? Sure. Most of the time you're just going home disappointed and you're frustrated at the same time. So, take care of the puck."​
Los Angeles hasn't played since returning from a six-game trip on Monday night. The Leafs, meanwhile, will be playing on consecutive nights, although Babcock isn't expecting fatigue to be a factor. ​
"We had four lines last night, set up perfect for today," the coach noted. "We played four lines, rolled them out the door, no one played too much. We should be fresh here today."
Zach Hyman led all Leafs forwards in ice time in Anaheim at 18:03 while Matt Martin played the fewest minutes at 11:46.
---
A big reason why Hyman led the way in forward ice time against the Ducks is the Leafs were shorthanded four times while getting just two power plays. When Antoine Vermette was whistled for tripping Hyman late in the second period, it marked Toronto's first man-advantage opportunity in 131 minutes and 30 seconds. Why wasn't Toronto getting more power plays?
"I would say until last night we didn't deserve to," Babcock said. "If you don't play hard enough, you don't play in the O zone, you don't draw any penalties. Last night was a peculiar one for me, but that's the way it goes."
Was Babcock confused that Toronto didn't get more calls despite controlling the play against the Ducks in the first and third periods?
​"There's no sense me being confused," he said, "but yes."
Toronto has converted on 25 per cent of its power-play chances to rank sixth in NHL, but went 0/2 last night.
---
Projected lineup for Thursday's game:
Forwards
Hyman-Matthews-Nylander
Komarov-Kadri-Kapanen
van Riemsdyk-Marleau-Brown
Martin-Bozak-Marner
Defencemen
Rielly-Hainsey
Gardiner-Zaitsev
Borgman-Polak
Goaltenders
McElhinney starts
Andersen