Leafs return home with single goal in mind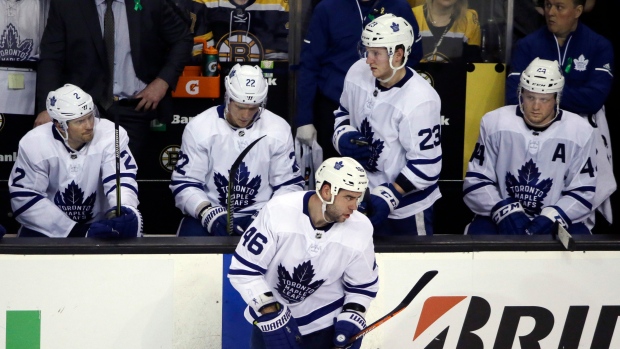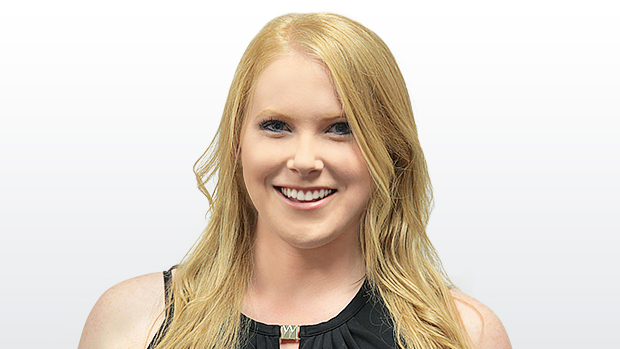 TORONTO – The playoffs are a marathon, not a sprint. Or at least, that's what the Maple Leafs are hoping for.
After dropping the first two games of their opening round Stanley Cup playoff series to the Boston Bruins on the road, Toronto has returned home with a single goal in mind – just win.
"It's a seven game series for a reason, so there is no reason to get down and frustrated this early in the series," said Tyler Bozak. "It's only going to hurt you. So we've just got to stay positive, get back to what we do and try to get back in this series."
Taking advantage of home ice the way Boston did will be chief among the Leafs' concerns as they prepare for Game 3 on Monday. Since Jan. 22, Toronto has lost only two games at Air Canada Centre, and set a franchise record for longest home winning streak (13 games) in the process. It's those types of accomplishments from the regular season – including the franchise wins record (49) and home wins record (29) – that the Leafs are drawing from to bolster their sagging swagger now.
"You earn [confidence] all year, you work hard to put yourself in the playoffs and win games and to have a good record," said Morgan Rielly. "You have to earn that, and moving forward we have to find it, we have to do the things that we have to do today to get ready for tomorrow. You have to chip away, and when you go out there, it starts with the first shift and from there on out, you build off of it."
While acknowledging "that's not the way we planned for our first two games to go," Rielly was also optimistic that learning from their mistakes – and a few small victories – would be crucial to finding success against Boston.
"There were points in the game [on Saturday] where we were able to control the puck more than we were in Game 1," he said. "And it's important we look at that and look at what created those opportunities and try to replicate that in Game 3 but do it more consistently."
Mike Babcock agreed the Leafs' start in Game 2 showed good punch, and was impressed with the way his team tried to push back after the Game 1 loss. But everything Boston put on net went in, and whatever pressure the Leafs established didn't result in points. It comes down to superior play in their own end and elevating their goaltender that will turn the tide for Toronto in front of its fans.
"This is our first game at home in front of our crowd; we're going to be great, get re-energized today," said Babcock. "We basically brought [the players] in to clean the mechanism out and let's get ready to go, and get after it. We spent all year preparing for this opportunity and don't feel we've been as good as we're capable of being. That part is disappointing, but the other part is we know how good we are and want to play that well."
----
It was a brutal night in Beantown for Frederik Andersen on Saturday, when he was pulled from the Leafs' net after allowing three goals on five shots in just over 12 minutes of action. He was not made available to the media following the loss, but on Sunday reflected over what went wrong and how the Leafs can go about fixing it before Monday.
"There's a few things, some bounces too that came at their end," he said. "An early save on that first goal [by David Pastrnak] would have been huge, and that's playoff hockey for you. Sometimes you make that save and we build off that. I know we're capable of playing better and myself included so we can look forward to that and turn the page for tomorrow."
After Andersen exited, Curtis McElhinney inherited the 3-0 deficit and didn't fare much better against the high-flying Bruins, turning aside 19 of 23 shots for an .826 save percentage. The blip hasn't shaken Andersen's confidence in himself though, or in his ability to lead Toronto to their first victory of the series when he re-takes the starter's net in Game 3.
"I feel good," he said. "When I look at a game like that, I think some bounces here and there could have changed things, but I know one big save could change the series in a game like that and be huge, so it's what we do from now on and we've been feeling really good at home so we want to come out flying tomorrow."
There was no doubt in Babcock's mind he would go back to Andersen, despite his shaky play over the series' first two games. The results haven't deserved to hang solely on Toronto's goaltending, and that's the message Babcock tried to get across in Sunday's team meeting.
"He's our guy," Babcock confirmed of Andersen. "The puck was going in and it wasn't going our way, so we got him out. But we haven't done a very good job in front of him. You have to give your goalie a chance to be good, we haven't done that. Freddie is our guy and he'll be back tomorrow."
----
It was no secret the key to victory for Toronto in this series would be how well they contained the Bruins' top line of Patrice Bergeron, Brad Marchand and Pastrnak. Given that trio has already combined for 20 points in two games, it's safe to say keeping them in check hasn't been easy.
While in Boston the Leafs have been without last change, allowing Bruce Cassidy to roll out the Bergeron line against Auston Matthews' line to good success. Suspended centre Nazem Kadri won't be available for either of the Leafs' home games this week, but at least Babcock will be able to dictate matchups. He wouldn't say much about his plan, simply stating, "we're going to play hard against them, we've got last change." But suffice it to say, the Bergeron line is a top priority.
To this point in the series Matthews has been held off the scoresheet, and despite dominating possession against the Bergeron group on Saturday, the Leafs need production from Matthews (and the rest of their forwards) in the form of goals and assists.
"Any way you look at it, their one line is having too much fun, so we have to look after that," said Babcock. "And the second thing is the play in front of our net hasn't been good enough for us to have success, so we have to clean that up."
To that end, it's not about any one player neutralizing a line that hot. It takes the combined effort of all six players on the ice to slow them down.
"We have to eliminate some of their space," said Andersen. "They've been getting a little too much time maybe and they're too skilled to let them do that. I think you see the nice goals, it looks pretty easy for them, but I'm sure we can fix that."
Indeed, when Pasternak scored his first of three goals on Saturday he had the entire front of the net clear to work the puck on his stick - and eventually over top of Andersen. Blown assignments defensively and disorganization among forwards has led to too many small breakdowns that elite forwards like the Bergeron crew can capitalize on.
It's been the same issue on special teams, where breakdowns and lack of execution have led to the Leafs going 1-for-7 on the power play through two games, while the Bruins are 5-for-10. It's a matter not only of confidence that the Leafs get both those units going, but that the disparity is killing them in the long game of the series against an opponent that gives them so little to work with as it is.
"We have to keep them off our net a little bit on the kill," said Rielly. "We went over their goals here this morning; they're all from in tight it seems like. So they're getting pucks to our net, they're getting pucks to our net, so we have to do a better job of boxing them out and blocking shots."
"Their power play unit is very good, they have a lot of firepower on that unit," added Bozak. "They make good plays, they win faceoffs and they have guys who can score. Our power play has been good all year; we've got guys who can score. It was nice to finally get one later in [Game 2 from James van Riemsdyk], hopefully that gives us a little boost on our power play and hopefully we can stay out of the box and win the special teams game."
----
Leo Komarov already missed seven regular season games with a knee injury, and now another lower-body injury is expected to cost him at least one playoff game.
Komarov was slow to get up off the ice after being flattened by Kevan Miller in the second period of Game 2, appearing to re-injure the same knee that held him out for half of March. The veteranwinger did try and return to the game with another shift, but left the bench again in a hurry afterwards and was officially ruled out for the rest of the game at the start of the third period.
Babcock didn't have much of an update to offer on Komarov's condition, saying Sunday he was still being evaluated and as such Babcock would go ahead with a plan that didn't include Komarov in Game 3. Who might replace him in the lineup, Babcock didn't say, leaving the door open to multiple possibilities.
The Leafs currently have three extra forwards in the fold – Matt Martin, Dominic Moore and Josh Leivo.