Sharks spoil Marleau's return with win over Leafs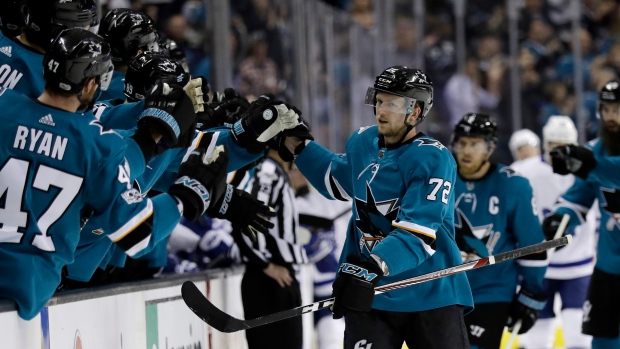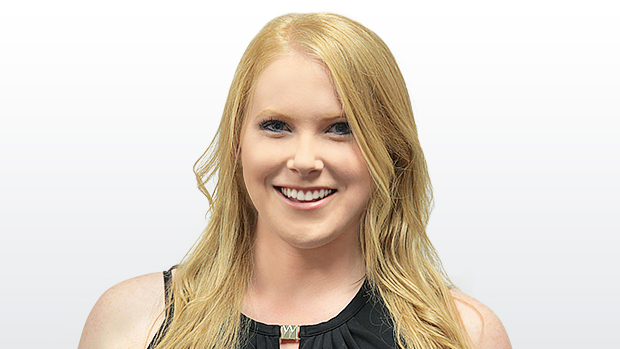 When the Maple Leafs needed a big game from goaltender Frederik Andersen to help get them back in the win column, Andersen delivered a stellar performance Monday night in San Jose. But it wasn't enough to mask too many mistakes by the rest of the team.
Riding a two-game losing streak into the first game of their annual California swing, which also happened to be Patrick Marleau's return to San Jose after spending 19 seasons there, the Leafs dropped their third in a row in a 3-2 defeat to the Sharks. It was Toronto's fourth defeat in their last five games. San Jose has now beaten Toronto in their last 10 regular season meetings, dating back to January 2011.
The Leafs slide to 7-5-0 on the season.
Andersen was a star for Toronto from start to finish in the loss, his best game of the season so far. The Leafs had no answer for the Sharks' cycle game all night long and continued to turn pucks over and play sloppily through the neutral zone. That negated most of their positive offensive momentum and led to spending too much time chasing the Sharks in the defensive zone.
Considering how much trouble they had getting through centre ice, it is not surprising that the Leafs weren't recording shots on net.
Toronto was outshot 38-18 by the end, and put only two shots on goal over more than 30 minutes of play. For two stretches of the game they went more than 11 minutes without a shot on goal.
Auston Matthews' line with William Nylander and Zach Hyman was the only group that consistently performed for the Leafs. The three sophomores contributed to Toronto's opening score – Nylander started with a great zone entry and then carried the puck the length of the offensive zone to set things up at the point with Nikita Zaitsev, who slipped a puck to Matthews charging at the net while Hyman planted himself in front as a screen. Matthews then flipped the puck over Martin Jones for his ninth of the season.
After that, it was mostly downhill for Toronto as the Sharks came fast and furious at Andersen. He was the difference for Toronto from the second period onwards after settling down during a shakier first period. Toronto went over 13 minutes in the second frame without a shot on goal and tallied only two in total; they were being outshot 25-11 after 40 minutes.
In the third period Andersen was equally great, making one key save after another, including on a Sharks' power play early in the frame. Andersen was seeing the puck well but traffic in front of the net let Tim Heed rip a shot off the crossbar and in later on the man advantage to give San Jose a 2-1 lead.
The Leafs could have been on a power play themselves when Heed scored, but Timo Meier's cross-check on Dominic Moore along the boards went uncalled moments before. When it did, an upset Moore retaliated with a cross-check on Meier that was called. From a 12-year veteran like Moore it was a play he couldn't afford to take and ended up costing his team on the subsequent penalty kill.
Andersen stayed with it for the Leafs though, making point-blank saves on Joe Pavelski and Tomas Hertl moments after the Sharks' go-ahead goal to keep the comeback within reach. Toronto eventually responded with their best offensive stretch of the night, spending most of the game's final six minutes in the offensive zone. But like his counterpart at the other end, Martin Jones was the difference for the Sharks to hold the 2-1 advantage until Joel Ward's empty netter sealed the victory. Jones extended his personal winning streak over the Leafs to seven games.
Andersen finished the night with 36 saves on 38 shots, marking the 10th time in 11 starts he's seen at least 30 shots on goal. The 28-year-old has been much-maligned over the last 10 days for his bottom-five save percentage and goals-against average among starting goalies in the NHL, but Andersen put any fears about his ability to still be a steady starter to rest with an outstanding night.
The Leafs have now been outscored 21-13 over their last five games, and getting back to their winning ways will require a full-team commitment to correcting the defensive mistakes that have consistently plagued them over this recent stretch of losses.
Takeaways
Welcome home
Patrick Marleau didn't have to wait long to return to the place he called home for 19 seasons. The Sharks welcomed the veteran winger back with open arms, staging a video tribute before puck drop that included a five-minute standing ovation for a teary-eyed Marleau from the SAP Center crowd. Signs proclaiming fans' enduring love for Marleau and children wearing t-shirts emblazoned with "We Miss Marleau" dotted the arena, but once the puck was dropped it was back to business for the 38-year-old. His line with Nazem Kadri and Leo Komarov was solid offensively early on, posting the second-best possession numbers among forward combinations after Matthews' group. Marleau himself put together a couple good scoring chances but couldn't get anything past Jones. The final stat line likely isn't what Marleau hopes for, though – he finished minus-two with two shots on goal.
Time for a change?
After altering his lines over the last three games, Mike Babcock decided to return to the original ones he used to start the season, hoping it would allow the Leafs to recapture the offensive magic they had early on. Yet, as has been the trend over their last four games, Matthews' line was the only one working for Toronto out of the gate and the reunited third line centred by Tyler Bozak continued to struggle. Bozak was already playing two minutes less per night than he was a season ago going into Monday's game and by the end of the night he was basically pasted to the Leafs' bench. As he did in Saturday's loss, Marleau moved down to replace Bozak at centre on the third line and Bozak took only three shifts in the final frame. Bozak finished the night at 36 per cent possession and is tied among Leafs' players for worst plus-minus at minus-nine.
Still snake bit
For a player with the offensive talent of Mitch Marner, seeing how he's struggled to light the lamp this season or tally up the points has been somewhat surprising. He continued to show he can generate opportunities, but couldn't get anything to go in on Monday, including two chances off rebounds offered up by Jones. Marner said after last Monday's win over Los Angeles he felt he had been throwing the puck away too much, and he fell back into that bad habit too frequently against San Jose as he reunited with his old third-line teammates. Marner was credited with one giveaway on the night, but more often was making bad decisions with the puck or trying too hard to thread the needle for a long pass instead of taking a simple outlet. Once he finds his offensive rhythm again, Marner seems likely to settle down more overall. He finished the game with two shots on goal.
Next game
The Leafs continue their four-game road trip with a visit to the Anaheim Ducks on Wednesday.