NHLOA: Linesman Henderson out for season
Frank Seravalli, TSN Senior Hockey Reporter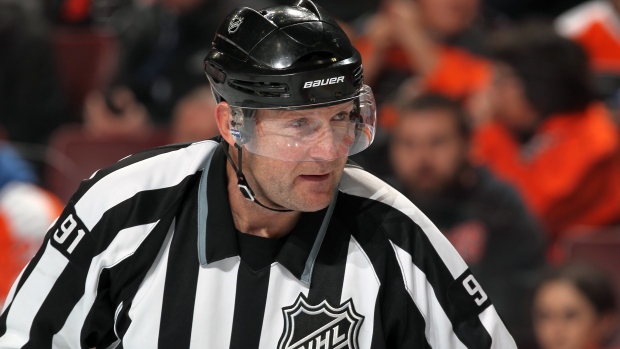 The National Hockey League Officials Association said linesman Don Henderson, who reportedly sustained a concussion when he was cross-checked from behind by Calgary Flames defenceman Dennis Wideman, will miss the remainder of this season.
Wideman's 20-game suspension for the hit was reduced to 10 games by NHL / NHLPA neutral discipline arbitrator James C. Oldham on Friday.
"The NHLOA strongly disagrees with the arbitrator's decision to reduce Dennis Wideman's suspension to 10 games while linesman Don Henderson continues to recover from an injury inflicted by the player that will sideline him for the rest of the season," NHLOA president Dan O'Halloran said in a statement on Saturday. "The message in reducing the suspension that is sent to NHL players, as well as athletes all over the world, including children, is that the code of conduct towards officials has changed.
"The NHLOA intends to take all steps necessary so that its members are protected in the future and ensure that this type of conduct by a player against an official never happens again."
Henderson, 47, has not worked since the incident occurred on Jan. 27 in Calgary. He has officiated nearly 1,300 games over his 21-year NHL career. The 2015-16 regular season concludes on April 10.
Wideman, 32, returned to the Flames' lineup on Friday night against Arizona after serving 19 games while waiting for his appeal to be heard. With his sentence cut in half by Oldham, Wideman will forfeit $282,258 in salary instead of $564,516. He will not, however, get those nine games back.
With a backlog in Oldham's case work, the NHLPA formally requested that Wideman be allowed to continue playing until a decision was reached. That request was denied by the NHL. Oldham heard arguments from both sides, with the NHLOA present, on Feb. 26 in New York. His opinion was not rendered until Friday, two weeks later.
This was the first time in the history of the current Collective Bargaining Agreement that either the NHL or NHLPA appealed to a neutral discipline arbitrator.
In his opinion, Oldham wrote Wideman did not "deliberately strike" Henderson, and did not act with intent to injure. Without the intent to injure, Oldham found that Wideman's suspension could be classified under a lesser penalty (Rule 40.3), which allows for a 10-game minimum suspension.
"Given that it was undisputed that Dennis suffered a concussion mere seconds prior to his collision with linesman Don Henderson, we felt strongly that there should have been no discipline," the NHLPA said in a statement. "Nonetheless we are pleased that Arbitrator Oldham found that the collision was not intentional and that the suspension was reduced to 10 games."
This case may not be entirely finished, even after Oldham's binding ruling 44 days after the incident. The NHL may opt to contest Oldham's decision in court, a fact they alluded to with their statement on Friday.
"We strenuously disagree with the arbitrator's ruling and are reviewing the opinion in detail to determine what next steps may be appropriate," the NHL wrote. "We will have no further comment until we have completed our review."
Contact Frank Seravalli on Twitter: @frank_seravalli