NHLPA, Dotchin file grievance against Bolts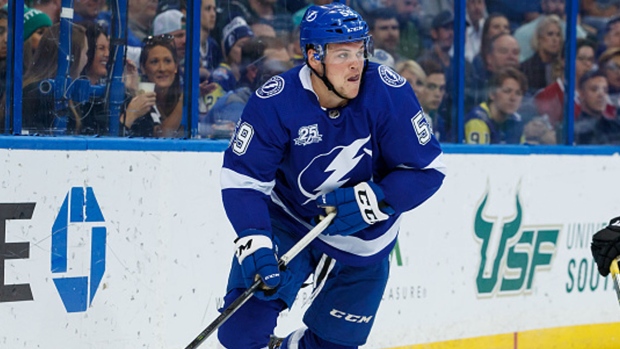 Jake Dotchin's time in Tampa Bay came to an ugly end in September when the Lightning waived him for a material breach of contract after showing up to training camp overweight.
Dotchin landed on his feet this week, signing a one-year, $800,000 contract with the Anaheim Ducks, but it appears his saga with the Lightning isn't over just yet.
According to TSN Hockey Insider Bob McKenzie, the NHL Players' Association has filed a grievance on behalf of Dotchin against the Lightning over the termination of his contract. McKenzie reported last month that Dotchin showed up to the team's training camp 30 to 35 pounds above his playing weight.
He said Thursday the NHLPA filed the grievance not only to help Dotchin, but also to avoid setting a precedent moving forward.
"The rationale is two-fold. Now that Dotchin is signed with the Anaheim Ducks at $800,000 pro rated and he had a contract for $925,000 from the Tampa Bay Lightning, Dotchin is going to be out over the course of this season about $189,000. So first and foremost, they want to try and get that money back for him. But second and maybe broader issue, more important, the NHLPA does not want to set a precedent that teams can terminate a contract for material breach if a guy shows up to training camp vastly out of shape."
The 24-year-old Dotchin, who is listed by NHL.com as 6-foot-3 and 210 pounds, appeared in 48 games for the Lightning last season, posting three goals and 11 points.
Dotchin averaged 16:29 of ice time per game in the regular season and did not dress for the team in the postseason.
The Lightning drafted Dotchin in the sixth round of the 2012 NHL Draft.