Nicholson: Loss to Leafs was 'rock bottom'
After a disappointing loss to the Toronto Maple Leafs on Monday night, Edmonton Oilers chief executive officer Bob Nicholson spoke to TSN.ca about the season so far and the city's new Ice District development.
Mike Beauvais, TSN.ca Staff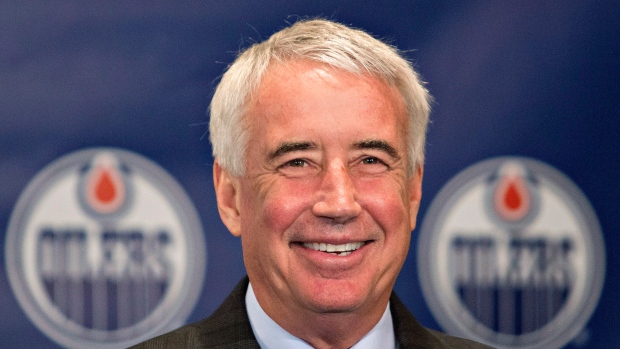 Through 25 games a season ago, the Edmonton Oilers sat dead last in the Pacific Division.
Monday night's 3-0 loss to the lowly Toronto Maple Leafs was the Oilers' 25th game this season and, despite a retooling in the front office, a change behind the bench and the addition of yet another first-overall pick, the team once again finds itself in the basement of the division and 10 points behind the Minnesota Wild for the last Western Conference wild card berth.
That the team is two wins better than it was this time last season is cold comfort for a fan base tired of mediocrity and the promise of next season.
This fact isn't lost on the Oilers Entertainment Group's CEO and vice-president, Bob Nicholson. He knows that Oilers fans are sick and tired of being told to be patient when it comes to progress.
"People in Edmonton are tired of that word," Nicholson told TSN.ca on Tuesday afternoon. "I've only been here as the CEO since June, but I certainly know what the past was and we have to look forward. We have to find a way to get better."
Prior to joining the Oilers, the Vancouver native was at the helm of Hockey Canada for nearly 16 years and knows what a winning hockey team looks like. Nicholson acknowledges that there are no overnight solutions and that work will be done.
"We've got some very good pieces," said Nicholson. "If we have to move some pieces to rejig, I have full confidence in Peter Chiarelli over the right time period to do that. Because he doesn't have to be doing that today, but we have to be better. Our whole goal was to have a better year this year and be really competitive going into the new arena and it still is."
What Nicholson finds most galling is that he truly thought the Oilers had turned a corner following an 0-4 start to the season. The Oilers have now lost four of their last five with their lone victory – 3-2 over the Pittsburgh Penguins last Saturday – coming in a shootout.
"I can honestly say that I thought we were seeing it," Nicholson said of improvements. "I really did. Through the first part of the season and two of our last three games, we haven't been good. Last night, that was rock bottom. That was the worst. That brought us back to where we were last year. So now we're at the bottom and we gotta work back up."
Still, Nicholson notes that this is a new regime in place at the team's helm. His own hire last spring was followed by the arrivals of Chiarelli as the general manager and Todd McLellan as coach. He believes this group – as well as the players on the ice – should be afforded the opportunity to work this out.
"We've got some really good assets," Nicholson said. "Peter Chiarelli is really still in evaluation mode. He's 25 games in as a general manager. The whole coaching staff is new. So now they see what they have and now they have to find different buttons (to push) for the players to be accountable and do a better job on the ice."
One of those players who hasn't been able to help on the ice is this past June's top choice in the NHL Entry Draft, Connor McDavid. The 18-year-old from Richmond Hill, Ontario – just north of Toronto – updated the media on his recovery from a broken collarbone incurred in a November 3rd victory over the Philadelphia Flyers on Monday.
Though, McDavid says he is ahead of schedule in his recovery, Nicholson acknowledged that it makes little sense to rush him back into the lineup with that kind of injury. The Dallas Cowboys saw firsthand last week when quarterback Tony Romo reinjured the collarbone he broke in last September in a loss to the Carolina Panthers in only his second game back from the injury. Nicholson says that the same fate with not befall McDavid.
"I love it that Connor wants to play tomorrow," Nicholson said. "That's just the type of person that he is – he wants to get back and help the team. When Connor is ready, we're going to wait a little bit longer. Connor has a great future as an Oiler and in the National Hockey League and we can't rush that. Dallas was in a different situation. We're not in that situation at all and with someone as valuable as Connor, if we make a mistake, it will be keeping him out longer than we should."
Protecting their asset doesn't mean that the team will ask McDavid to sit out next fall's World Cup of Hockey to be played in Toronto. He's a favourite to suit up for the under-23 North American "Youngstars" team and Nicholson says that the Oilers won't stand in his way of doing that.
"No, I think that's something he really wants to do," explained Nicholson. "I think when you have a player like Connor, you let him make his own choices because he always makes the right choices."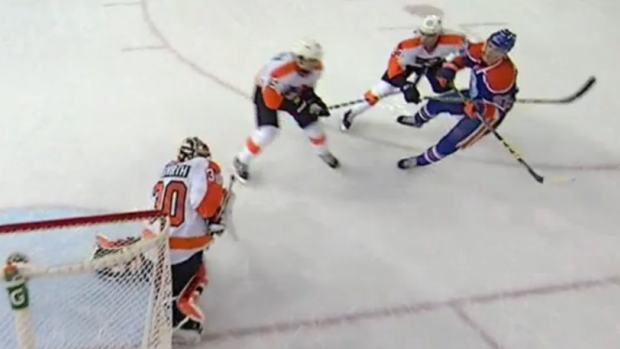 If McDavid indeed does go, he'll have a familiar face coaching him in McLellan. When Leafs coach Mike Babcock was named coach of the Canadian entry early last month, some in the Toronto media criticized Babcock's acceptance of the appointment as it meant that he'll miss most, if not all, of the Leafs' training camp. Nicholson says the Oilers wholeheartedly back McLellan's involvement in the tournament.
"I believe that whether it's a trainer, a media person, a coach or a player, any time that you can do this and get to be around the best in your country, you learn from that," Nicholson said. "You try to take your game to another level and it's a great experience. For a coach, I think it's just a super experience because you get to be surrounded by other good coaches in the league that you coach with, but also ones you coach against. That will just make Todd that much better when he comes back and the time that he's away, it will give the assistant coaches that opportunity to step up and deliver some of the messages that Todd has and I know that our guys are capable of doing that."
Next season will mark the opening of the brand new Rogers Place arena, the centerpiece of a revitalized downtown area, rebranded as the Ice District. The hugely ambitious project will eventually encompass almost 27 acres of land at an investment of $750 million, with the city of Edmonton using its budget to pay for 47 per cent of the total cost. Only New York City's Hudson Yards will stand as a larger mixed-use development ever constructed in North America.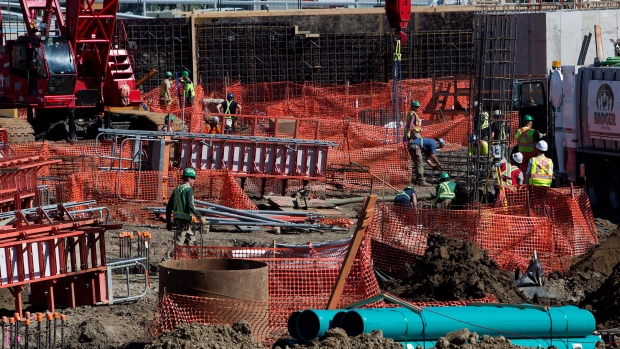 Though the agreement between OEG and the city was reached in the spring of 2013, during Monday's city council session, downtown councilor Scott McKeen expressed concern that the city was beginning to pick up the costs of overruns not directly related to the community rink involved in the project.
"I'm a little frustrated by it, because we as a corporation and as taxpayers, have been asked a lot to the overall maintenance of that area," McKeen told the Edmonton Sun. "And I just think we need to be clear on responsibilities and we need to push back a little bit to (OEG) and say, 'Well no, a lot of this is your responsibility."
McKeen went as far as to suggest the deal between OEG and the city be reopened.
This came as a surprise to Nicholson, who was apprised of McKeen's comments whilst in Toronto.
"The bottom line is, we have a master agreement that's in place and it's a heck of a deal," said NichoIson. "I can tell you that I wasn't involved in that master agreement, but I reviewed it. It's been really good for the city and for the OEG group. So for him to bring that up today, it was a bit of a shocker. I'll get more information tomorrow as I go back to Edmonton."
As part of the move from Rexall Place, a venue the Oilers have called home since 1974, fans will see an increase in Oilers ticket prices for 2016. Though the least expensive seats in both the lower and upper bowls will be cheaper in Rogers Place than those currently offered at Rexall (going from $2,432 to $1,950 and $5,248 to $4,825, respectively), premium options have spiked significantly, as will single-game tickets in all likelihood.
Nicholson is sympathetic to fans who are upset with paying more for a team that hasn't reached the postseason in nine years and will likely miss out again this spring, but concedes that a new facility doesn't come for free.
"We've still got some reasonable ticket prices," Nicholson said. "They are going into something that is very special. We have to pay for that and I think we've handled it fairly well. There have been some disgruntled fans, but that's been a very, very small percentage. We've been trying to walk it through with them and make sure they can come in at the cheapest price point possible. But with professional sports, there is a price you have to pay and one good thing about this is that they're going to be in the number-one arena in the National Hockey League."
But until then, there is the matter of the current Edmonton Oilers season and some fans might feel like it's never-ending right now.
The Oilers return to action on Wednesday night when they host the Boston Bruins.