Nilsson, Oilers top Stars in OT
Jordan Eberle scored 45 seconds into overtime and Anders Nilsson made 42 saves as the Edmonton Oilers toppled the NHL's top road team, coming away with a 2-1 victory over the Dallas Stars on Friday.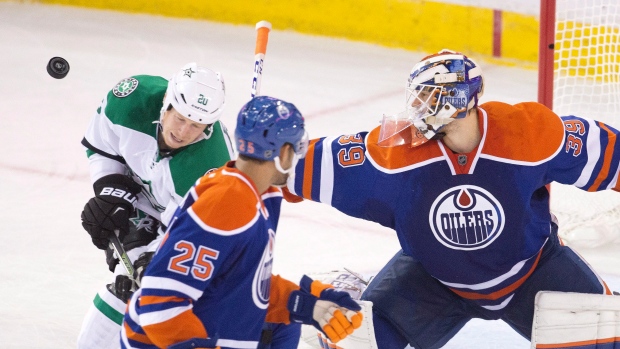 EDMONTON - The Edmonton Oilers finally look to have their go-to goalie.
Anders Nilsson made 42 saves and Jordan Eberle to score 45 seconds into overtime as the Oilers toppled the NHL's top road team, coming away with a surprising 2-1 victory over the Dallas Stars on Friday.
"If Anders wasn't the first second and third star, he should have been," Edmonton coach Todd McLellan said of the 25-year-old Swede, who has started in eight of his club's last nine games over Cam Talbot.
"It was a hell of a performance. He stole the game."
Taylor Hall also scored for the Oilers (10-15-2), who won their second game in a row after beating Boston 3-2 in a shootout to start their homestand on Wednesday in a game where Nilsson made 38 stops and was perfect in the shootout session.
"These are a big confidence boost for us to win these last two games," Nilsson said. "Two very tight games and to win both of them, one in overtime and one in a shootout is huge for us. It shows we have good character and a good team."
Mattias Janmark replied for the league-leading Stars (20-5-2), who have lost two of their last three to drop their road record to 11-2-2.
"We had some really good scoring chances and we should have scored early in the game, but we had to grind it and got a point," Janmark said. "We'll take that, but we wanted to get two."
Nilsson was forced to be sharp in the early going, making a huge glove save on Tyler Seguin 48 seconds in and denying Jamie Benn on a breakaway a couple minutes later.
Those saves allowed the Oilers to take a 1-0 lead with five minutes to play in the first period as Hall picked the pocket of defender Patrik Nemeth and then picked the top corner behind Stars goalie Antti Niemi for his 10th of the season.
Dallas tied the game with 1:37 left in the second period as Janmark was allowed to take a couple of cracks at a rebound in front of the Edmonton net before slipping it past Nilsson.
The Stars outshot Edmonton 15-4 in the scoreless third period, but Nilsson stood on his head to send the game to extra time.
Edmonton forward Leon Draisaitl came up big in the overtime session, stealing the puck twice before setting up Eberle, who used a screen to send the puck past Niemi.
"It's huge getting these consecutive wins," Eberle said. "We just want to keep rolling. We played a good game against Boston and got the points. We didn't play our best tonight, but we found a way to win."
The Oilers continue their homestand with a game against the Buffalo Sabres on Sunday. The Stars have a bit of a break, not returning to the ice until Tuesday when they host the Carolina Hurricanes.
Notes - It was the second of three meetings between the two teams this season. The Stars won the first contest 4-2 on Oct. 13 on home ice in a game that saw Dallas forward Jason Spezza record a hat trick despite Nilsson making 48 saves… Remaining out with injuries for the Oilers were Connor McDavid (fractured clavicle), Rob Klinkhammer (leg), Nail Yakupov (ankle sprain), Benoit Pouliot (lower body) and Brandon Davidson (wrist)… The only injured player on the Stars is Jason Demers (upper body).