No. 21 Memphis defeats SMU to claim AAC West Division title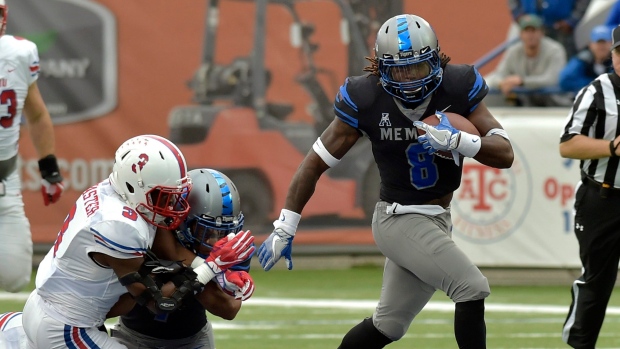 MEMPHIS, Tenn. -- Darrell Henderson rushed for 147 yards, including two long touchdowns, and Riley Ferguson threw for 320 yards and two scores as No. 18 Memphis claimed the American Athletic Conference West Division championship with a 66-45 victory over SMU on Saturday.
In addition to his throwing TDs, Ferguson scored on three runs as Memphis (9-1, 6-1, No. 21 CFP) won its sixth straight and claimed a spot in the conference's Dec. 2 championship game. Patrick Taylor had 112 yards rushing, while Anthony Miller had 163 yards receiving. Both scored two touchdowns each.
Xavier Jones rushed for 175 yards and two touchdowns to lead the Mustangs (6-4, 3-4), who lost their third straight. Quarterback Ben Hicks was 15 of 34 passing for 218 yards and four touchdown passes, two of them to Trey Quinn.
The game was played in blustery conditions with winds gusting to 27 mph at kickoff. Eventually it started raining early in the fourth quarter, and play was suspended with 13:51 left in the game because of lightning in the area. Memphis was leading at the time 52-38.
When play resumed 57 minutes later winds were gusting at 37 mph and temperatures were dropping. But the Memphis offense kept scoring, pulling away from SMU and claiming the division crown.
After Memphis spotted the Mustangs a 10-0 lead, the Ferguson-to-Miller combination got the Tiger offense untracked. Early in the second quarter, Miller already had five catches for 121 yards. When Henderson broke loose for a 70-yard touchdown, Memphis had taken the lead to 24-10.
From there, it was a matter of the teams trading touchdowns -- SMU scoring on four straight possessions, and each one answered by a Memphis touchdown.
THE TAKEAWAY
SMU: Hicks started the game 3 of 12, but finished the first half completing 6 of his next 8. That was part of the offensive display that was put on by both teams, scoring on possession-after-possession. But the Mustangs couldn't keep pace as Memphis scored 21 unanswered points in the fourth quarter.
MEMPHIS: Miller with a catch in the second quarter became the Tigers career leader in receptions for a career passing Duke Calhoun, who finished with 212 catches. That was part of a balanced Memphis attack -- rushing for 331 yards and passing for 333. But the scoring for Memphis came on the ground with seven rushing touchdowns, matching a school record for touchdowns on the grounds. That was part of the teams combining for 111 points -- the most scored in a game in school history.
UP NEXT
SMU: Hosts Tulane in the season finale next Saturday
MEMPHIS: The Tigers will play their final game of the regular season next Saturday against East Carolina.