No firm timeline' for Vladdy Jr.'s big-league arrival
After crushing minor league pitching last summer, Vladimir Guerrero Jr. appears to be ready for the majors but Toronto Blue Jays GM Ross Atkins says there's still plenty of work to do to keep the 19-year-old at the hot corner long term, Scott Mitchell writes.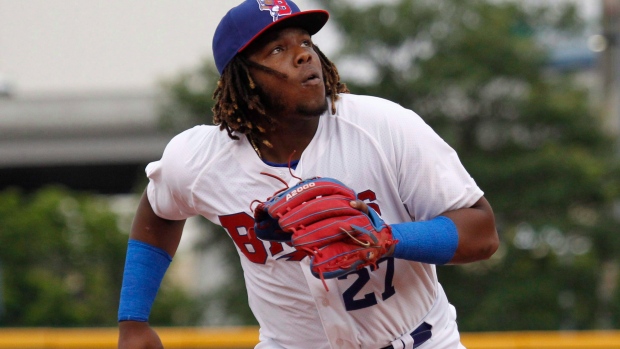 DUNEDIN, Fla. — It didn't take long for the Vladimir Guerrero Jr. service time song and dance to start.
On the very first day Toronto Blue Jays pitchers and catchers took to the field in Dunedin, general manager Ross Atkins was peppered with questions about when the top prospect in all of baseball will arrive in the big leagues.
The answer was the same as it was last September when he was held down, foreshadowing exactly what was going to take place this spring.
"There is no firm timeline on when he arrives and when he is playing in Toronto for the first time, but we want to make sure he's the best possible third baseman, best possible hitter he can be," Atkins said with a straight face. "This is going to be a fun and exciting time for him. A fun and exciting time for the organization."
It's quite clear Vladdy Jr., after crushing minor league pitching to the tune of a .381/.437/.636 slash line and 20 home runs last summer, is ready for the majors.
It's also quite clear the seventh year of team control that would come with keeping Guerrero under the 172-day service year threshold this season is the motive.
That seventh year would be his age-26 season, a prime year that could be an MVP-type campaign, and all it would take to secure is a couple of weeks with the Buffalo Bisons in April.
Business-wise, it's a cut and dried decision.
Ethically, it's murky because merit goes out the window, and ticking off your future franchise player is never a good way to start a relationship that's oh-so important to the organization's hopes.
It's also on the MLBPA radar and could be grounds for a grievance, just like the one Kris Bryant has pending against the Chicago Cubs for obvious service time manipulation in 2015.
Guerrero's glove and age have been the defence, so to speak.
"Spring Training is a piece of his development," Atkins said. "The Arizona Fall League was a piece of his development. Triple-A baseball was a piece of his development, and this will be more information as we gain to understand what's best for him, the next steps. He's 19-years-old. He has handled the expectations of competing at the highest level and being very good at that. The expectations that have been placed on him, I'm just blown away at how well he has handled them."
Atkins has mentioned for most of the winter that Brandon Drury is slated to be the opening day third baseman.
That hasn't been a secret, one that he reiterated Thursday.
"Yeah, I think that's the most likely scenario," Atkins said. "Having said that, we're a good number of days away from opening the season and we'll see how things progress. Health, performance."
Once Vlad Jr. arrives sometime in mid-to-late April, Drury will shift into some sort of super-utility role with his ability to play third, second and even the outfield. But that's a long ways away, and a lot can change on the roster between now and then.
One thing Atkins did admit is there is work to be done in order to keep Guerrero at the hot corner long term.
His conditioning, and how his body develops in his 20s, is going to be a big part of that.
"He continues to make strides," Atkins said of Vladdy's fitness. "He is obviously very strong. He is extremely physical and one of the stronger individuals in our system. I think the work to stay agile and to keep him at third base as long as possible is the biggest challenge and he continues to make progress there."​