No goaltending controversy in Calgary
There is no goaltending controversy in Calgary. As TSN's Travis Yost writes, simply having a surplus of bodies does not mean there is a roster position controversy.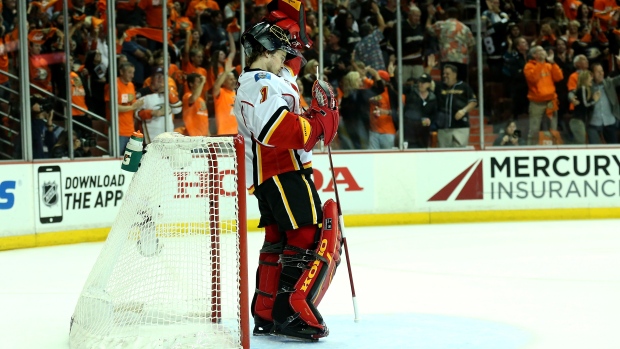 There is no goaltending controversy in Calgary.

When we say goaltending controversy, what we mean is that the value – be it perception, analytical, or otherwise – of available commodities are reasonably similar, enough to cause distress about how to allocate minutes. A great example of a true goaltending controversy would be what Vancouver lived through a few years back, when the ultra-talented Roberto Luongo and Cory Schneider were both on the active roster.

Simply having a surplus of bodies does not mean there is a roster position controversy.

One could certainly argue that the Flames have a long-term goaltending question to answer. Jonas Hiller (UFA), Karri Ramo (UFA), and Joni Ortio (RFA) are all on expiring contracts. Ortio's under team control, so barring a really rough season, it's more likely than not he'll stick around past 2015-16. That leaves Hiller and Ramo, who could be competing for one multi-year deal come next summer.

Let's pretend you have assumed the role of head coach Bob Hartley, and you have all three goalies at your disposal. Your objective for the 2015-16 season is to return this young roster to the postseason. On the positive side, you've got flashy talent all around the roster. On the negative side, you have a real possession problem, and perhaps more than any other team, will need stable goaltending when things get dire.
It's likely that you'd want to know the answer to the following: (a) How well does each goaltender stop the puck? and (b) How well does each goaltender stop the puck if you make proper shot quality adjustments?
Below, you'll find each goaltender's unadjusted and adjusted five-on-five save percentage by year, with bubble size indicating his total ice time Is there any goaltender who stands head and shoulders above the rest?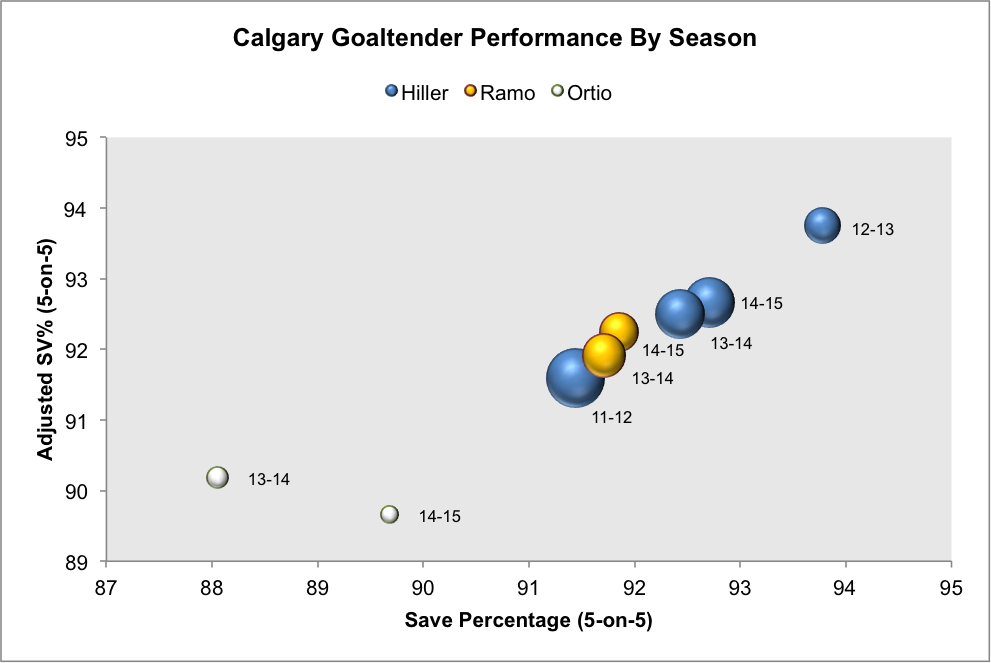 No Calgary goaltender has had as strong a season as Jonas Hiller's 2012-13, where he stopped 93.7 per cent of the even-strength shots he faced (93.8 per cent adjusted). For what it's worth, the league average save percentage at even strength is about .921 - Hiller's exceeded that number in three consecutive years.
But it's not a singularly awesome season that separates Hiller from the pack. It's the fact that he's been a model of consistency and production for years. Hiller's last three seasons are better than the best season that Ramo or Ortio (in his limited sample) have been able to put forward in their entire (albeit short) careers.

You can reasonably argue that Hiller's the exact type of player that the Flames should be placing on the trade market in order to accumulate future assets. Hiller has real trade value because he's been so productive and so consistent between the pipes. If the goalie market demand increases at some point in the season, would making him available become intriguing for a Calgary organization that rightfully still has its eye on the future?

On pure talent, it's pretty difficult to argue that either Ramo or Ortio are better at stopping pucks today than Hiller. Whether you're looking at raw save percentages or making small shot quality corrections, Hiller's simply been better in recent history, and it's not particularly close.

THE TAKEAWAY
Goaltenders are paid to keep pucks out of the back of the net. Jonas Hiller does it quite well, and considerably better than any of the other options immediately available to the Calgary Flames. As a trade option, Hiller has intriguing value because he's a quality player on an expiring deal. But, there's little disputing the fact that Hiller's the most talented goalie today in the Flames system. If Calgary is trying to win games and still push for the postseason, he should be the number one option going forward.